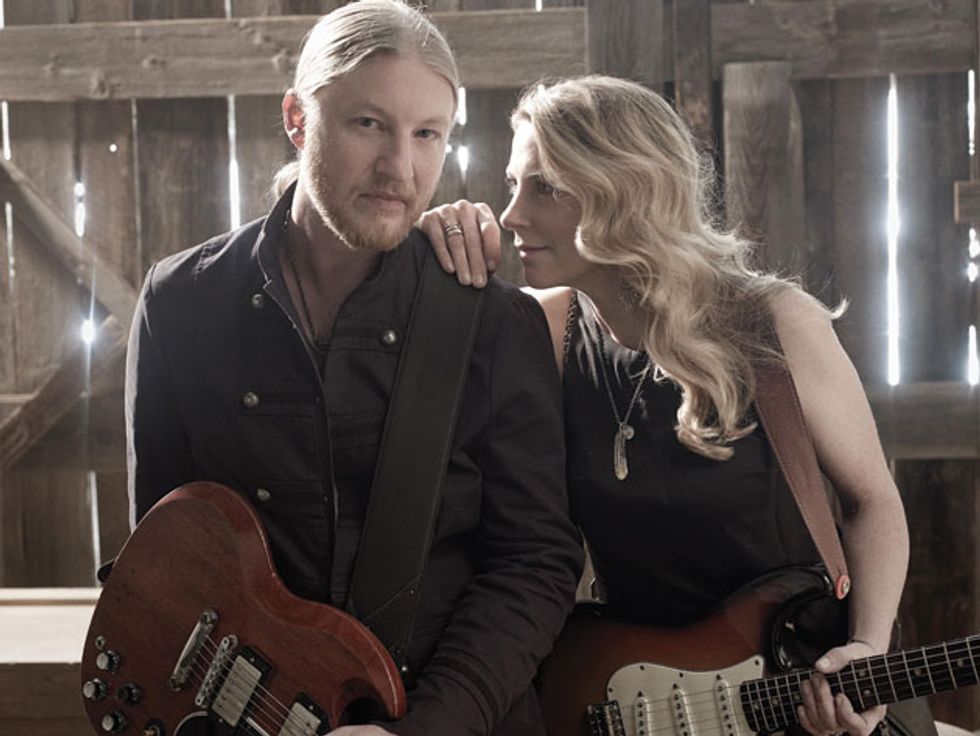 For Trucks and Tedeschi, a song has to hold up with just voice and acoustic guitar—a real bare-bones approach. Photo by Mark Seliger
"Everyone is more confident onstage. It's a whole different beast," says guitarist Derek Trucks, when asked how he feels the band has changed since their first studio album, 2011's Revelator. That "beast" is the Tedeschi Trucks Band, an 11-piece blues-rock behemoth that Trucks co-leads with his wife, vocalist and guitarist Susan Tedeschi. Sporting a full horn section, backup singers, and two drummers, the TTB is equal parts Memphis soul, Southern rock, and Delta blues.
Taking musical cues from Delaney and Bonnie, Derek and the Dominos, and Joe Cocker's Mad Dogs and Englishmen songbook, the group combines rootsy Americana with virtuosic musicianship. "You have those archetypes in mind, but once you put a band together and start gigging and writing tunes, it just takes on a life of its own," laughs Trucks. "When you see footage of Mad Dogs and Englishmen running down the road, you think, 'That looks like fun. Let's put a bunch of crazy bastards in a vehicle and roll.'"
With Made Up Mind, the TTB has developed into a churning force of nature, and the communal vibe that surrounds the group has become an essential part of what makes it so special. Factor in some serious road time, and you get something that's often missing in modern music—a band where chemistry is king and the song is queen. PG recently caught up with Trucks and Tedeschi to talk about collaboration, Duane Allman's "Fillmore" amp and the never-ending quest for inspirado.
When you started this band, was there a sound in your head that informed your direction?
Derek Trucks: It was both. When we write, it's just me and Susan, and maybe one other person with an acoustic guitar. The song has to hold up with voice and one guitar—that's a bit of the secret. Then when the band takes hold of that song, it takes on a life of its own.
Recently, bassist Oteil Burbridge left the band. What was the situation surrounding his departure?
Trucks: He was getting to the point where he didn't want to be on the road as much, and this was something we'd been discussing for a long time. Once he realized how much we were going to work and how it wasn't going to be a short-lived project, it became time for him to take a break. My thinking always in a band is that you have to be fully in. It was not an easy transition, in the sense that you have all this momentum going and then you have to find a new bass player. That role is pretty big, especially with Oteil—he's a serious player.
How did that affect the vibe of this album?
Trucks:It made the band really come together, and we realized a few things. First, no individual is bigger than the group. Everybody gets behind it and points in the same direction. Even from the first gig we had a lot of different bass players come out. We wanted to try as many people as we could, just to see what direction the band could go in. We had George Porter Jr. out, Bakithi Kumalo, Dave Monsey, George Reiff, Ted Pecchio, Eric Krasno, Tim Lefebvre, and then we had Pino Palladino play on the record. Playing with all these bassists showed us a lot of different sides, and it also gave the band an underlying confidence. There's a bar the band never dips below and once we started recording the first few tracks with Pino, it was pretty immediate. Everyone realized it was going to be a strong record. You could just feel this weight being lifted.
Susan, how do you feel your role has evolved?
Susan Tedeschi: We can all do our own groups, but at the end of the day it's about the whole and doing the best we can for the music we're playing and writing. It's really inspiring—and it will be even better once we have one bass player, I think. It emotionally drains you, working with eight or nine different people because the sound changes all the time.
So the bass chair will be a permanent spot and not a rotating position?
Trucks: It's going to be a permanent spot. When the situation with Oteil went down, we said half-jokingly, "Let's pretend we just got out of a long relationship. We'll date a bunch of hot-ass bass players and then we'll settle down." [Laughs.]
Everyone has this mindset that we'll know when it's right. The problem now is there are two or three people who have stepped in and kicked ass. Most recently, Tim Lefebvre did the first five shows of this run and it was like he'd been playing with the band for 10 years. Right when we think we might have it figured out, someone comes in. But these are really good problems to have.
What are you specifically looking for in that permanent member?
Trucks: One of the things we make clear to everybody is that it's very much a band. We want everyone feeling like we are moving in the right direction. If you're standing between J.J. Johnson and Kofi Burbridge, both of those guys have to feel it 100 percent. Obviously, me and Sue have to feel good about it, but it's really about making sure the core of the band—especially the drummers and Kofi—is ready to go into battle with whoever is in that spot.
Tedeschi steps out alone to cover John Prine's "Angel from Montgomery" before the band slowly joins in and segues into the Grateful Dead's "Sugaree."