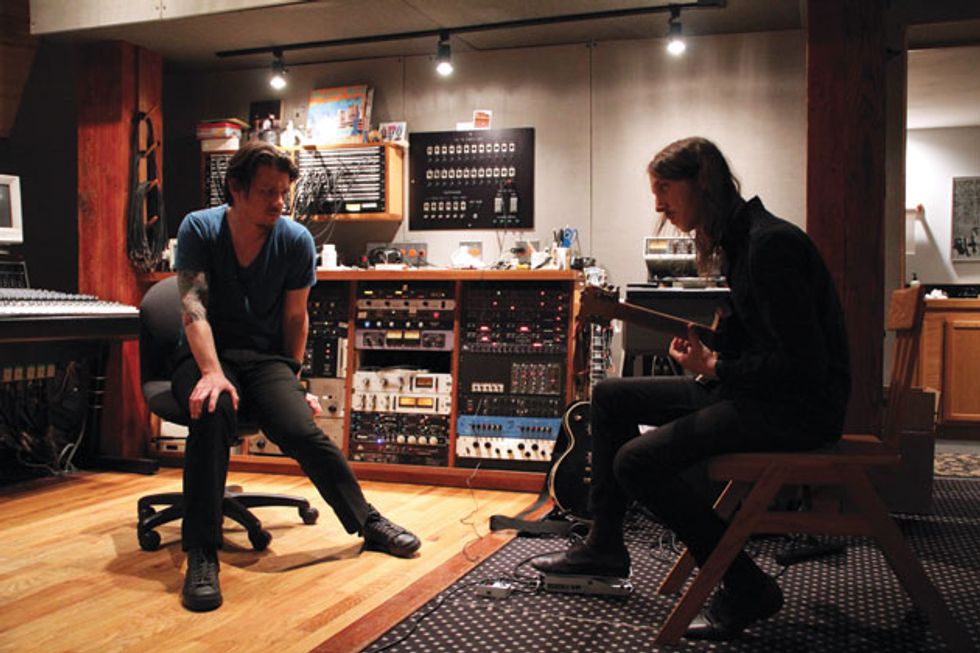 Brandon Curtis (left) works with Sullivan in the control room
on a deeply layered section of Russian Circles' new album.
Sullivan generally cranks the highs and mids on his Meat Smoke to counteract its bass-heavy sound and blend well with his Loucks. And even though the Meat Smoke was originally designed for bass, Sullivan champions its use as a guitar amp. "I've never found myself wishing I had more of something," he says. "Whatever I want sonically is always there—highs or lows, dirt or clarity. It just depends on how you dial it up."
Cook's main stage and recording amplifier is a custom 300-watt Verellen Meat Smoke connected to a well-worn Ampeg SVT810E cabinet that he used for years in underground bands Botch and These Arms Are Snakes. Cook has a personal connection to Verellen amps—he and Ben Verellen have been good friends since junior high.
"Ben has always been very tone-minded and particular about his gear," recalls Cook. "When he really got into tube amps, he went to school to learn how to build them. He made me a little 30-watt Bassman knockoff, which is actually the very first Verellen amp. I still have it and it sounds awesome."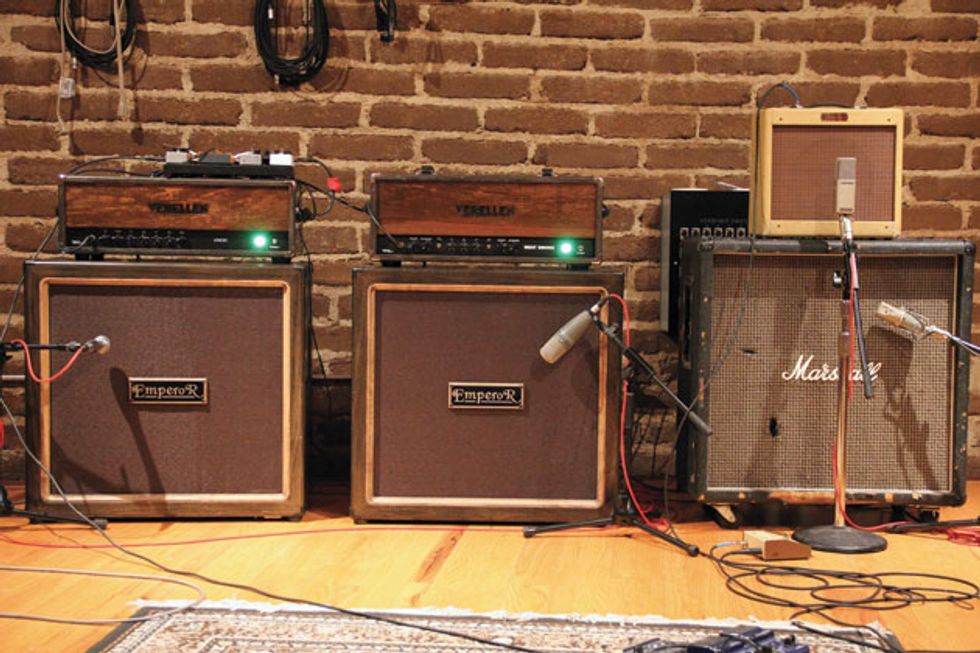 Mike Sullivan recorded his guitar tracks through a massive tri-amp rig. Pictured: Verellen Loucks and Meat Smoke heads on two Emperor 4x12 cabinets, Fender Pro Jr., '70s Marshall 1982B 4x12.
Mike Sullivan's Studio Gear

Guitars
1957 Reissue Gibson
Les Paul Custom, wine red
1957 Reissue Gibson Les Paul Custom, black
1967 Reissue Gibson Flying V
with Maestro vibrato tailpiece
Custom Fano RB6
Amps
300-watt Verellen Meat Smoke head
100-watt Verellen Loucks head
Fender Pro Jr. 1x10 combo
160-watt Emperor head (prototype)
16-watt Emperor head (prototype)
Hiwatt DR-103 Custom 100 head
Emperor 4x12 cabinets with Weber C1265 speakers
Effects
Ernie Ball Volume Jr.
TC Electronic PolyTune Mini
Maxon CS-9
Xotic Effects BB Preamp
Xotic Effects BB Preamp Mid Boost
Xotic Effects RC Booster
Reaper Deceived Delay/Reverb
Interfax Harmonic Percolator
Fulltone Secret Freq
Z.Vex Fuzz Factory
with custom hockey graphics
Mesa/Boogie Tone-Burst
Mesa/Boogie Flux Drive
MXR Micro Amp
DigiTech Whammy IV
EarthQuaker Devices Grand Orbiter Phaser
Electro-Harmonix Holy Grail Nano
Electro Harmonix Memory Boy (for slight slapback on Loucks)
Strymon El Capistan
Strymon Flint
Akai E2 Headrush
Lehle Splitter
Strings, Picks, and Misc.
Gibson 498T bridge humbuckers (neck position of both Les Pauls)
Gibson Dirty Fingers humbuckers (bridge position of both Les Pauls)
Lollar P-90 pickups (Fano RB6)
Dean Markley custom-gauge .012-.056 strings (occasionally .058 for the 6th string)
glass slide
It was apparent from the beginning that Memorial would have many layered tracks, so Curtis took pains to ensure that the bass and guitar amps sat evenly in the overall mix. And sometimes he'd propose ideas to enhance a song's mood. For example, his suggestion that Sullivan dig harder into the lower strings while picking the delicate melody in "Cheyenne" led to adding eerie harmonic overdubs. Sullivan played these harmonics through a Fender Twin positioned in the middle of the Kentucky Room, yet pointed into the large Center Field space with its two room mics. Curtis also suggested adding a Whammy pedal, and after a few takes, Sullivan nailed what would become the song's haunting, interweaving overdub. To create these eerie sounds, he used a glass slide while Curtis manipulated the Whammy's treadle.
Sullivan's main studio axes were two '57 Reissue Les Paul Customs. He says these guitars let him transition smoothly between the album's softer and heavier moments. They also help him build sustain for the dramatic crescendos that have become hallmarks of his sound, a technique he put to good use in "Deficit" and "Burial" on the new album.
"I've never really thought of another primary guitar for this music," says Sullivan. "With its ebony fretboard and mahogany body, there's just something about a Les Paul Custom that really gets the most out of each note, in terms of sustain and clarity. No other guitar I've played has that much precision."
Sullivan replaced the stock humbuckers in both Les Pauls, opting for a Gibson Dirty Fingers at the bridge and a Gibson 498T bridge pickup in the neck position. An inherently bright pickup, the 498T tightens the lows and adds sparkle to the darker tones typically generated by a neck humbucker.
Sullivan's modding doesn't end there: To give his Customs a satin-like look and reduce friction on the back of their necks, he used a Brillo pad to dull the sheen of the guitars' shiny finish.
In addition to his Les Paul Customs, Sullivan also played a Fano RB6. Initially he was skeptical about how the guitar's vintage-output Lollar P-90s would handle heavier tones, but he immediately fell in love with them.
"It comes down to the clarity thing—hit a chord and you hear every note," explains Sullivan. "There's nothing to hide behind when I use the Fano. It's just a pure, organic tone. And combined with its Gibson-like 24 3/4" scale and C-shaped neck, it's a guitar I'm really comfortable playing."