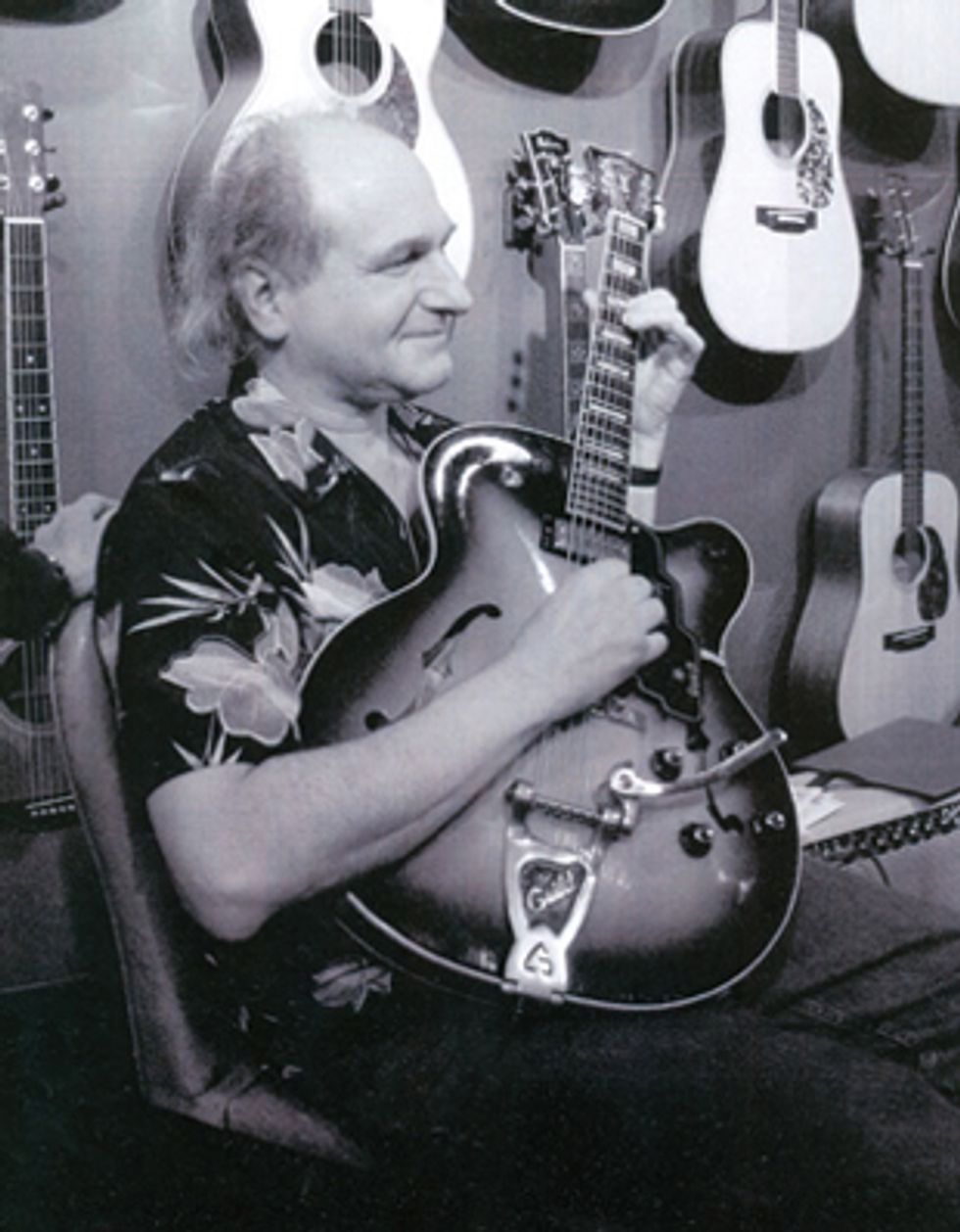 Ted Greene
Born: September 26, 1946
Died: July 23, 2005
Best Known For: Ted Greene devoted his life to unlocking the secrets of the guitar's fretboard and sharing them with whoever wished to learn. His four books—Chord Chemistry, Modern Chord Progressions, and Jazz Guitar Single Note Soloing Volume 1 and Volume 2—have taken literally untold thousands of players through the deepest recesses of guitar theory.
In life we sometimes encounter people who, like Virgil in Dante's Inferno, guide us along treacherous paths to our ultimate destination. For many on the path to guitar excellence, Ted Greene was that guide.
A heart attack claimed Greene's life on July 23, 2005, yet he continues to teach through his books, videos, and lesson guides, many of which are posted on his official website, tedgreene.com. Ted Greene was many things: musician, friend, eccentric, mentor, and student. But to many, he was simply a hero.
Moving Torsos
Theodore "Ted" Greene was born September 26, 1946, in Los Angeles, California. Music seemed to be woven into the fabric of his being. His mother recalled her baby rocking back and forth to rhythm from the time he could sit up. His intellect became apparent once he started school. He was a math whiz with an IQ of 160—well into genius territory.
Greene received his first guitar in 1957 at age 11. "I had a horrible guitar with the highest action in the world, especially down at the nut," he later reminisced. "I almost quit, but my parents' encouragement and a true love of music carried me through."
Though he was left-handed, he opted to play right-handed. He took lessons from local jazz guitarist Sal Tardella. Despite his later affinity for the genre, said Greene, "the sounds of rock and roll were pulling my ears." In 1960 he joined his first band, the Cage Kings, and acquired his first good guitar: a Gretsch 6120. He later admitted he wasn't ready to play in a group. "But it didn't matter," he said, "because we could make a lot of noise. That seemed adequate to get people's lower torsos moving on the floor."
Greene didn't embrace guitar as a lifestyle until after high school. At 19, he'd spend hours—even days—in his bedroom, obsessively expanding his music theory knowledge. As his longtime partner Barbara Franklin wrote in her memoir, My Life with the Chord Chemist, "If a book suggested doing an exercise in a few keys, such as spelling major triads, Ted would do the exercise in all keys, major and minor, until he had memorized them cold. Greene learned to instantly recognize everything from interval identification … to knowing the quality of every chord on each scale degree, the many uses for each chord, the inversions, traditional voice leading, and more."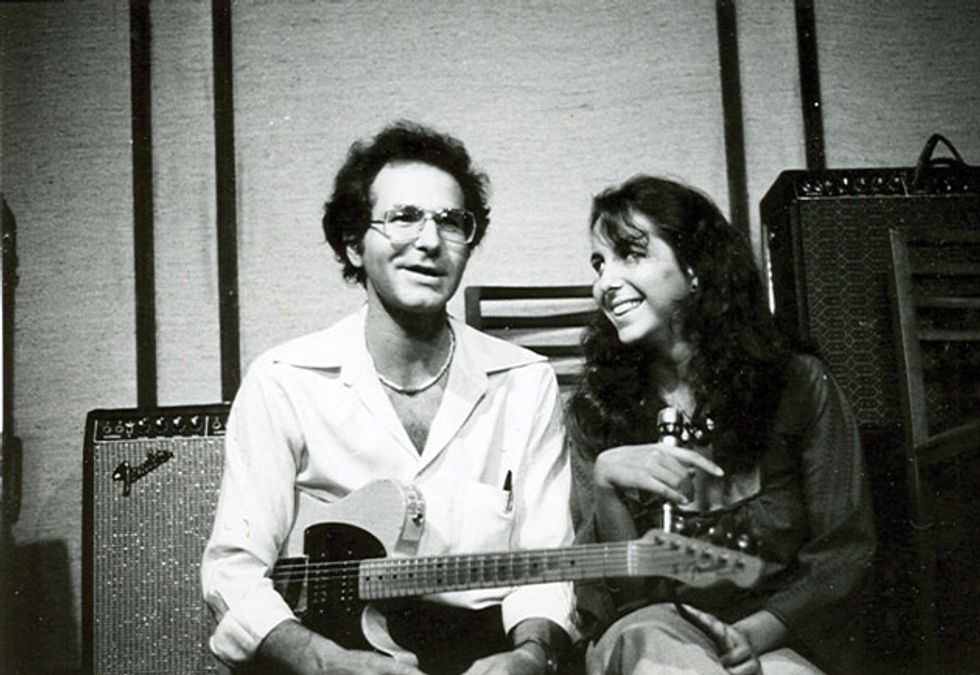 Ted Greene with jazz singer Cathy Segal-Garcia circa 1977. Photo courtesy of Leon White
To Teach Is to Love
In 1965, Greene found his calling when he accepted a teaching position at Ernie Ball Guitars in Tarzana, California. "I didn't mean to be a guitar teacher," he said, "but I just fell in love with it." His playing ability and musical knowledge quickly attracted a large pool of prospective students, and soon there was a two-year waiting list to study with him.
Students were drawn to both the method and the man. Hundreds of Greene students will expound at great length on his kindness, patience, humor and generosity. Leon White—a Greene pupil and co-producer of Solo Guitar, Greene's only solo album—recalled that, "If a guy came in and said, 'I'm a little short this week and I can only pay you half,' Ted would say, 'Well, can you afford that half? Do you want to keep it and pay me some other time?'" In fact, throughout his life, Greene charged criminally low rates for lessons—usually no more than $25 per half hour. He just seemed to love teaching, and he believed that no one should be denied a chance to study with him because they couldn't afford it.
"If a guy came in and said, 'I'm a little short this week and I can only pay you half,' Ted would say, 'Well, can you afford that half? Do you want to keep it and pay me some other time?'" —Leon White

Meanwhile, Greene continued to gig around Los Angeles with various rock and blues acts. In 1967, he joined a group called Bluesberry Jam that featured future Canned Heat member Adolfo "Fito" de la Parra on drums. The group regularly played the Magic Mushroom club, as well as the larger Shrine Auditorium, where they supported such acts as the Doors, Iron Butterfly, Joe Cocker, and Alice Cooper. While Bluesberry Jam gained a following around the city, they never made it to the next level, and the band folded when de la Parra departed for Canned Heat. Sadly, no Bluesberry Jam recordings survive. However, Greene did record with psychedelic rocker Joe Byrd, including on Byrd's 1969 album The American Metaphysical Circus.