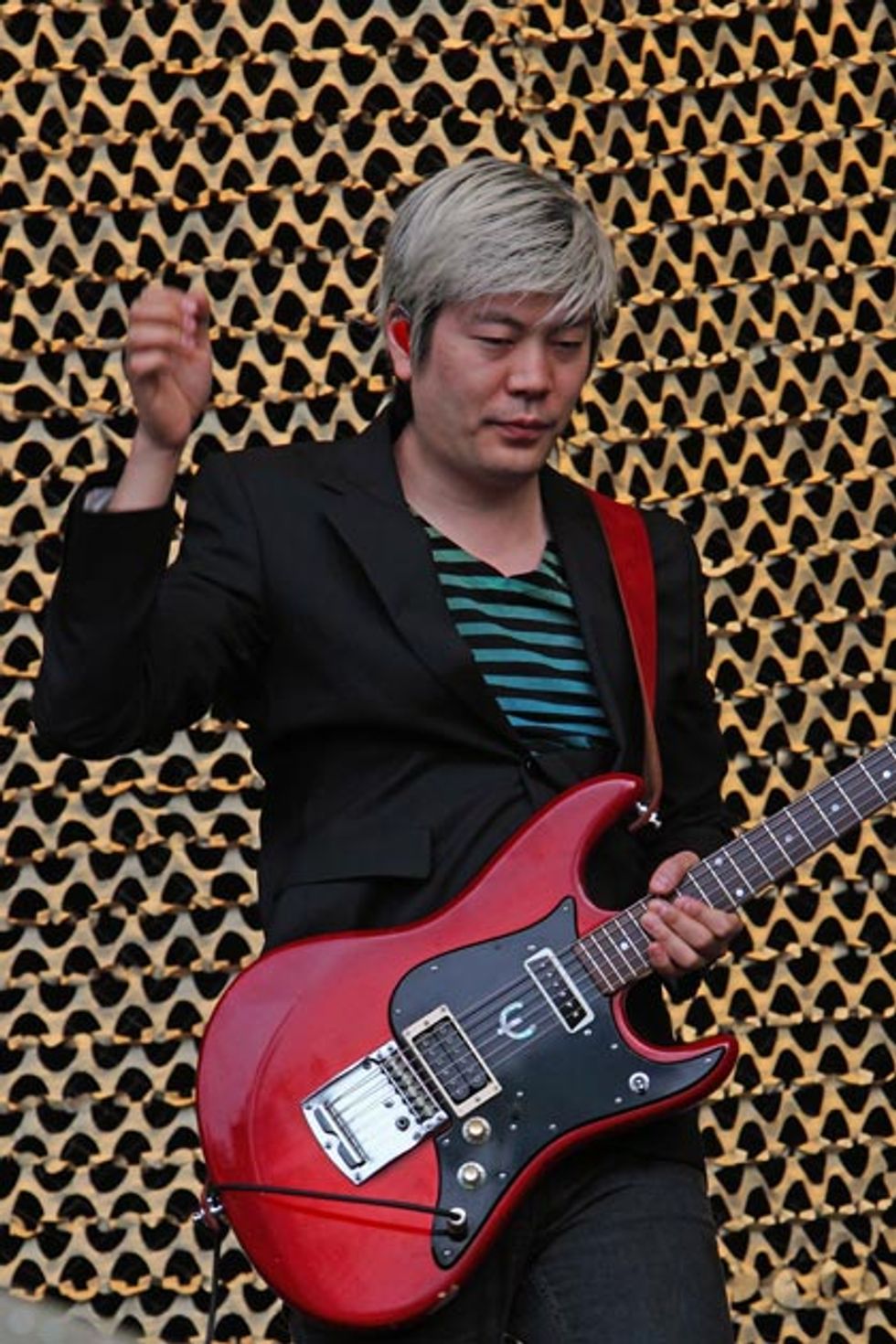 James Iha rocking out on his doublecut Epiphone ET-270 during APC's 2011 Lollapalooza set at Grant Park inside Chicago, IL. Photo by John Davisson / Frank White Photo Agency.
After a hiatus that lasted almost as long as the band had been in existence, A Perfect Circle reunited in 2010. Now the band is offering its first releases in nearly a decade: Three Sixty, a greatest hits collection featuring one new song, "By and Down," and A Perfect Circle Live: Featuring Stone and Echo, a limited-edition box set that includes Stone and Echo, a full-length live DVD and audio CD from the band's 2011 show at the Red Rocks Amphitheater in Colorado. There's also a live three-CD set featuring the band's three albums—Mer de Noms, Thirteenth Step, and eMOTIVe—performed in their entirety on three separate nights during the 2010 tour.
If a new release consisting primarily of old material has you scratching your head, APC founder and guitarist Billy Howerdel explains: "Well, we didn't get together to write new songs. For full transparency, I'm at the mercy of our singer's schedule. When Maynard [James Keenan, also the lead singer for Tool] is ready to go, I'm ready to go."
Such bluntness may seem at odds with the usual music business spin, but Howerdel has always been wary of showbiz shtick. "I don't have that drive and sales gene in me at all," he admits. "I'd probably talk you out of the band rather than into it. It's funny, because I do the majority of press for the band, so go figure."
"I wasn't in it for girls or drugs or any of the things that a lot of people get caught up in rock 'n' roll for. It was truly for the music." —Billy Howerdel

The introverted Howerdel entered the music business as a guitar tech, working with the likes of Guns N' Roses, Smashing Pumpkins, and Tool. "I wanted to be in a band but was too shy to put one together," he says. "With my personality, it was a way of entering the music business through the backdoor. I wasn't in it for girls or drugs or any of the things that a lot of people get caught up in rock 'n' roll for. It was truly for the music."
On the road, Howerdel would set up his portable studio after the rest of the crew was asleep, writing and recording in hotel rooms and on the bus. He saved money and moved to L.A., where fate intervened. "I wasn't good at networking, but I just happened to move in with Maynard," he recalls. After hearing the songs through the bedroom walls, Keenan offered to collaborate, and A Perfect Circle was born. Howerdel financed the first APC record with $20,000 he'd saved.
Another key connection occurred when APC recruited former Smashing Pumpkin James Iha to replace guitarist Troy Van Leeuwen, who had joined Queens of the Stone Age. Iha served with the band until their 2004 hiatus, and he returns in the current lineup.
What made you guys decide to regroup?
Billy Howerdel: Maynard just had a hole in his schedule. He had some ideas up his sleeve of doing this all-encompassing tour of select Western U.S. cities, performing the first three albums on three different nights.
James Iha: Billy and Maynard are both busy guys. It's just a matter of them freeing up enough time to record or do a tour. By 2008 or 2009, enough time had gone by that they both felt motivated to put the band back together and see what it sounded like.
What was it like revisiting the music after so long?
Howerdel: I'm trying not to have demo ears—where you can only hear the original [versions of the songs] and never move past it—but, looking back, I don't have any regrets. I've always had the time to do what I wanted to do to the songs. You never really know what you could redo. You can keep changing things forever—but not necessarily for the better.
Was it hard to relearn the material after being away from it for so many years?
Iha: Yeah, some of the playing is challenging. You can't really write it down—you have to just memorize it and know it.
Are you playing the original parts live or coming up with new ones?
Iha: Mostly staying true to the record. eMOTIVe was never played live—it was more of a studio record than the first two—so we definitely took liberties with that when we played it live. There's a lot of shit going on, so it's like, "What are the best parts to choose for a live performance?"
Howerdel: We spent a lot of time and energy figuring out how these things would come off live. So we had to redo it the way we probably would have recorded it in the first place if we'd thought we were going to tour with it.