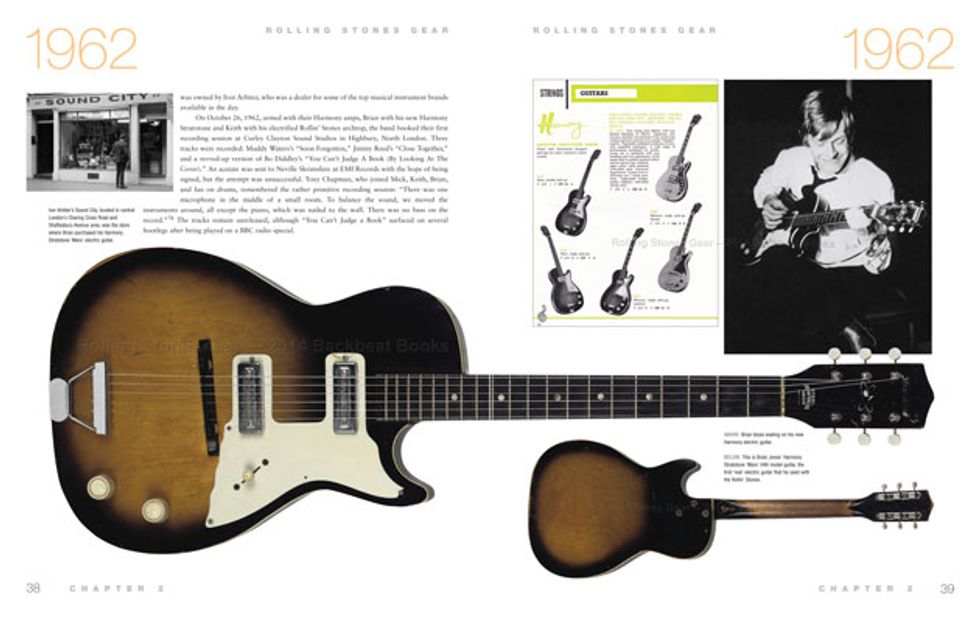 Brian Jones' Harmony Stratotone Mars H46 model was a semi-hollow flattop single-cutaway with a bolt-on neck, two basic Harmony pickups, a white pickguard, and a sunburst finish. It was a budget model in the Harmony range, with a cheap plywood body and a maple neck with a maple fingerboard stained black to emulate more expensive ebony.
The 1962 Harmony catalog description of the Stratotone Mars H46 read: "Provides outstanding value in its price class. Hollow 'tone chamber' construction. Ebonized maple fingerboard. Straightline hardwood neck with built-in steel reinforcing rod. Finely finished in warm sunburst effect showing the grain of the wood. White celluloid bindings. Adjustable bridge. Hinged tailpiece. Twin built-in pickups, each with tone and volume control. 3-position selector switch permits playing forward pickup for rhythm, bridge pickup for takeoff or solo, or both pickups at once, for maximum tone variation. $85.00. Carrying case, $10.00." Harmony produced the Stratotone H46 from 1958 through 1966.
From the Author:
Brian and Keith both had Harmony guitars. It wasn't the same price point as a Gibson, so it was much more affordable for the everyday guy. You have to remember that these guys had no money. They would pick up girls to get them to buy them food, so the term "starving musician" would be an understatement. Brian was initially the leader of the band, and I think he fancied himself as the guy who should have "real" equipment. Since these guys were huge blues fans and Harmony was a Chicago-based company, they thought if it was good enough for their blues heroes, it was good enough for them. Brian was working as a clerk in some department store, and the story goes that he pilfered some cash just so he could buy some amps and quit the job. It was a real "whatever it takes" attitude.
I do a lot of authentication, and wood is always the best fingerprint of a guitar. Again, it goes back to photographic evidence. Christie's had it up for auction, and they had contacted me to check it out. The wood grain matched.