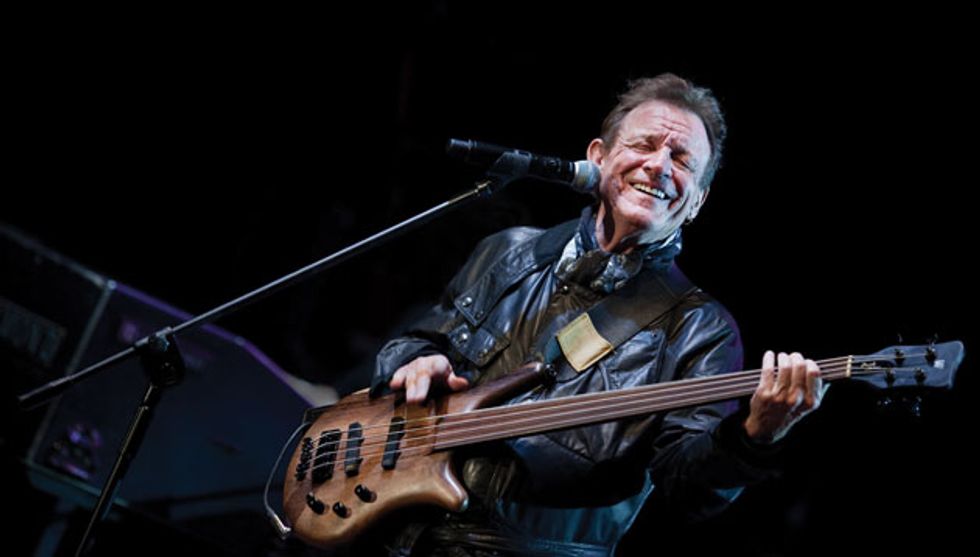 Jack Bruce plays piano as well as bass, but he calls himself a "natural bass player." He's played many models, including Gibsons, but these days he plays his signature Warwick fretless thumb bass.
Legendary bass player Jack Bruce has accomplished enough musical feats to last several lifetimes. Known as one of the most influential and iconic rock bassists of all time, Bruce first stepped into the spotlight with his band Cream, where his powerful vocals and innovative playing—accompanied by budding guitarist Eric Clapton—helped sell more than 35 million albums in just over two years.
After stints with other rock luminaries such as John Mayall, Ringo Starr, and Frank Zappa, Bruce found his own voice as a solo artist, writing 13 albums from the span of 1969 to 2003 that gained high acclaim for his vocal prowess, groundbreaking bass work, and progressive songwriting. His rhythmically challenging and melodic style of playing electric fretless and upright basses have inspired multiple generations of bass players, including the likes of Sting and Jaco Pastorius.
On the cusp of his 71st birthday, rather than sit back and enjoy a quiet life at his home in Suffolk, England, Bruce is still hard at work pushing the envelope by releasing his first album in more than a decade, Silver Rails. The beautifully eclectic album blends blues roots with piano ballads and even shades of progressive rock. Songs like "Drone," "Rusty Lady," and "No Surrender" give nods to his days of playing in Cream, while the reflective ballads "Candlelight" and "Reach for the Night" show Bruce's mastery of piano composition.
"I'm always writing riffs and looking for
a little sunshine in the rocks."

Joined by an all-star cast including keyboardist John Medeski, guitarists Phil Manzanera, Robin Trower, and Uli Jon Roth, drummer Cindy Blackman-Santana, and even his son Malcom, Silver Rails is one of Bruce's most inspired albums to date. And to add even more sentimental importance to his 14th record, Bruce and company recorded it all at Abbey Road Studios, where Bruce has laid down many of his hits over the years. But even with his impressive band and studio setting, many wondered if Bruce would still have the magic touch after his 10-year lull between albums. As Bruce explains, that's something that never goes away.
"When I began writing these songs, they just all sort of flooded out and the process was more fluent than ever. It's just an extension of me now," he says. "I'm always writing riffs and looking for a little sunshine in the rocks. I feel like songwriting is getting easier over time. Whether I'm playing my bass or sitting at the piano, these ideas just keep coming. It's not something you can necessarily turn off."
Silver Rails is an eclectic album with a lot of different styles on it. Was this your intention?
It wasn't a conscious decision—the songs just kind of came out like that when I wrote them. It kind of happened when it happened. I'd been playing around with a couple of the ideas and then the musicians I brought in put their spin on it and would bring certain elements out in them. I usually never know what to expect when I begin to write and sometimes certain influences come out more than others.
Jack Bruce's Gear
Basses
Bass Warwick Jack Bruce Signature Model Fretless Thumb Bass
Warwick Jack Bruce Signature Series (Fretted)
Gibson EB-3
Gibson EB-1
Amps
Hartke 7500 head
Two Hartke XL 4x10s
Two Hartke 1x15s
Effects
Japanese-made distortion: maker unknown. (A Japanese fan gave Bruce a handmade pedal after a show and then disappeared. Bruce loves the pedal—true story!)
Strings and Picks
SIT medium gauge roundwound (.050–.105)
Samson Wireless Stage unit
What was the writing process like for this album?
I write on bass and piano depending on how I hear an idea in my head. My writing differs quite a bit depending on which instrument I'm playing. The idea for the song "Rusty Lady" came because I wanted to write a new version of the old Cream tune "Politician." The riff I came up with for that just kind of popped into my head and so I played it on my bass. The songs "Reach for the Night" and "Don't Look Now" are a bit more musical, so I sat down at the piano to write them. I like to record piano, guitar, and drums for those types of songs and then I add the bass to make it a bit more orthodox.
How has your writing on bass evolved over the years?
It's very natural at this point and I don't think too much about playing bass guitar while I'm doing it any more. I'm always searching for the perfect bass line. I have been my whole life. I'm always striving to find that line and that note that will make everything sound good. That's the function of the bass—to make everything around it sound better. It's not about being flashy, it's all about enhancing the song. Playing piano is a little bit different because I'm not a natural piano player, but I am a natural bass player.
What was it like to record at Abbey Road again?
It was great fun to be back in that studio. I did a recording there two or three years ago, but every time you go in it's a unique experience. They have so much great equipment and a fantastic team of people there. It's always a remarkable experience and the history of that place is incredible. I think it brings your playing up a few notches because you don't want to play a bad note in Abbey Road—you have to be sharp. You start thinking about all of the great stuff that's been done there in the past and it makes you want to up your game.
What was your studio set up like for this recording?
I always like to go through a DI and use a couple of amps to get the sounds that I'm after. I don't use big rigs in the studio to track, but I do like to use them to re-amp things. I've found that that's the best way to get a big bass sound. I crank it up and it gets a really nice tone. But when I'm tracking I use smaller amps that really punch through.
How do you dial in your bass tone?
I like a lot of midrange and I like to be able to vary my volume, especially when I'm playing live. I don't like to just crank it up, I like it to be set somewhere in the middle so I can adjust it while I'm playing. My EQ on my amp typically looks like a frown or a rainbow shape, where my mids are up and my highs and lows are down so it makes somewhat of a curve.