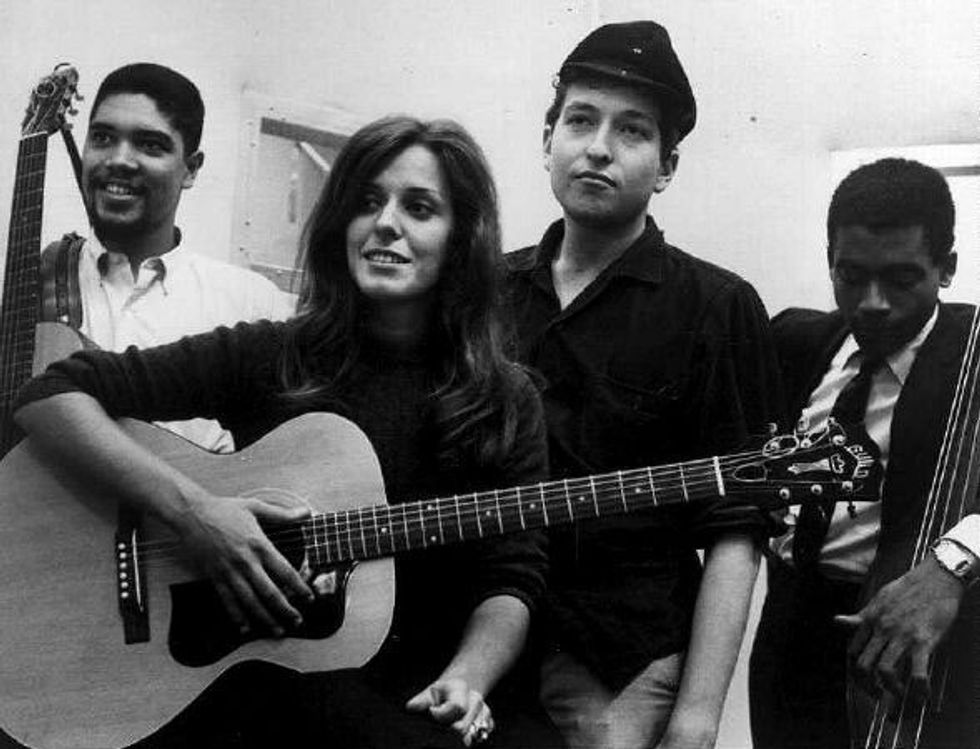 Langhorne first recorded with Bob Dylan while accompanying singer Carolyn Hester in 1961.
(L-R: Langhorne, Hester, Dylan, and bassist Bill Lee.)
The year 1963 found America in turmoil: John Kennedy would be assassinated in November, only months after Martin Luther King gave his "I Have a Dream" speech at a 300,000-person March on Washington for Jobs and Freedom. Bruce Langhorne was also at that podium, accompanying African-American folksinger Odetta.
Langhorne's playing skills were very much in demand by 1965. He appeared on records by Odetta and Joan Baez, and commenced a working relationship with Baez's sister Mimi and her husband Richard Fariña. Mimi Fariña played guitar, while Richard displayed dulcimer in a unique, rhythmic strumming style. Langhorne added acoustic and electric guitar, as well as percussion. He developed a close relationship with Richard, as Fariña's Cuban heritage also made him one of the few non-Caucasians in the largely white folk scene. And they were fellow hell-raisers, shooting at mailboxes while driving upstate in Langhorne's car.
"I was no good at Hollywood studio politics. And I didn't enjoy the parties." —Bruce Langhorne
Langhorne had great respect for Mimi's guitar playing. When he found two stellar, 12-fret, V-neck Martins in his guitar-buying travels, he bought one for Mimi.
Though Dylan's Bringing It All Back Home is rightly credited with heralding the beginning of the folk-rock era, Richard and Mimi Fariña were moving in that direction at the same time, and Bruce Langhorne helped create the new sound for both parties. Langhorne's stabbing electric blues licks on "Reno Nevada," from the Fariña's Celebrations for a Grey Day record lift it well out of the folk tradition. In fact, label head Seymour Solomon deemed the solo such "abrasive noise" that he almost refused to release it. It sounds tame today, but in the context of the day it might as well have been Captain Beefheart.
Langhorne was one of several guitarists on Bringing It All Back Home. Others included session guitarist Al Gorgoni and Kenny Rankin, who would go on to be a successful artist in his own right. Much of the record was cut in one day. "There were a whole bunch of studio cats, and we were unrehearsed," Langhorne related in Hajdu's book. "No lead sheets. Everyone would just start playin'. I don't even remember Bob runnin' though the songs once."
In a 2007 interview he recalled: "The connection I had with Bobby was telepathic, and when I use that word, I mean it. Between the two of us, that level of communication was always very strong. I played on every song on Bringing It All Back Home. Some of those numbers were barely rehearsed. Some were done in one or two takes."
YouTube It
Langhorne's tremolo guitar and distinctive pull-off parts add depth and mystery to Richard and Mimi Fariña's folk-based sound.
One song on the record was "Mr. Tambourine Man," later a pop hit for the Byrds. On the record's track notes Dylan reveals the origin of the tune. "'Mr. Tambourine Man,' I think, was inspired by Bruce Langhorne," he says. "Bruce was playing guitar with me on a bunch of the early records. On one session, [producer] Tom Wilson had asked him to play tambourine. And he had this gigantic tambourine. It was like, really big. It was as big as a wagon-wheel. He was playing, and this vision of him playing this tambourine just stuck in my mind. He was one of those characters ... he was like that. I don't know if I've ever told him that."
Dylan went on to employ Michael Bloomfield and Robbie Robertson as guitarists, and Langhorne would not work with him again until the movie soundtrack for Pat Garrett & Billy the Kid in 1973.
By the time he was interviewed for the Martin Scorsese film No Direction Home: Bob Dylan, Langhorne had revised his initial impression of Dylan: "I remember he was different. He was doing Woody Guthrie songs. He had on a little hat, he had a [harmonica] brace. There's a quality of determination and of will that some people have, that when they are doing something they are really doing it and you know that you have to pay attention to them."
Studio Success
The remainder of the '60s and early '70s would see Langhorne playing on and producing records for a Who's Who of the burgeoning folk-rock world—what we would now call Americana. The list includes Buffy Sainte-Marie, Eric Andersen, Ramblin' Jack Elliott, John Sebastian, Richie Havens, and Tom Rush. As former folkies scrambled to embrace the sound Dylan and the Fariñas had pioneered, Langhorne became the go-to guy. Artists outside the folk world, such as Hugh Masekela and Hoyt Axton, also recognized his talent.
In the early '60s Langhorne married his first wife, Georgia, an African-American ballet dancer, but the marriage lasted only 18 months. By 1969, he was living with his long-term girlfriend, Natalie Mucyn, when he was approached by actor/director Peter Fonda. Fresh off his success in Easy Rider, the actor was allowed an unusual degree of editorial control for his 1971 directorial debut, The Hired Hand. He commissioned Langhorne to compose a soundtrack based on his facility with traditional American instruments like guitar and fiddle. Langhorne worked with film editor Frank Mazzola, who has affirmed the music's resemblance to later film scores by Ry Cooder. "The work Bruce produced was years ahead of its time and yet remains unique," said Mazzola. In a 2007 interview, Fonda recalled the studio's initial opposition to his choice of composer. "I reminded them that, in the world of music, the word 'virtuoso' still means something," he said.