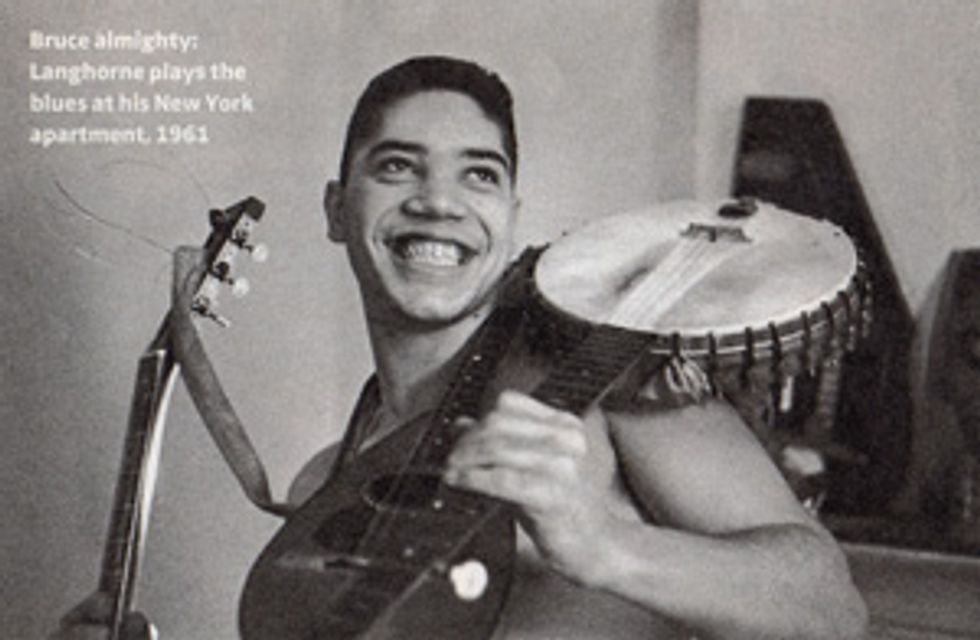 Langhorne Licks
Lacking a full compliment of fingers, Bruce Langhorne had to develop his own technique. His early influences were R&B, and the first record that caught his attention was Ruth Brown's "Mama, He Treats Your Daughter Mean." He was also into Wilson Pickett and the great jump-blues bandleader Louis Jordan.
Langhorne also found inspiration in classical music, particularly in the way composers create polyphony by weaving together individual lines. In the studio he'd listen to the song and the other players, and then figure out a part with three voices—a number he could control with his injured right hand. In an interview with Richie Unterberger he explained, "I needed someone who had a thread going to really do my job, because then they could generate a couple of lines of polyphony or a rhythmic structure, and I could enhance that. I got to be a very good accompanist for that reason. I was really forced to listen, and that's essential for an accompanist."
On The Freewheelin' Bob Dylan Langhorne added an additional acoustic guitar part to the traditional tune "Corrina, Corrina." His sliding sixths helped establish Langhorne as a distinctive guitar voice in the folk era. They appear again on "She Belongs to Me." The same album displayed Langhorne's ability to weave a countermelody around a vocal on "Mr. Tambourine Man," the tune he inspired, and in a lower register on "It's All Over Now Baby Blue."
His out-front acoustic work on Odetta Sings Dylan, also recorded in 1965, offers a deeper look at his style. Langhorne's insistent hammering-on throughout "Master of War" is mixed way up, making him an equal partner in interpreting this dark masterpiece. On "The Times They Are A-Changin'" he demonstrates his knack for weaving countermelodies to the vocal line, along with surprising note choices and two-note pedal tones that build almost unbearable tension. Though soulfully jazzy, Odetta's version of "Mr. Tambourine Man" would have lived in the parlor rather than the alley without Langhorne's hook of alternating the 5 and b7 over each chord.
Langhorne has described how he came upon the unique electric sound he used to color those recordings. On sessions where electric guitar was needed, he would clamp a magnetic soundhole pickup (probably a DeArmond) to his old Martin. Langhorne was friends with Sandy Bull, a brilliant multi-instrumentalist who made visionary instrumental records using delay, overdubbing, and non-Western musical elements. Langhorne would borrow Bull's brown Fender Twin Reverb for sessions. Heavily influenced by Staples Singers patriarch and guitarist Roebuck "Pops" Staples, he would fiddle with the amp's tremolo until he found a speed compatible with the tune's tempo and feel.