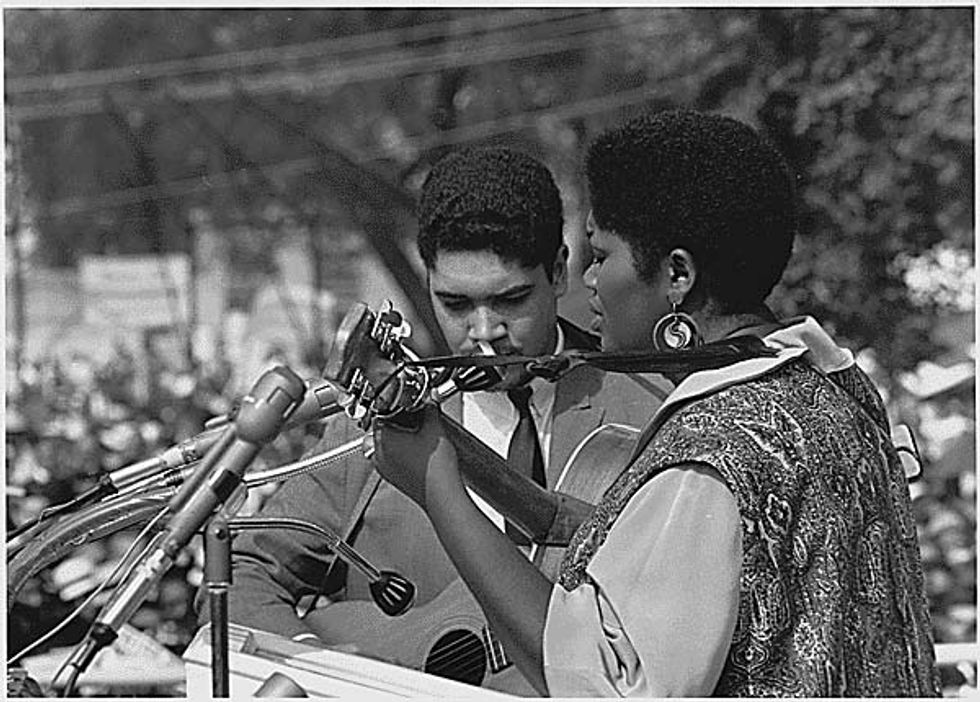 Langhorne accompanied singer Odetta at Martin Luther King's March on Washington on August 28th, 1963.
Another soundtrack for a little-known Fonda movie, Idaho Transfer, followed, but it was acclaim for The Hired Hand that brought Jonathan Demme calling. It was the beginning of a working relationship that would include such Demme movies as Fighting Mad and Melvin and Howard.
In 1976 Langhorne did the Stay Hungry soundtrack with fiddle player Byron Berline for director Bob Rafelson. Starting in 1977 he partnered with Morgan Cavett in a recording studio called Blue Dolphin. Cavett had worked with Steppenwolf, produced records, and discovered The Captain & Tennille. It was in this studio that some of Langhorne's soundtracks were realized.
"The work Bruce produced was years ahead of its time and yet remains unique." —film editor Frank Mazzola on Langhorne's movie soundtracks

Moving On
A third collaboration with Demme was planned, but never realized. "Bruce had done a magnificent score for a film of mine called Swing Shift," Demme is quoted as saying. "Langhorne wrote original live music in the style of 1940s big bands and 1940s jazz, and fused it into the dramatic score that he had written. Had I not been fired, had Swing Shift not been re-edited, had Bruce's score not been trashed, he would undoubtedly have gotten a fucking Oscar nomination for his extraordinary work on that movie. To experience the horror of seeing work of that quality thrown into the trash by Warner Brothers ... I have always suspected that it was on the heels of this that Bruce chucked it in and moved to Hawaii."
There were other factors in Langhorne's relocation. "I was no good at Hollywood studio politics," he said. "And I didn't enjoy the parties." Also, perhaps encouraged by his indulgence in substances freely circulating at the time, the guitarist had become fascinated by the trance effect of prolonged percussion playing. In 1980, Langhorne left Los Angeles for a cane shack in Hawaii and began a career as a macadamia nut farmer. The nut farm proved more work than Langhorne anticipated, and he returned to Los Angeles in 1985, settling into a house in Venice Beach and playing with a wide range of musicians, including the late Nigerian percussion master Babatunde Olatunji.
In 1992 Langhorne was diagnosed with Type 2 diabetes. This led to a new career as developer and purveyor of Brother Bru-Bru's Hot Sauce. At 8,400 Scoville heat units, Brother Bru-Bru's is a little more than twice the strength of Tabasco. Made primarily from expensive habanero peppers (most producers use the cheaper jalapeños), it is manufactured in the U.S. The sauce is largely sold in small health stores because, inspired by Langhorne's illness, Bru-Bru's has no salt, sugar, gluten, artificial coloring, or preservatives.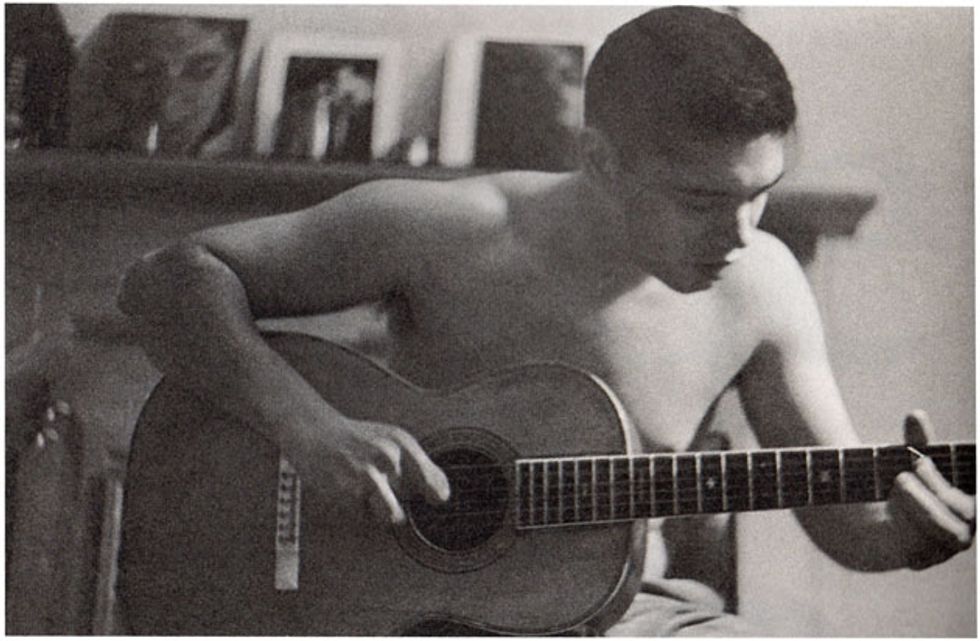 The binding on Langhorne's 1920 Martin 1-21 is actually light wood, as on many of today's guitars.
Langhorne continued to do soundtrack work into the '90s, largely employing keyboards. ("Just another tool to make music," he noted.) In 2003 he formed the Venice Beach Marching Society, a tribute to the music of New Orleans that parades down the Venice boardwalk every Saturday with a cart of amplifiers and a drum.
As his illnesses progressed (including a 2006 stroke), Langhorne gave up guitar altogether. "I figured I had done what I was supposed to do on guitar," he said. "If I never did anything else on the planet, the things I did were significant and timeless in a way, so I didn't have to do anything else." Still, 2011 saw the release of his one official solo record, Mr. Tambourine Man, a Caribbean-influenced affair featuring mostly keyboards and percussion.
As they say: "Those who know, know." But if the vast majority remains unaware of this extraordinary talent, perhaps it's because he has always considered himself creatively ambitious, rather than career ambitious. Jonathan Demme offers an explanation: "He never had to look for work. People came to him. He is a tremendously unambitious guy. That's how he can be a genius and not better known."
Langhorne has his own explanation: "I have always believed that fame is a curse," he says. "I don't envy one of the famous people that I have ever met."