Right-Hand Man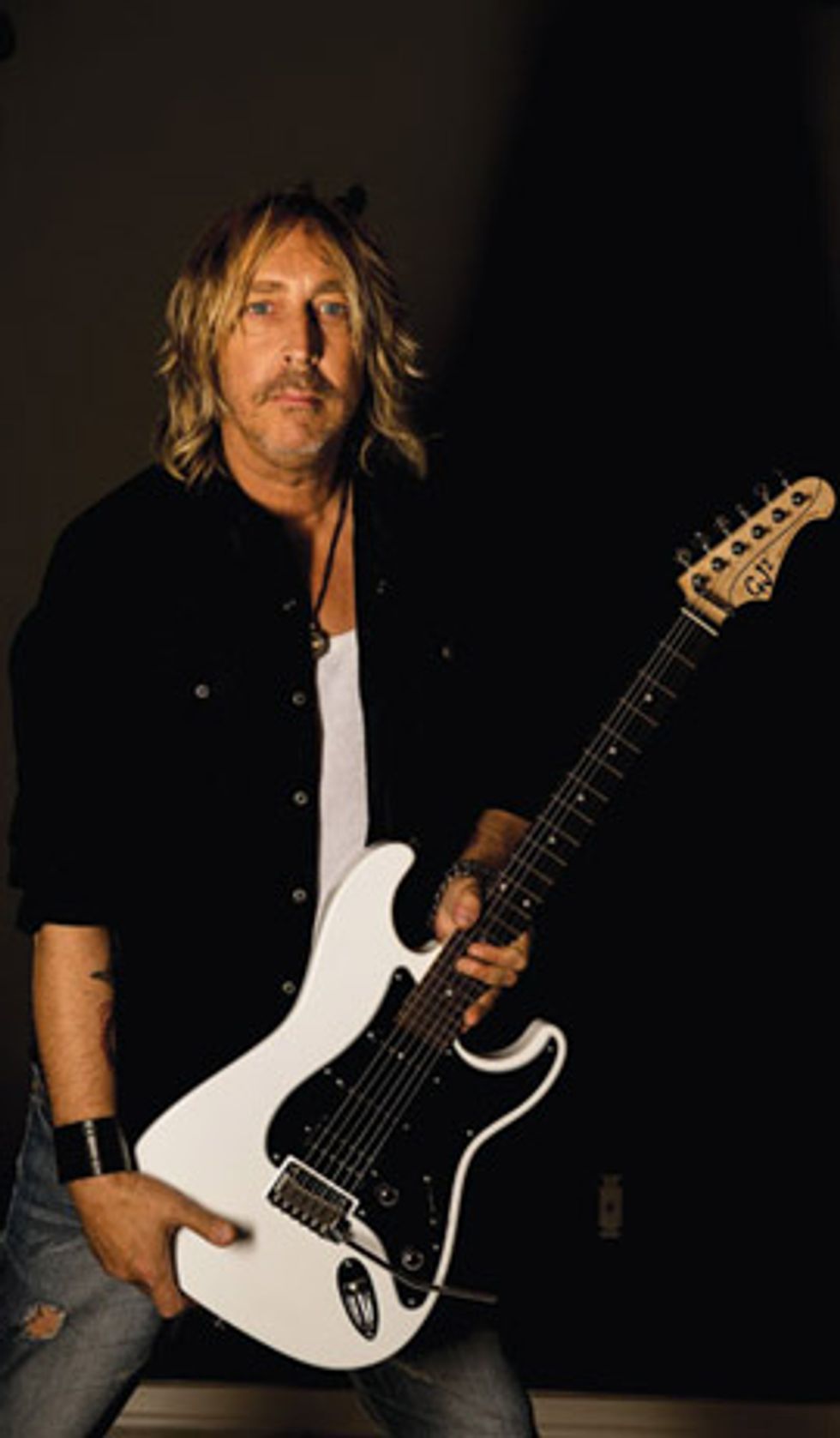 Photo by Michael Weintrob
Paul Nelson is Johnny Winter's supporting guitarist, producer, and manager, but his most important role is friend. If Nelson hadn't made what was essentially a one-man intervention in Winter's life nearly a decade ago, the guitar hero who ascended from Texas dive bars to the stage at Woodstock in a single year after recording his debut album would likely be pushing up posies instead of bending strings.
They met while Winter was cutting 2004's I'm a Bluesman at Carriage House Studios in Stamford, Connecticut. "Johnny heard me playing some blues next door during a session I was doing for the World Wrestling Federation, and invited me to meet him," Nelson recounts. He was recruited as a songwriter and second guitarist on the project, and when it was over Winter invited Nelson on the road.
"What he liked about me is that I was one of the few guitarists he played with who didn't step all over his playing," Nelson recounts. "Johnny said, 'With everybody else, it was always a guitar war.' I only do what needs to be done. If Johnny plays single notes, I play chords. If he plays low, I play high. It's simple. I stay the hell out of his way and make everything sound bigger.
"Johnny took me under his wing and immediately started teaching me the blues riffs he'd learned from Muddy Waters," Nelson says. "As I became more comfortable I started telling him the emperor had no clothes. He was singing and playing like crap, and practically falling asleep onstage. This had gone on for years with nobody trying to help him. So he asked me if I'd manage him. I said, 'Yes, if you give up the drugs and drinking, start doing something about your health, and get back to being Johnny Winter.' Believe me, there was a lot of screaming and fighting along the way, but he did it. There were huge changes the moment the drugs and stuff were gone—but try telling a rock star from the '60s that!
"Some days," ponders Nelson, "I wonder, am I his producer, his band mate, his manager, his pal? Or maybe I'm really the luckiest fan in the world."
"It's simple. I stay the hell out of his way and make everything sound bigger."

Nelson was well into a successful career as a session player, producer, solo artist, and hard-rock guru with credits ranging from Leslie West to Los Lobos to Steve Morse when he signed on as Winter's manager. As a youth, he was already enraptured by the playing of Winter, Billy Gibbons, Jimi Hendrix, Albert King, Jeff Beck, Wes Montgomery, and Larry Carlton when he attended Boston's Berklee College of Music, then went on to study with Mike Stern, Steve Kahn, and Steve Vai. So Nelson had plenty of 6-string smarts and studio skills to apply to Winter's 2011 album Roots, as well as the new album Step Back.
Both sets feature blues chestnuts and all-star casts, with the lineup on Step Back including Eric Clapton, Ben Harper, Brian Setzer, Leslie West, Billy Gibbons, Joe Perry, Dr. John, and harmonica demon Jason Ricci. Nelson also duets with Winter on "Killing Floor," a song originally recorded by blues giant Howlin' Wolf for Chess Records in 1964.
"When Johnny was ready to make this album, he picked the songs in 15 minutes," says Nelson. "These are songs he's loved all his life." Nelson had the rhythm section learn the original version of each of the blues classics, and then had them learn another version recorded a few decades later before they worked with Winter on the album's arrangements. "That way they've got perspective going into the session with Johnny," he explains. When the basic tracks were done, they were sent to Winter's handpicked guests, who added their parts.
To make the guest guitarists' parts gel with Winter's playing, Nelson duplicated the mic setups used by each player. "Clapton, for example, used a small amp and overhead mikes," notes Nelson, "while Leslie West put a microphone right in front of his amp's speaker. When I use the same approach to record Johnny, it sounds like they cut their guitar parts together in the same room." Winter owes two more albums to Megaforce Records per his contract, and Nelson has also signed a deal to record solo for Megaforce.
Nelson says that winning a Grammy and being inducted into the Rock and Roll Hall of Fame top Winter's bucket list. "He's told me, 'I'm at a point in my life where I love receiving awards. Give me awards.'"