On Candid Camera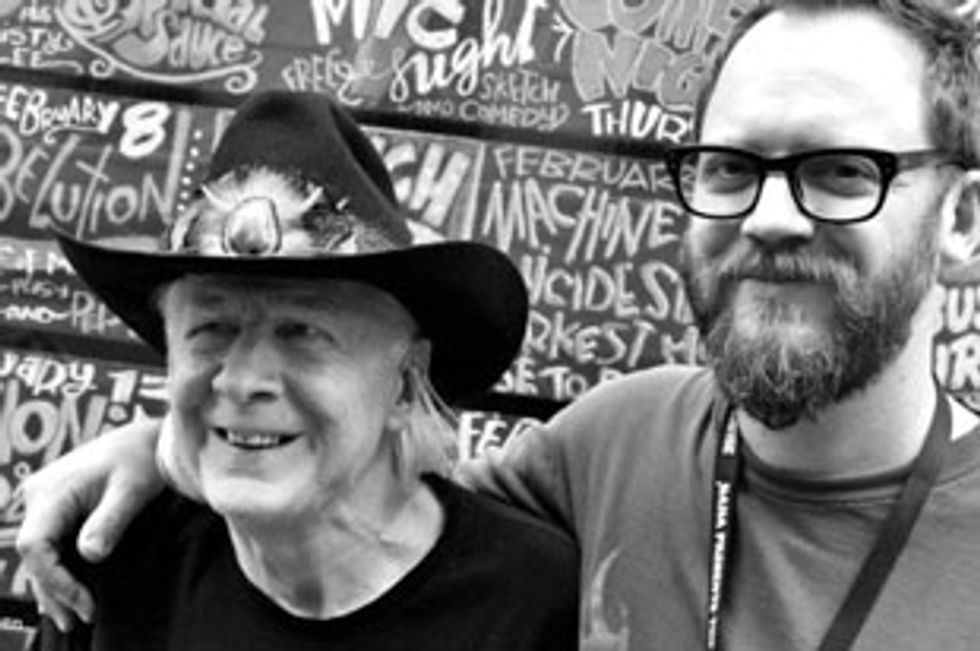 Sure, director Greg Olliver's rock-doc Johnny Winter: Down and Dirty provides a through-the-Winnebago-windshield view of the life of the Texas guitar legend as he travels the U.S. and Japan, and reminisces about his adventures with Jimi Hendrix, Janis Joplin, and his idol, Muddy Waters. But it also busts myths about his health and history, thanks to Winter's relentless candor.
Early in the movie, which premiered at this year's South By Southwest Film Festival, we see Winter receiving a visit from a physical therapist and struggling through exercises designed to strengthen and lengthen his back muscles, atrophied from years of bad posture, chemical abuse, and general neglect.
"Not everybody would allow a filmmaker to show them being vulnerable like that," says Olliver, who also directed the critically heralded 2010 documentary Lemmy, about Mötorhead's Lemmy Kilmister. "Johnny isn't a rock star. He's a real person and one of the most frank and open people I've ever interviewed, which made the two years I spent working on Down and Dirty really fun. Not once did he ever hold back."
But viewers also see Winter enjoying life—horsing with his friends and his accomplice, manager/guitarist Paul Nelson, and taking pleasure in simple, but deep, pleasures like spinning a Robert Johnson record on a phonograph. There's also plenty of live performance footage and cameos from Billy Gibbons, Joe Perry, Derek Trucks, and others commenting on the power and durability of Winter's influence and legacy.
Olliver says his decision to train his lens on Winter came organically. Like the 6-string legend, Olliver was born and raised in Texas and grew up on the sound of blues from its originators and well as Lone Star heroes the Fabulous Thunderbirds and ZZ Top. When Olliver approached Winter and Nelson, they readily accepted.
Once Olliver got on the Winnebago, he discovered another bond with Winter: a love of horror and science-fiction films. "Johnny loves to stay up late at night on the bus watching B movies," Olliver recounts. His taste varies widely. Two favorites are the 1956 classic Forbidden Planet and the hideously bad 1972 Ray Milland vehicle Frogs, which, to borrow Olliver's description, "is about a bunch of frogs hopping around a plantation killing people."
Olliver's own project between Lemmy and Down and Dirty was Devoured, a genuinely creepy horror film that's just been released in the U.K. "Johnny said that he loved it," Olliver notes.
The glue between his two documentaries and Devoured is Olliver's gift for storytelling. But there are some stories that didn't make the final cut of Down and Dirty. "When we were in Hong Kong, Johnny said, 'Hey, we should find some opium, and then we're gonna put it up our butts.' I said, 'Johnny, if there are two things I'm not going to do on this trip, it's find opium and put it up my butt.'
"When I told [veteran Winter and Double Trouble bassist] Tommy Shannon that story, he said, 'You know, there was a time and a place when that sort of thing was perfectly acceptable.'"

For updates on the film's availability, check johnnywinterdownanddirty.com.