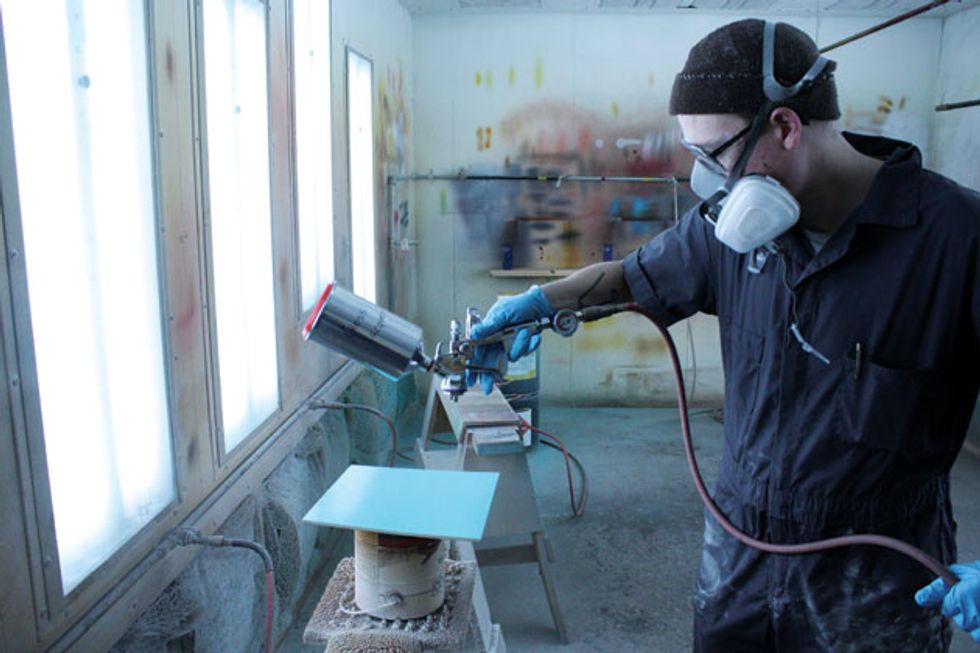 Samek practices spraying a Gibson-like Pelham Blue lacquer on a wooden blank.
Samek chose spruce for the top because of its ubiquity in acoustic guitar design, but says he selected padouk out of curiosity: "I also had no idea how it would sound, but I wanted to find out."
His electric guitar was more eclectic. Samek wanted it to have a single P-90 pickup in the neck position because he'd never owned a guitar with that configuration. Using knowledge learned in class, he chose maple and African black limba for the neck and body, hoping their bright tonalities would balance out the tone. "I wanted something that wasn't as bright as a Telecaster, but not overly bassy either," he explains. "I think I got what I was going for."
Samek modeled the body shape on a '50s Silvertone single-cut hollowbody electric borrowed from a friend, though his design omitted the cutaway. He chose black limba partly because of its similarities to korina. "It's also easy to work with," he notes, "and it looks awesome with a simple clear coat, which lets the wood's amber color and black streaks come through." The plans also included a glossy maple fretboard, 25" scale, Gibson-style tuner layout, Babicz Full Contact bridge, trapeze tailpiece, and a thin coat of nitrocellulose lacquer. Again, the neck shape would be modeled from his old Aria.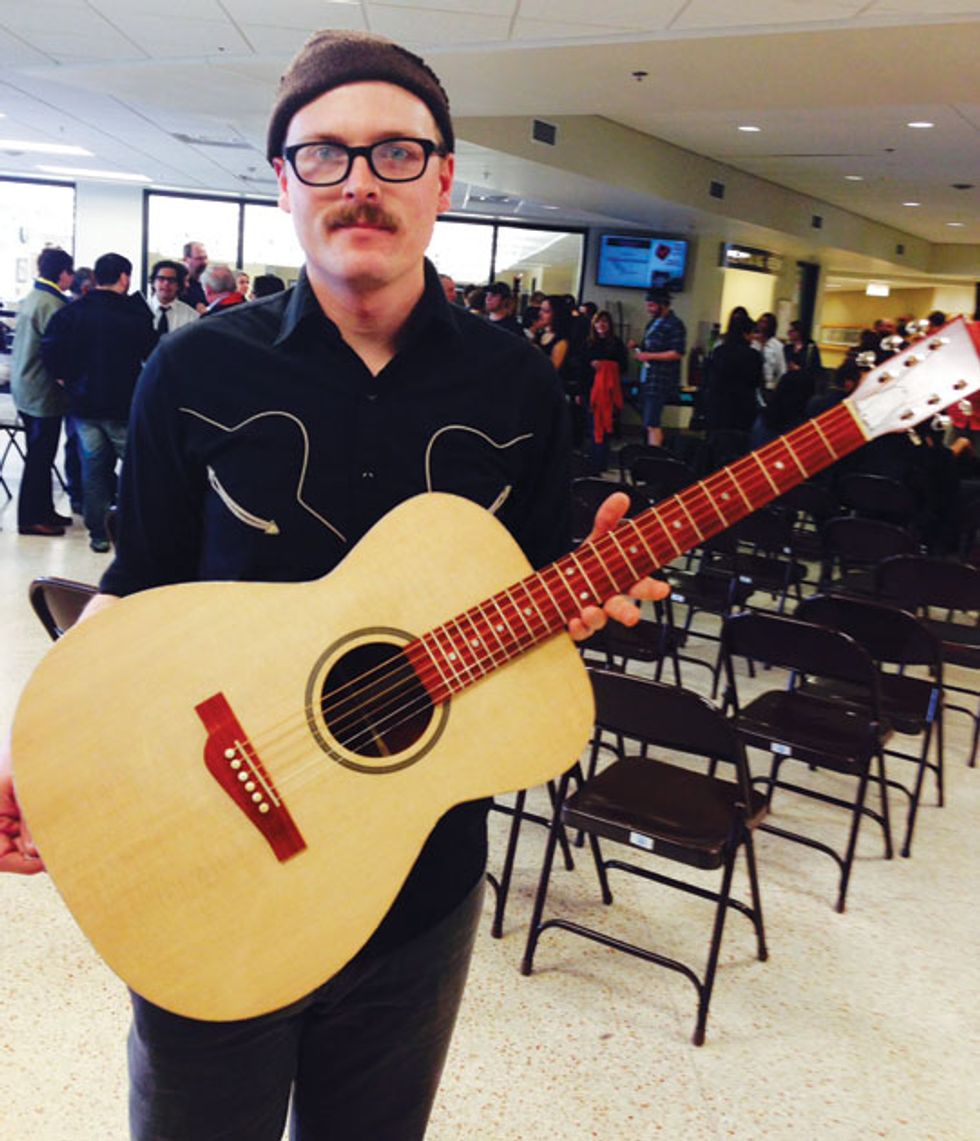 Samek displays his finished acoustic guitar. The instrument boasts back and sides of padouk, a mahogany neck, a Sitka Spruce top, a rosewood fretboard, and pearloid binding.
The Build Goes On
The extra time Samek spent studying and practicing paid off as he worked through his builds. He proceeded slowly and methodically, handcarving the necks, routing the truss rods, and installing the fretboards.
There were a few scares: At one point while routing a body off of a template, the end grain got caught and the body flew off the routing table, hitting the wall. "My stomach just sank," recalls Samek. "I had to redraw the curve along the back and use a band saw to cut out the missing chunks." The accident was a blessing in disguise, however—Samek actually prefers the body with its accidental streamlining.
Meanwhile, instruction continued. Boedigheimer tutored the students in finishing techniques, showing them how to use a color wheel to determine combinations, how to properly mix lacquers, and varying application techniques. In one lesson he explained how to apply a Gibson-style sunburst by using a yellow basecoat, and then applying a diluted red layer around the edge before rubbing it towards the center of the wood. The class practiced the technique using practice boards cut into Les Paul shapes. "It probably doesn't help that I really don't like sunbursts," jokes Samek, who spent extra time in the finishing room making his burst absolutely symmetrical.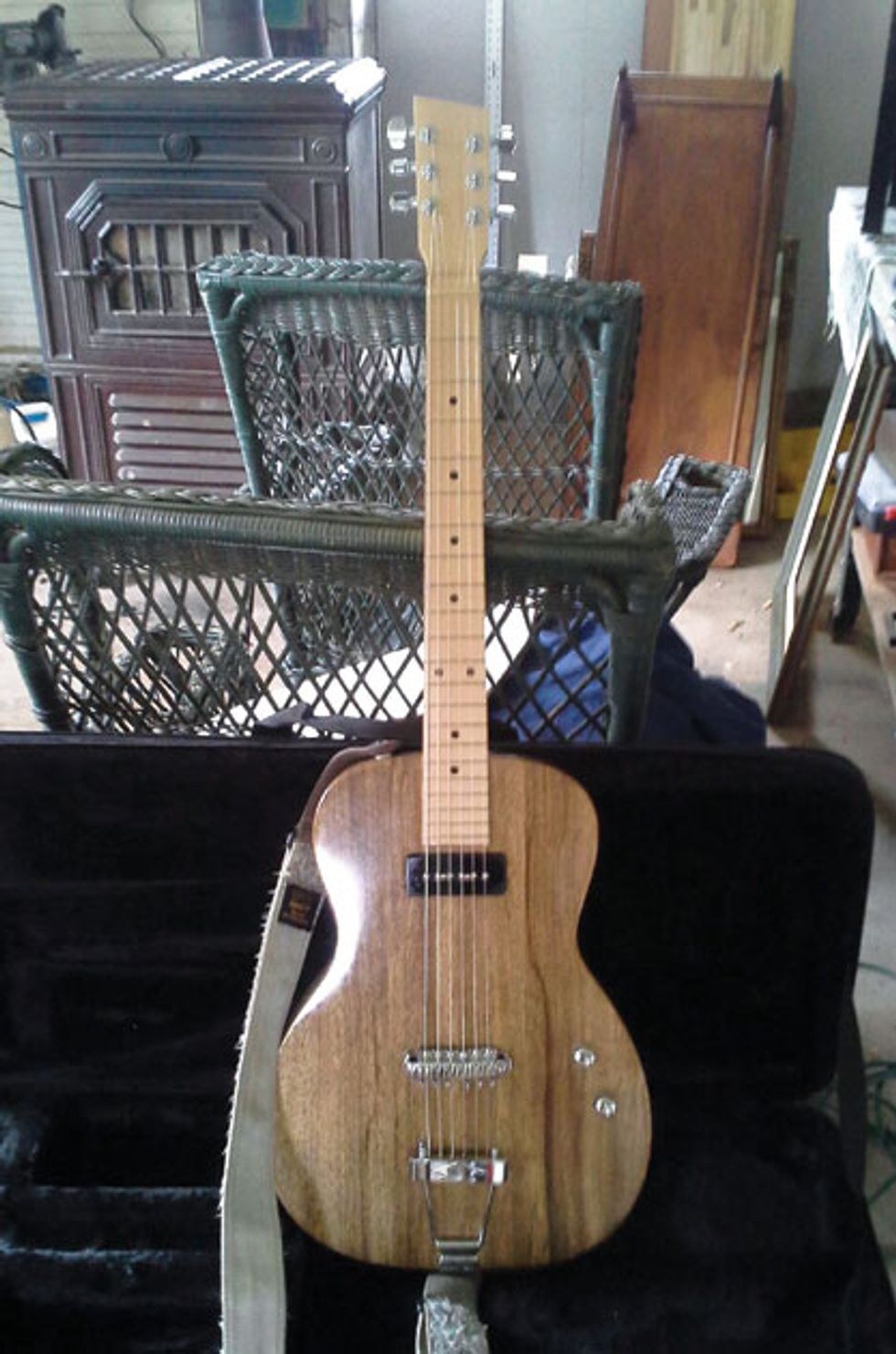 Samek's finished electric guitar. The body is African black limba. The neck and fretboard are maple. Hardware includes a Stewart-MacDonald Golden Age P-90 pickup, a Babicz Full Contact bridge, and a trapeze tailpiece.
By mid-May Samek finally got to string up his finished acoustic and electric guitars—nearly 10 months after entering Red Wing with little professional guitar repair knowledge. His guitars were displayed with his classmates' at the annual graduation guitar show, which draws students, alumni, and industry professionals.
Samek opted to return for the second-year program this year. "I'm really looking forward to building an archtop," he says. "I'd like to know about the construction differences between archtops and acoustics."
Samek emphasizes how friendly and comfortable the teaching environment is—and that even the best students always have something new to learn: "You could try to learn how to do this in your garage by yourself, and you might eventually develop sound ways of making things work. But you'll probably spend a lot more time and energy doing it that way, as opposed to being surrounded by teachers and students all focused on the same thing. It's a nice community of reference and knowledge that's hard to find anywhere else."