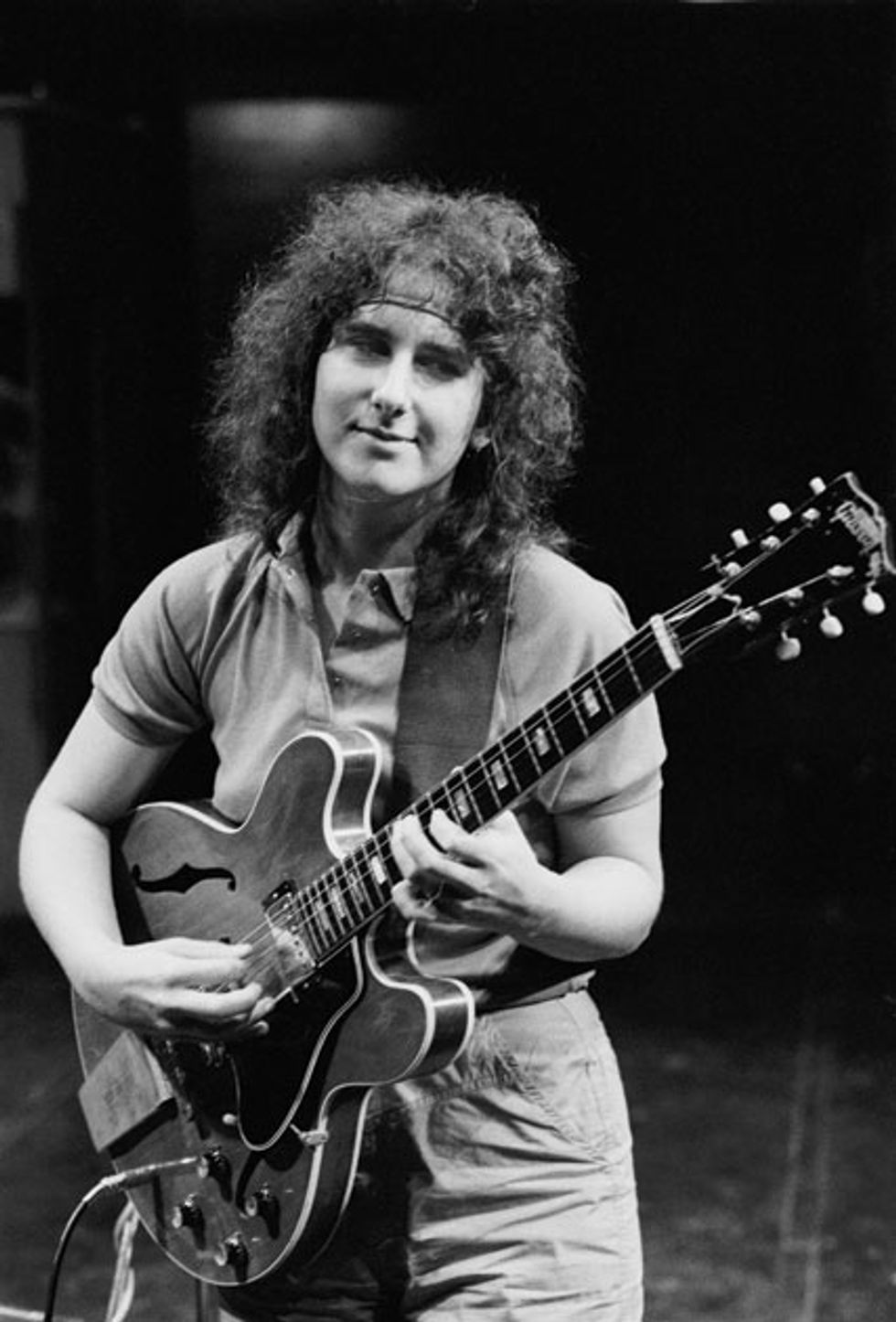 Photo by Frans Schellekens / Redferns / Getty.
In 1935, Benny Goodman hired Teddy Wilson as his pianist. That was a big deal: Benny Goodman was white, and Teddy Wilson was black. In those days, jazz, like everything else, was segregated. Goodman was a pioneer who felt racism had no place in music, and his integrated band was a first. It launched the careers of Lionel Hampton and Charlie Christian. It changed music in America. And while it wasn't the end of racism in jazz, it was a beginning.
Sexism was a different story. Women were accepted as singers—Billie Holiday, Ella Fitzgerald, Sarah Vaughan—but not as instrumentalists. It just wasn't done. Many musicians, fans, record labels, critics, and others didn't take female musicians seriously. This attitude was prevalent in the 1970s and '80s and—let's face it—it hasn't entirely gone away.
But no one told that to Emily Remler.
Remler was a guitarist. She was a great jazz artist. She was fearless and assertive. And she was gaining acceptance and prominence when she died in 1990. She was only 32.
She rented a room on Long Beach Island for eight weeks and worked on chord theory and soloing. She quit smoking. She lost weight. That's where she learned how to play.
Starting Out
Remler grew up in Englewood Cliffs, New Jersey. She started playing the guitar at age 10 on her older brother's cherry-red Gibson ES-330, the guitar she would use for most of her professional career. She learned simple folk tunes, Beatles songs, and Johnny Winter solos note-for-note, but it was just a hobby. She wasn't serious yet and had other interests, like sculpture and drawing. Remler was sent to a private boarding school in Massachusetts to finish high school. She graduated young, at 16, and applied to music and art schools. She got accepted to one of each: the Berklee College of Music and the Rhode Island School of Design. She had to decide: music or art?
She chose music.
She told an interviewer for Down Beat magazine in 1985, "I was so frustrated with art. I couldn't get it the way I wanted it. Music, at least you get more chances and a little more time and have the companionship of the other musicians."
She wasn't that good when she got to Berklee, and jazz was an alien art form. Miles Davis and John Coltrane were not on her radar. But Berklee was a diverse place, and jazz was more than Coltrane and Miles. She heard Paul Desmond, Pat Martino, and Wes Montgomery. That was more her speed—she loved it and became hooked.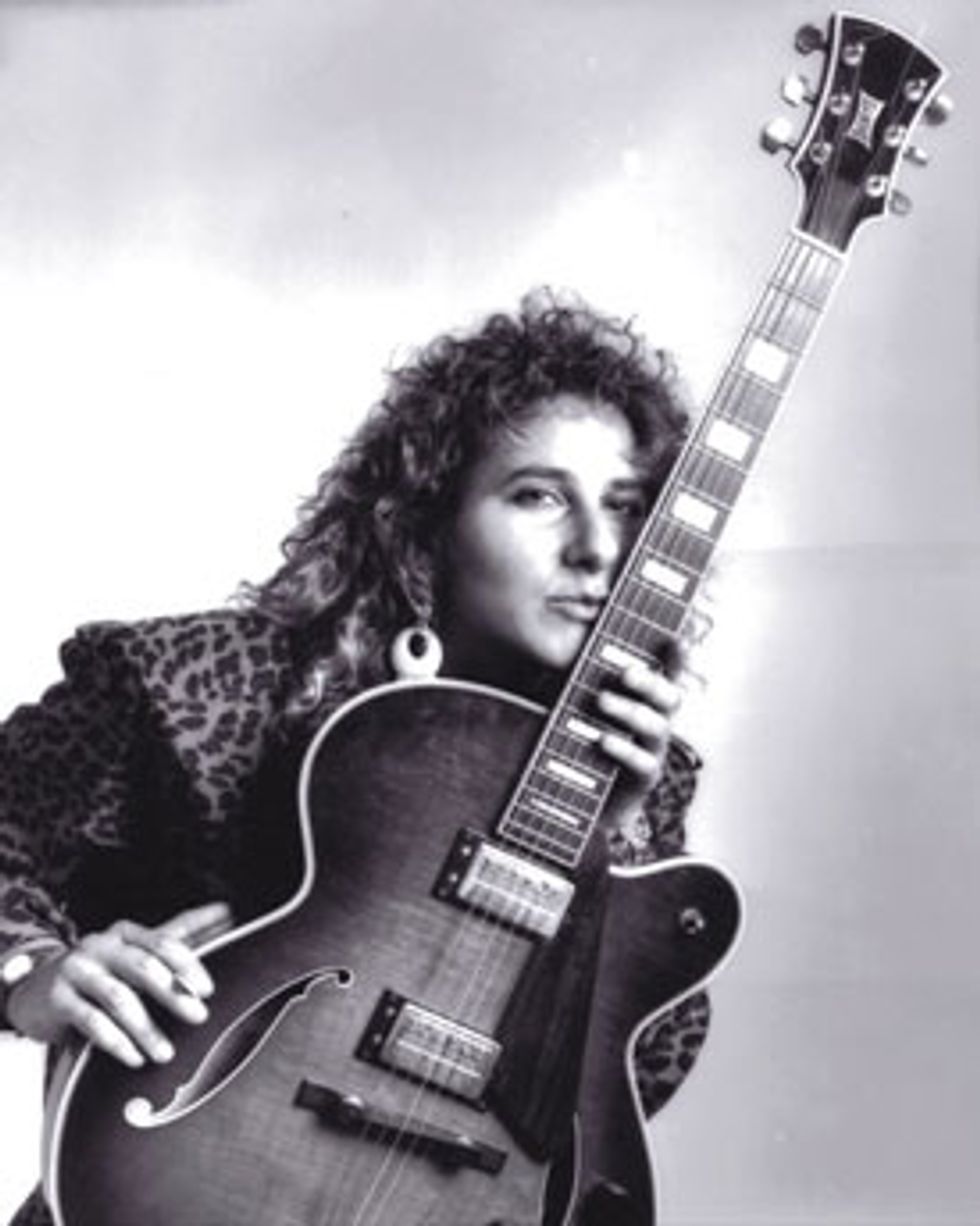 Remler finished a two-year degree and graduated at age 18. She still wasn't much of a guitarist (at least that's what she said in interviews) but she'd learned a lot about music, including harmony, reading, and keeping time.
"[My] teacher told me that I had bad time. I rushed. I went home crying. Crying. But I bought a metronome. I worked with the metronome on two and four. I practiced with that thing and nothing else behind me," she said in the same 1985 Down Beat interview. She worked hard at it, and eventually great time—her ability to swing—became a hallmark of her playing.
Her boyfriend at the time, Steve Masakowski, was from New Orleans, and they decided to move there. But she wanted to spend the summer practicing in New Jersey first, so she rented a room on Long Beach Island for eight weeks and worked on chord theory and soloing. She quit smoking. She lost weight. That's where she learned how to play.
The Big Easy
When Remler moved to New Orleans, she got to work. Reading music got her a lot of gigs: hotel shows, weddings, anniversary parties, rhythm and blues gigs, jazz gigs, and all-night jams with the old-timers on Bourbon Street. She gigged with Wynton Marsalis and Bobby McFerrin. She backed up singers. She supported big names when they came to town: Robert Goulet, Rosemary Clooney, Nancy Wilson. Wilson took her on the road and brought her to the Lincoln Center's Avery Fisher Hall. Remler was a big fish in a small pond, and because she could play and read, she was a first-call player in New Orleans.
Then Herb Ellis came to town, and Remler had to meet him. She had guts and ambition and was able to finagle a meeting. They played all afternoon. He was impressed.