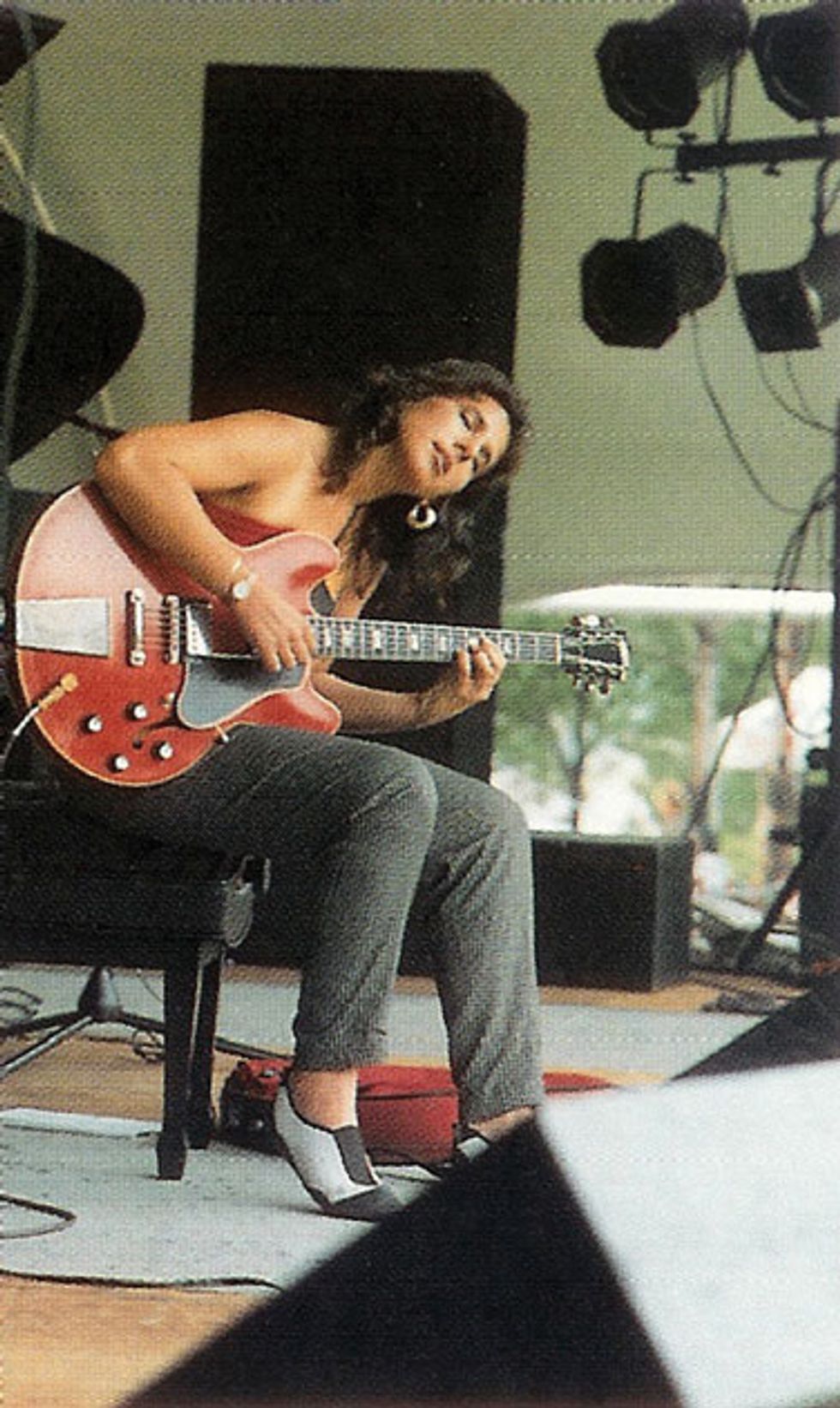 Photo by Joel Marion.
In 1978 he invited her to play the Concord Jazz Festival along with Barney Kessel, Cal Collins, Howard Roberts, Tal Farlow, and Remo Palmier (the group was called "Great Guitars"). A few years later Ellis told People Magazine, "I've been asked many times who I think is coming up on the guitar to carry on the tradition and my unqualified choice is Emily."
Remler was only 21, but the opportunity launched her career, and she was now in the big leagues. She impressed Carl Jefferson, president of the Concord jazz label, at that gig, too. He didn't offer her a recording contract on the spot, but she was on the map.
She went back to New Orleans, put together a quartet, and worked. She only lasted another year there before moving back to New York, but she always valued her New Orleans time—it made her into a musician and helped her find her voice. "In New York, it's very serious. In New Orleans everybody jumps up and down," she told Down Beat in a 1982 interview. "There's an R&B kind of feeling. I sort of stole that rich culture and applied it to my own music. If I had stayed in Boston, I'd be playing 'Giant Steps' like a madman—like everybody else."
"I may look like a nice Jewish girl from New Jersey, but inside I'm a 50-year-old, heavyset black man with a big thumb, like Wes Montgomery." —Emily Remler

She returned to New York with earned confidence. She called up John Scofield and invited herself over. They jammed. Scofield introduced her to John Clayton. That introduction led to her first recording date: a session with the Clayton Brothers for Concord. That was enough for Carl Jefferson. He offered her a four-record deal.
She also met pianist Monty Alexander, who hired her to play guitar with his group. A romance ignited, and they were married. But the marriage only lasted two and a half years. "It was hard to be married and on the road," she told Jazz Times in 1988. "We had haphazard meetings. We had to get used to each other again." Their divorce was amicable, but it was still hard.
She told jazz writer Gene Lees, "After Monty and I were divorced I played great for a while on that pain. I really did. I also tried to destroy myself as fast as I could."
Accidental Feminist
Remler couldn't escape gender bias. On one hand it helped her career—she was a novelty. Women didn't play instruments. Some people were fascinated. In a way, it opened doors and got her gigs.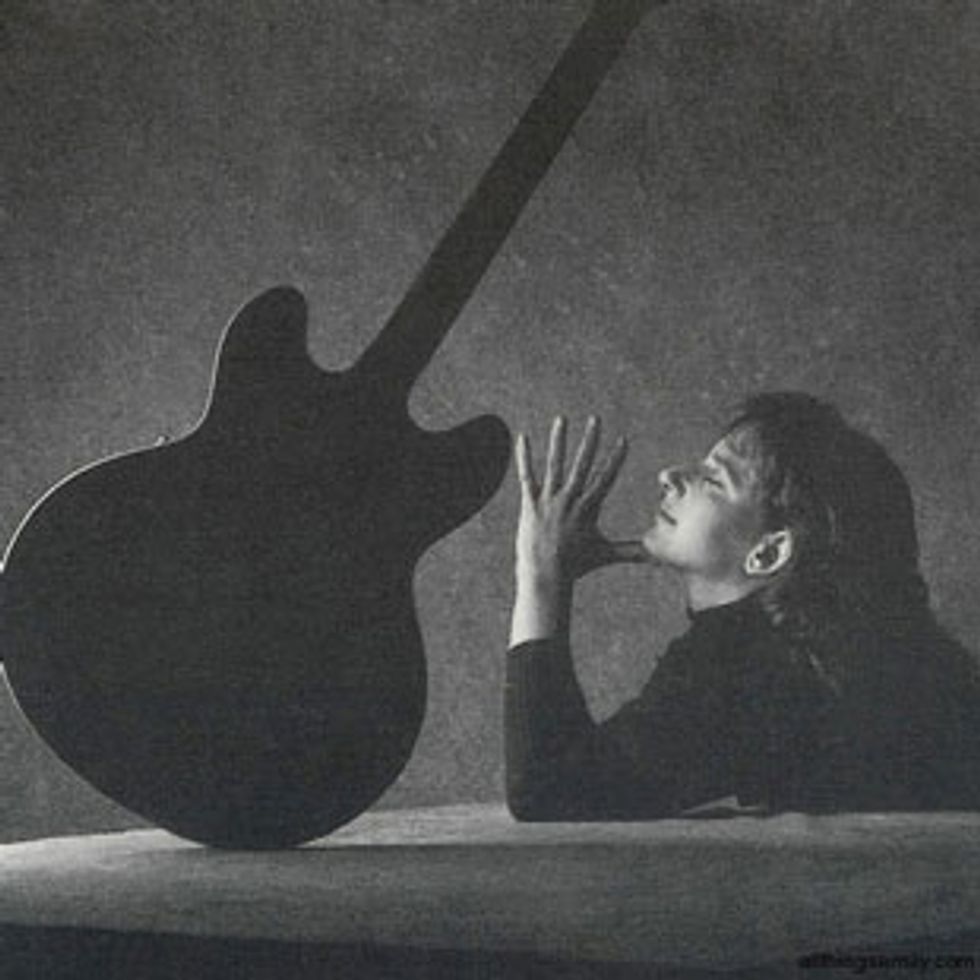 Photo by Marc Norberg.
But often the mere fact that she was a woman was a handicap. The jazz world was rife with sexism. Critical fans sat in front of her, arms folded, waiting for mistakes—proof she didn't belong. Other musicians didn't take her seriously. She wouldn't get called up at jam sessions. She couldn't land pit gigs for Broadway shows. Drummers assumed her time was weak. Some of them treated her like a kid, as if they had to hold her hand. Other drummers bore a bad attitude, and she had to win them over. It was a never-ending battle.
"I still have to prove myself every single time," she told Down Beat. "The only thing is that I'm not intimidated anymore." She had an incredible attitude though—nothing was going to break her. She continued: "You don't get angry, you don't get bitter, you don't get feminist about the thing. You don't try to make a statement for women. You just get so damn good that they'll forget about all that crap."
She practiced what she preached and got good—real good. Dismissing her wasn't an option. Remler recorded her first album, a set of jazz standards, in 1981. Concord wanted it to be conservative, so it only featured one original composition. Her next album, Take Two, featured more original music, but was still straight-ahead. As she grew more confident, each subsequent record featured more original music. Her label gave her more leeway. Her recordings started to sound more like her live shows, and she didn't hold back.
Drummer Bob Moses (who now goes by Ra-Kalam) worked with Remler at that time. He told Premier Guitar, "Emily had that loose, relaxed feel. She swung harder and simpler." In other words: She knew how to groove. Plus, she wasn't a showoff. "She didn't have to let you know that she was a virtuoso in the first five seconds," he said.
Catwalk, her fourth album, was her pride and joy—or at least it was in 1988, when she spoke to the magazine Jazz Journal International. It featured only original music and emphasized what she considered her ability to write catchy, singable melodies.
As her tastes and influences evolved, Remler's musical lexicon grew. She didn't think John Coltrane was alien anymore. She explained her transformation on Swiss television, "I was so obsessed with Wes Montgomery that I had a picture of him on my wall. And for two years I learned a new Wes song every day. Now my idol is John Coltrane. Last year it was Egberto Gismonti. I give my loyalty and love to someone else each year. But Wes lasted two years."