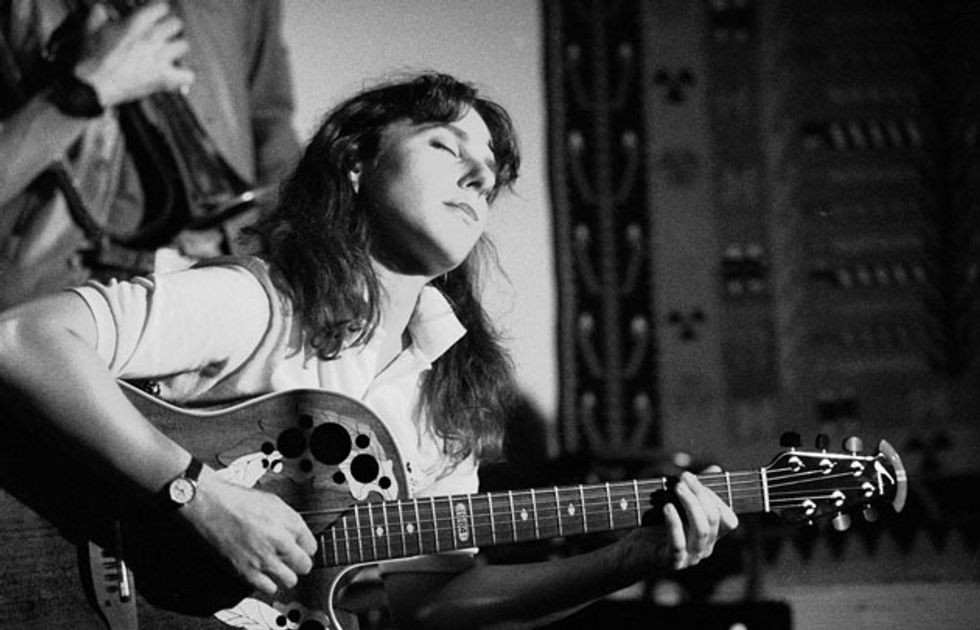 Photo by Ed Deasy.
Guitarist of the Year
Remler was on the move and making noise. In 1985, Down Beat named her Guitarist of the Year. She recorded Together, an album of duets with Larry Coryell, and toured with him. Coryell had a positive influence on Remler: He jogged every day and took vitamins. He was the epitome of the modern musician. "The jazz musician in the dark barroom–that image is gone," Remler said of him in an 1988 Jazz Times interview.
Remler didn't rest on her laurels. She expanded her pallet. She learned different styles and grooves. She dove deep into Latin rhythms. Her incredible work ethic was evident early on and remained a constant. In a 1981 Guitar Player interview, Remler told writer Arnie Berle how she prepared for her first gigs with Herb Ellis: "When I worked with Great Guitars (Herb Ellis and Charlie Byrd) I bought their records and learned all three parts, because I wasn't sure which one I would have to play."
She wasn't just learning tunes either. She developed a way to transcribe solos that worked for her. She didn't transcribe every single note, but learned phrases and fragments that captured the solo's essence. For the rest, she used her imagination. "My brain is like a computer," she told Down Beat in 1985. "You put some data in and you get 500 variations."
Her practice regimen wasn't a regimen per se. Jamming worked best. She made a habit of recording backgrounds and working with a metronome. (These were the days before looper pedals. She would have eaten a looper pedal for breakfast.)
"I've been asked many times who I think is coming up on the guitar to carry on the tradition, and my unqualified choice is Emily."
—Herb Ellis

In 1988, she recorded a Montgomery tribute, East To Wes, a collection of standards and bop classics. She was established and mature. She had found her voice. Critic Leonard Feather noted in a concert review for the Los Angeles Times: "Remler at 31 has entered a plectrum pantheon that numbers only a few of her most talented elders: Joe Pass, Jim Hall, Kenny Burrell."
But perhaps her mastery was most apparent in a series of instructional videos she recorded. Her depth of knowledge was astounding, and even more impressive was her ability to explain difficult concepts in simple, easy-to-understand language. She was clear and articulate. The videos showcased her low-key, self-deprecating, North Jersey sense of humor. "Unfortunately I grew up in New Jersey and country music wasn't in my blood. I really can't give that my all," she quipped in one video. "I still have problems playing country music in a serious manner. But I did see Coal Miner's Daughter and I liked that. But…"
Tragedy
Few talked about Remler's drug use, though Gene Lees mentioned it in his book, Waiting for Dizzy, "The backs [of her hands] bore tracks—the scars left by needles, those wrinkled lines looking like tiny railroad tracks that I knew all too well from seeing them on Bill Evans." She called it a chemical shield: "[It] makes you not care if the guy in the front row doesn't like you."
Whatever the reason, drugs were something Remler did. There were periods when she was clean and periods when she wasn't. At one point she was addicted to dilaudid—she sweet-talked jazz-loving doctors into writing her prescriptions.
"She didn't have to let you know that she was a virtuoso in the first five seconds." —Ra-Kalam (Bob) Moses

In 1990 she was on tour in Australia. She took something—probably an opiate like heroin or dilaudid—and died. The New York Times obituary called it a heart attack. She was only 32.
"I may look like a nice Jewish girl from New Jersey, but inside I'm a 50-year-old, heavyset black man with a big thumb, like Wes Montgomery," Remler told People Magazine. She was talking about an aesthetic, a sound and style she aspired to. It was funny. But in reality, Remler was a nice Jewish girl from New Jersey.
She was positive. She loved music. Her appreciation for other musicians and styles was genuine. She heard a musician's personality in their playing. And she wasn't self-righteous—not about her art, not about her audience, and not about other musicians. According to Ra-Kalam Moses, "Humility and openness, that was her core."
Her focus was music. She had to deal with prejudice and stupidity, but she wasn't bitter. She just got good. She lived in a world that made gender an issue, so she proved that it wasn't. Emily Remler's legacy is not that she was a great woman in jazz. She was simply a remarkable musician.