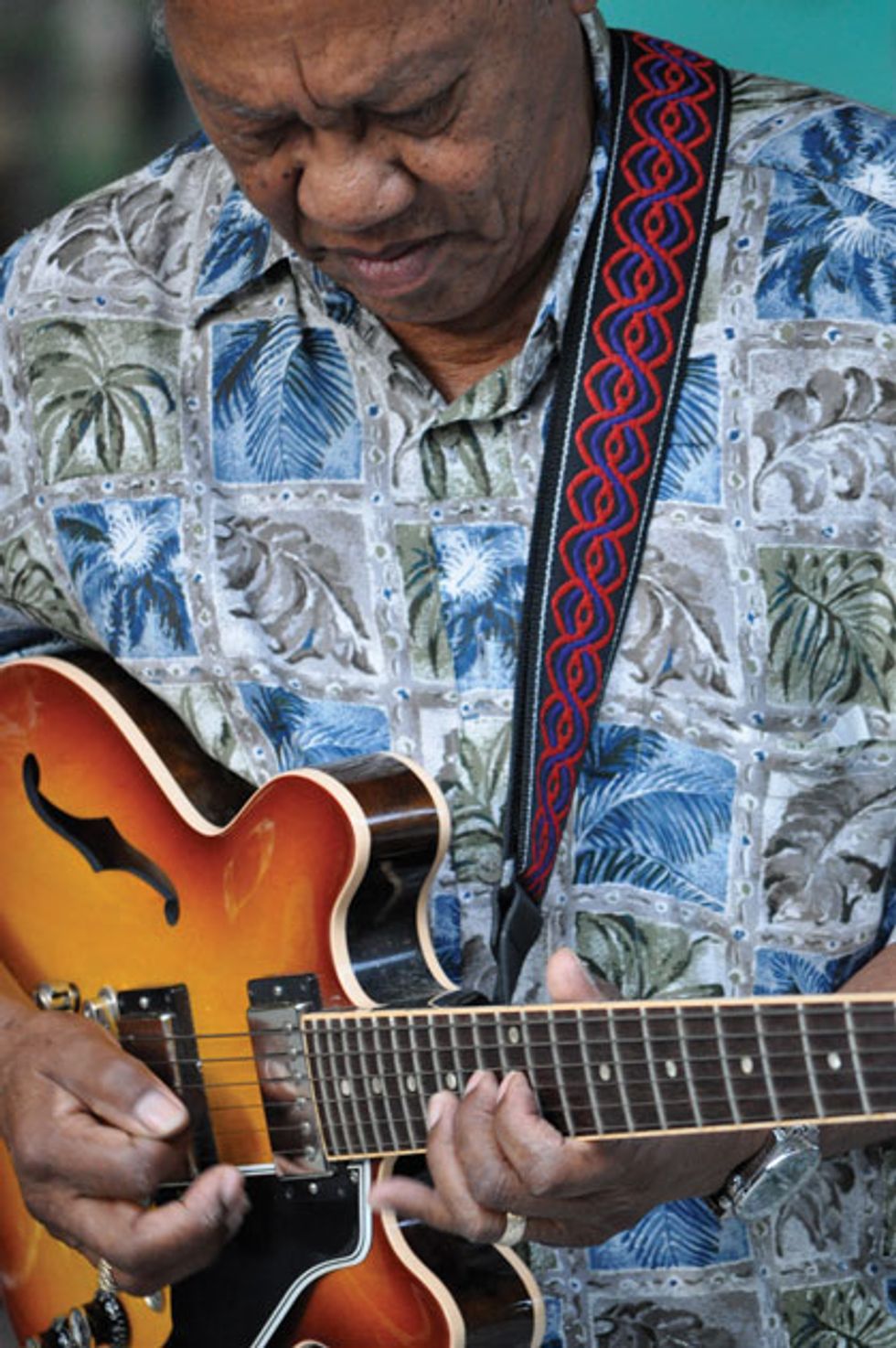 Photo by Jonathan Chi
Ernest Ranglin is the Energizer Bunny of guitar. At age 82, the inventor of the mute-plus-upstroke "chank" rhythm that defines ska music has recorded a new album, Bless Up, that's a summation of his visionary intelligence as a musician and composer. His playing on the disc is relentlessly perky, propulsive, and lush, proving that his mélange of chops—a vocabulary of jazz, reggae, R&B, rock, world music, and classicism—is as fluent as when he was a pup in Kingston, Jamaica, in the '50s and '60s, when his performances helped take the city's famed Studio One sound around the planet and onto the international pop charts.
Although deep reggae and ska fans revere him, Ranglin's 11 original tunes on Bless Up—where he's supported by the core trio Avila—prove he deserves wider recognition. Always at the core of his playing, his jazz roots extend throughout the album. It's not just a matter of Ranglin's sound, which shares the warm rolled-back-tone-knob, flatwound strings, and humbucker tones of his contemporaries Wes Montgomery and Kenny Burrell (respectively born eight years and one year before Ranglin's June 19, 1932 birthday). It's the passion and taste he invests in cuts like "Follow On" and "Good Friends," where he leaps gracefully between chord melodies, languid single-note lines, and quick-burn solos.
"The rhythm I developed is that shuffle rhythm, where the first beat [or downstroke] is actually on the second beat."

The scope of Ranglin's writing is impressively wide-screened. His sweeping big band arrangement of the title track blends a reggae pulse with an orchestral sensibility similar to Duke Ellington's, and "Bond Street Express" pushes the envelope toward the textural, spaghetti western fare of Ennio Morricone. And yet, there's simplicity and an unhurried pace at the core of all this music that is pure Ranglin.
"I want people to understand what I'm playing, so I like to keep the melody present and anchor it with a good rhythm," says the Ocho Rios resident from his American home base in Southern Florida. "These days, people aren't looking to be challenged in their listening. You have to meet them halfway."
Ernest Ranglin's Gear
Guitars
Gibson ES-335
Ibanez GB10
Amps
Epiphone EA-32 RVT modified with a 12" speaker
Ampeg VT-120 1x12 combo
Effects
None
Strings and Picks
D'Addario flatwound ECG26 Chromes (.013-.056)
Heavy picks—any brand
Ranglin's mastery and perspective are self-acquired. He caught 6-string fever as a kid, inspired by the Jamaican folk music called mento and the recordings of electric jazz guitar innovator Charlie Christian. Ranglin learned to play by renting guitars and studying instructional books. He was still renting when he began gigging as a teenager in Jamaican big bands, which were inspired by American swing records. Eventually he earned enough money to buy a Harmony electric.
Ranglin was playing at Coxsone Dodd's Studio One in Kingston, including sessions with a young Bob Marley, when he cut the rhythm track for pianist Theophilus Beckford's "Easy Snappin','' a 1956 song—unreleased until 1959—that transitioned the sound of the New Orleans rhythm and blues Jamaicans heard over the airwaves into a style of their own: ska. Ranglin's arrangements for that tune and two subsequent singles under his name, including his famed instrumental "Shuffling Bug," are the foundation of ska. And when he began working with Chris Blackwell's fledgling Island Records in England, Ranglin made his ska beat the basis for the label's first international hit: Millie Small's sugary 1964 smash reworking of the doo-wop tune "My Boy Lollipop." That single took ska to the world.
A half-century and a lifetime of touring and recording later, Ranglin's memory is as crisp as his musical command, and he speaks in the same warm, relaxed, lilting manner that makes Bless Up such a pleasure to hear.
Much of your best-known music—from your ska defining single "Shuffling Bug" in 1959 to your arrangement for "My Boy Lollipop" in 1964 to "Surfin' " in 1996—has a rock and pop edge, but Bless Up is beautiful and unhurried, almost orchestral in its scope. What led you to that approach?
I've done so many things before, but these days you have to try to meet the people. Let's put it that way. You can't go too far out. I tried to make the album as simple and catchy as possible. Also, I like the tempos. I like to be sure the music is never rushed. What I love is finding certain musicians who have the feel for what I want to do. That helps a lot, because it's not a long process for them to really understand it and play it the best that they can.I wrote songs for this album with the members of the Avila band in mind, because I'd already done one album with Avila, so we all knew each other well. It was easy the second time. They knew what I like and the tempos I enjoy, and I knew whom I was writing for.
Do you currently think of yourself mostly as a guitarist or composer?
I think I do more writing than playing, really, because most of my time is [spent] writing. Whatever comes to mind, I make sure I put it down.