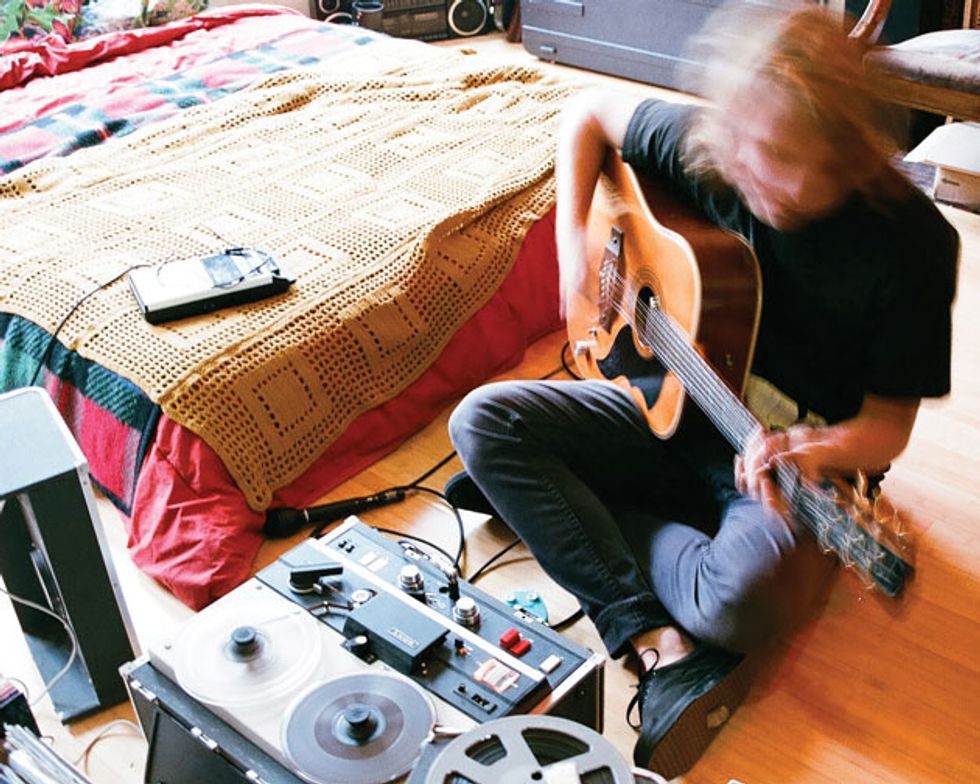 "I definitely lean toward extravagant, psychedelic guitar playing," says Ty Segall. "I like weirdos." Photo by Denée Petracek.
Ty Segall isn't your typical guitar geek. "I was the kid who learned by listening to Black Flag, playing two-finger power chords," he concedes somewhat sheepishly with an undeniably Californian twang. But get on the subject of 1960s psychedelic space rock or percussive acoustic guitar craft, and Segall is ready to take you to school.
Since 2008, Segall has been channeling his inner Zappa, pumping out records by the fistful and embracing a singularly eclectic style. Segall's latest, Manipulator (Drag City), is a heady brew that mashes sunbaked psychedelic melodic strains with Blue Cheer-meets-Blue Öyster Cult riffs and the acoustic jangle of Zeppelin and Sabbath.
A preposterously prodigious songwriter, Segall is no slacker when it comes to playing, having tracked nearly all the instruments and vocals on Manipulator. From janky-sounding acoustic tracks to trashy, thrashy lead parts, Segall sounds completely at ease with a guitar in his hands, no matter which other hats he might be wearing.
"There are lots and lots of songs I've thrown away through the years: Multiply my discography by three, and you get an idea of all the songs I've thrown away!"
How did this batch of songs come together?
The songs on the record come from 14 months of writing. I spent the whole year writing at my house, two-to-seven days a week, depending on what was going on. The ones that made the record are just the best of the bunch.
Do you have a songwriting regimen?
It takes a lot of work to get to the point where you're not working too hard for it. It takes a lot of discipline—doing things every day just to do them. If you get one good song per week, you're really lucky. But you can work for a month or two without getting a single good song.
How do you keep track of your song ideas?
I record ideas. There are lots and lots of songs I've thrown away through the years: Multiply my discography by three, and you get an idea of all the songs I've thrown away!
Do you know immediately if something isn't working, or do you get outside opinions on that?
There have been a couple times when I've written something I thought was garbage, but other people felt I should put on a record. Most of the time, I just know. If it feels like a put-on, pushing an emotion, or relying on a gimmick or a specific sound, that's not right.
What are your attitudes about collaboration in your songwriting?
I love collaborating. My favorite kind is the rapid-fire, open-minded freestyle where it's as if you're passing a ball back and forth. It's a very good way to refresh your own mind in songwriting.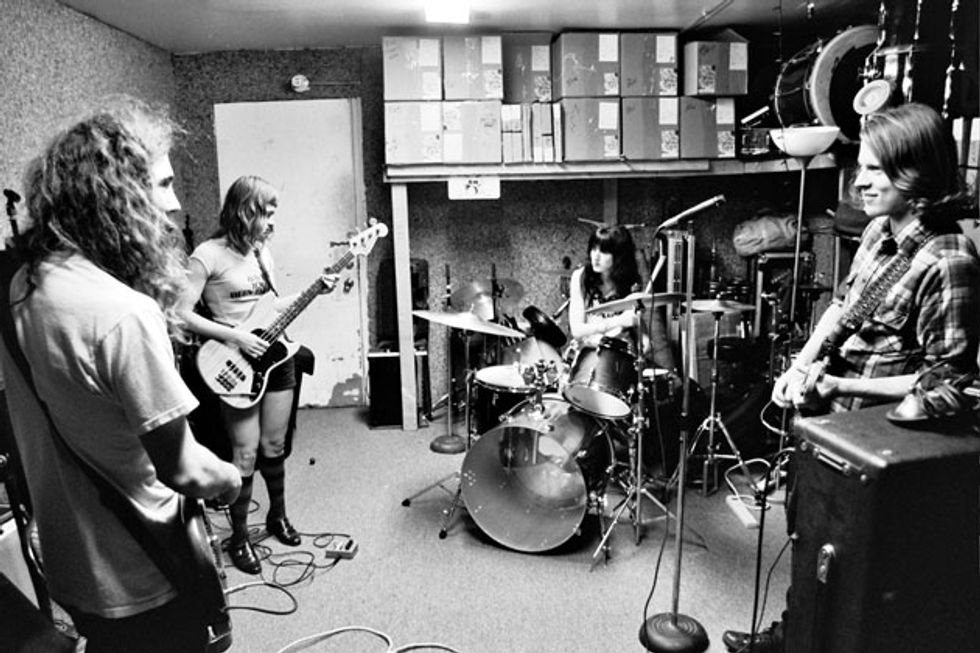 Ty Segall's live band for the Manipulator tour includes Charles Mootheart on guitar and Emily Rose Epstein on drums. Mikal Cronin handles bass (not pictured), but pictured here on bass is Denée Petracek. "Everybody in the band rips, so to take the songs into a less-controlled place
is pretty amazing," Segall says.
When you're writing, how do you record those ideas?
I have a Tascam 388 8-track at my house, and I just demo songs out like they would be for a record. It's not just to write it, it's testing a song's ability to be on a record. If it doesn't work, I might try another version. For some songs on Manipulator, there were three or four versions of a demo.
Do you think in terms of songs or in terms of albums?
You have to start by thinking in terms of songs. If you think purely in terms of an album, the songs just aren't going to hold up. I'm an "album guy," so I like to try to have both in mind.
Do you think of Manipulator as having a unifying thematic or sonic thread running through it?
Yeah, thematically, all those songs rest in the same place—lyrically, they're in the same world. They're like characters that interact with each other, and there's a loose story being told.
Two of my favorite albums are Electric Ladyland [Jimi Hendrix Experience] and The Beatles [aka "the White Album"]. Those are both double records but each of them is very varied—they don't have a unifying sonic element, and that's what makes them unified. It was a similar idea with Manipulator.