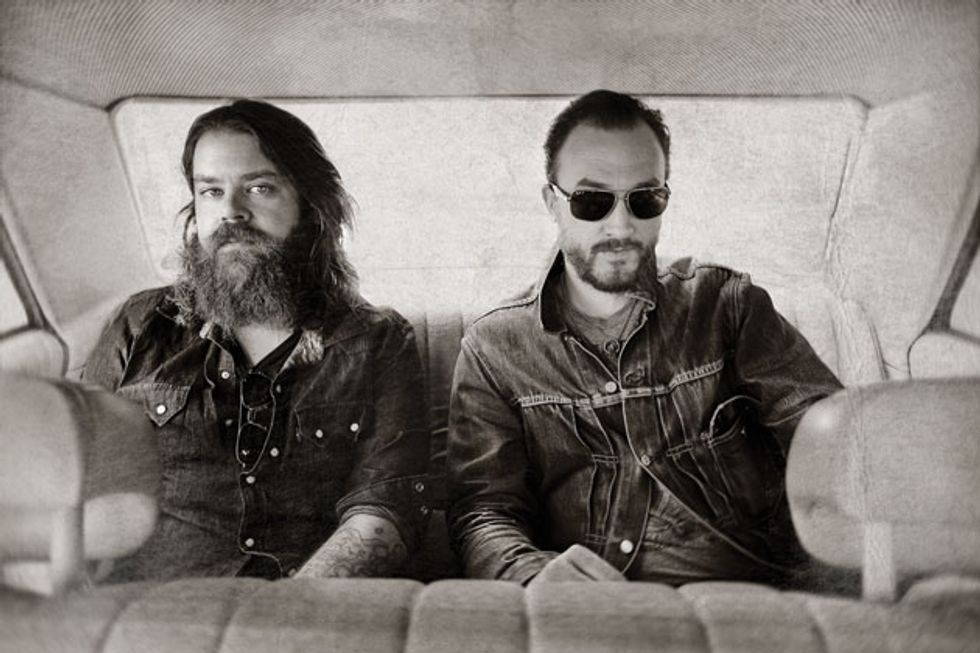 "It feels like you're in an apocalyptic movie at the end of civilization, and you're on the outskirts—
it looks like you're on the moon!"
What are you using live these days?
I've been using a guitar made by a builder named Tom Bartlett called a Retrospec. It's along the lines of a '50s 'burst Les Paul. It's one of the best guitars on this planet, hands down. He uses all old-growth woods, which makes a massive difference in resonance. The old wood power-punches the sound, and these guitars are twice as loud as most modern Les Paul-style guitars, with a unique resonant quality. It's usually just that, a cable, and a Marshall-style amp—whatever backline is available—with everything turned on full. It fuzzes out a bit. Pedals become difficult because when you run things like I do, because there's not a lot of room sonically for anything else.
I try to keep everything as old or vintage-spec as possible. I use old pots. I use paper-and-oil caps. I wire things simply and cleanly. I use Ox4 pickups made in England. I've gone through all of the PAF-style pickups and this guy, Mark Stowe, just nailed it. They're perfect.
What's the story on the sunburst Les Paul you're frequently photographed with?
It's a very special guitar built to my specs. It was custom-made by a ghost builder who shall remain nameless, but I picked all the woods. We tone-tapped them all and I chose the ones I liked, and I got to watch the whole process of the guitar being made. The neck is carved specifically for my tastes. It's always a lottery when you do that, because you never know how a guitar is going to turn out. I could play a $500 guitar and it might sound fabulous—there's no rhyme or reason to the whole thing.
There are guys with hundreds of guitars, and that's fine, but I just need one. Billy Gibbons used to just play Pearly Gates. Jimmy Page used to only play Number 1. As a guitar player, you gotta get one. I know each guitar can do something different, and if you're rich, that's nice. But I have one. When we were on tour with ZZ Top, we played arenas night after night. If a string broke, I was f*cked [laughs].
YouTube It
Darren Glover and his band Flash Lightnin' rock the Kool Haus on their Toronto home turf.
What was it like touring with your heroes?
Obviously, it was a dream come true. I'm not usually nervous, but I definitely was approaching the day when I had to play on the same stage as them. We'd met Billy before when they played in Toronto once. We played a little private party before one of their shows, and he came out and watched a song or two. After his show we hung out until four in the morning, just talking about Jimmy Reed and guitars. So since I'd already met him, I was a bit calmer this time around. The moment we were onstage soundchecking, he came up and introduced himself, and we were all instant friends. Once we got talking, we found that we were both Peter Green fanatics. When I was a young kid, I was really heavily into Peter Green-era Fleetwood Mac. The moment I heard ZZ Top's first album, I was like, "Aha, I see how this all lines up!"
I also felt better because Billy told me that when his band, the Moving Sidewalks, opened for Jimi Hendrix, they played Hendrix songs in front of Jimi. We were having a drink one night, and he told me how Jimi sat on the side of the stage howling and laughing! They obviously stopped playing them, but it made me feel so much more relaxed that even he, Billy Gibbons, was such a fan of Hendrix that his band tried to cop that vibe and style. He let us know that that's what everyone does. You're inspired by others, and it's okay.
Did you include any ZZ Top covers in your set on that tour?
God no! We wanted to at least soundcheck with one of their songs, just for fun, but we were too chicken-shit to do it. It just became real, you know? We hung out night after night and talked guitars and talked life. I watched him every night, and he gave me a lot of tips. I learned a vast amount. I couldn't thank him enough for the things that he showed me. And he gave me some really big compliments! One night I played, and Billy turned and said, "Man, you have got the Beano tone," referring to Eric Clapton's [Bluesbreakers-era] tone. Clapton is like my top guy, so I couldn't have asked for a bigger compliment. And to receive it from a guy who is also one of your biggest influences is pretty amazing. I think if I called it quits today, I'd be satisfied. PG