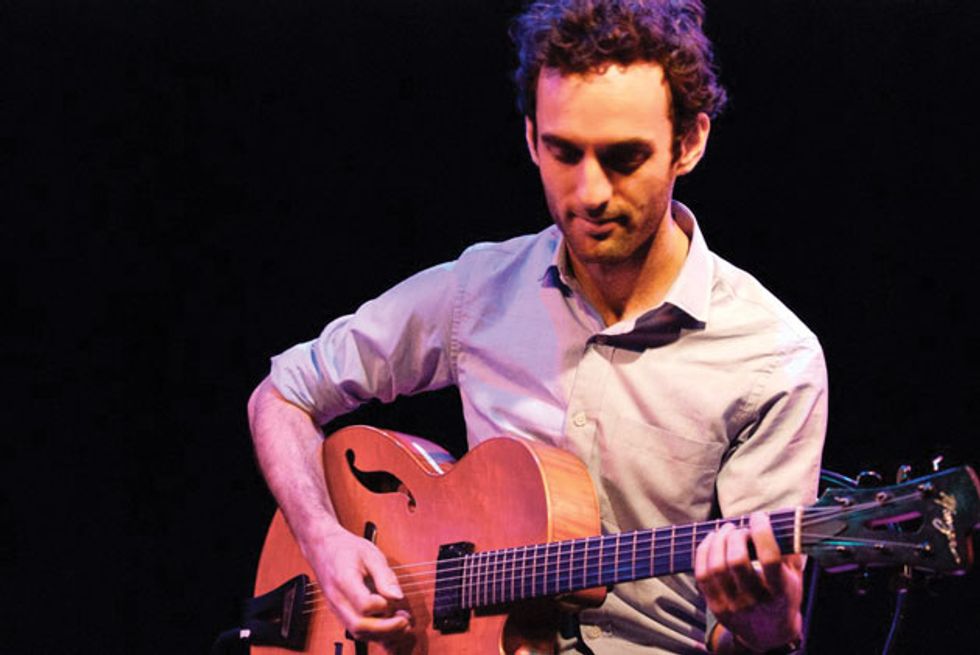 Photo by Mike Bouchard.
You seem to be making maximal use of minimal gear. What guitars are you
playing in this duo?
Cline: We each used just two guitars. I played a pair of Gibsons: a 1962 J-200 and a 1965 Barney Kessel.
Lage: I played my 1939 Martin 000-18 and my Manzer Blue Note.
The J-200 and the 000-18 don't seem like obvious choices.
Cline: As a member of Wilco, I've become aware of many marvelous acoustic guitars through Jeff Tweedy. He has two different J-200s that he brings on the road. As an aside, when they're restrung, he has me play the guitars to get my corrosive sweat on the strings—he kind of hates new strings. In any case, when I played a J-200 in St. Paul, Minnesota, at Willie's American Guitars a few years ago, its neck felt so much like the one on my Barney Kessel. The guitar was kind of beat and not outrageously priced, so I bought it.
Then last year I had an almost career-ending nerve pinch, which gave me trouble moving my fretting fingers. I had limited fret-hand strength and really struggled to hit hefty low chords, like an F, and the J-200 was great because that fast neck is so easy to play. Its sound has an interesting evenness—it's not particularly punchy, but it's reasonably loud, considering the J-200 has a general reputation as the "Quiet Giant." Timbrally speaking, it adds a nice contrast to Julian's smaller-bodied Martin.
"When done correctly, miking both the amp and the guitar makes a beautiful blur between the core of the acoustic sound and of the amplified sound." —Julian Lage

Lage: The 000-18 represents part of music culture in a lot of old-time styles—it's definitely part of the narrative. But with Nels, whatever makes appropriate sounds as a vessel for your imagination is cool. It's awesome to do the unexpected and use a 1930s Martin for free music. I've got such a close relationship with that guitar. It doesn't sound particularly old-timey like some older instruments do. It's relatively balanced and is somehow neutral and distinctive at the same time.
Julian, how did you score the Martin?
Lage: I looked for the right prewar Martin for a long time, and finally my friends at Retrofret in Brooklyn—really wonderful people—loaned me the guitar for a couple of weeks. I too was coming out of a left-hand injury, the result of years of tension and buildup, and I'd begun to think about restructuring my technique. Many of the other Martins I tried were beautiful and sounded amazing, but were so fatiguing to play. But the 000-18—a more or less completely busted guitar that had been lovingly brought back to life by [repair expert] TJ Thompson—was so comfortable and easy to play. I sat down with it for seven hours straight when I took it home, which in itself was an amazing feat, considering the status of my fret hand. The guitar felt like an entry into rehabilitation and, injury aside, it was just one of those guitars whose magnetic quality makes it hard to put down. I talked to my friend and collaborator Chris Eldridge about the guitar and he said, "If you don't buy it, I will," so I just had to acquire it.
Nels Cline's Gear
Guitars
1962 Gibson SJ-200
1965 Gibson Barney Kessel
Amps
ZT The Club
ZT Lunchbox
Effects
None
Strings and Picks
GHS .013 string sets
Dunlop Ultex 1.14 mm picks
Julian Lage's Gear
Guitars
Linda Manzer Blue Note
1939 Martin 000-18
Amps
Carr Rambler
Effects
None
Strings and Picks
D'Addario .012 electric string sets (for Manzer)
D'Addario .012 acoustic string sets (for Martin)
BlueChip TP50 and TP45 picks
What about the Manzer?
Lage: I got that guitar when I was 11, which is insane when I think about it. I grew up in Santa Rosa, California, and my parents would take me every summer to the Healdsburg Guitar Festival [a show of independent luthiers]. One year, I thought the Blue Note was the greatest guitar at the show, and I found Linda to be so lovely and endearing. A week or two later, I wrote and asked her—only out of curiosity, because I couldn't have afforded an instrument like that—how long her waiting list was. She wrote back to let me know that the guitar had been built for someone who'd developed a hand issue and now wanted something with a different neck shape. She asked if I'd like her to send it to me right away, with no talk of money. We eventually worked out a deal where I could pay for it in little increments: 100 dollars here and 50
there. All these years later, I still absolutely love the guitar. It's got this laminated top with a relatively flat arch, and it works beautifully in electrified situations, without the feedback I might get from a more traditional instrument.
Nels, talk a little about the Barney Kessel—it's kind of an underdog among the Gibson hollowbodies.

Cline: I also became aware of the Barney Kessel through Jeff Tweedy, who has four or five of them. It's a very good guitar, especially for a fake jazz guy like myself [laughs]. With its two pickups, it offers more tones than a traditional jazz guitar, but it can still cover that territory.
What amplifiers do you use as a duo?
Cline: I went into the studio with an amp that will rename nameless, a very warm-sounding low-wattage amp made from repurposed parts. But our engineer, Chris Allen, said its high noise floor was driving him nuts, so I called my wife [Yuka Honda of the band Cibo Matto] and asked her to bring over my ZT Club—basically the amp I use all over New York, a made-in-China 200-watt amp that weighs next to nothing.
Lage: In the studio I used an awesome 1x12 combo, a Carr Rambler that Nels has gifted me, which I'm so happy to be the guardian of.
Cline: I have another Carr—an Impala—that I love, but it's too heavy for this old man to cart around to local gigs [laughs]. Around town I sometimes play through a ZT Lunchbox, which is featherweight and sounds great, plus a great 1959 Gibson Crest.