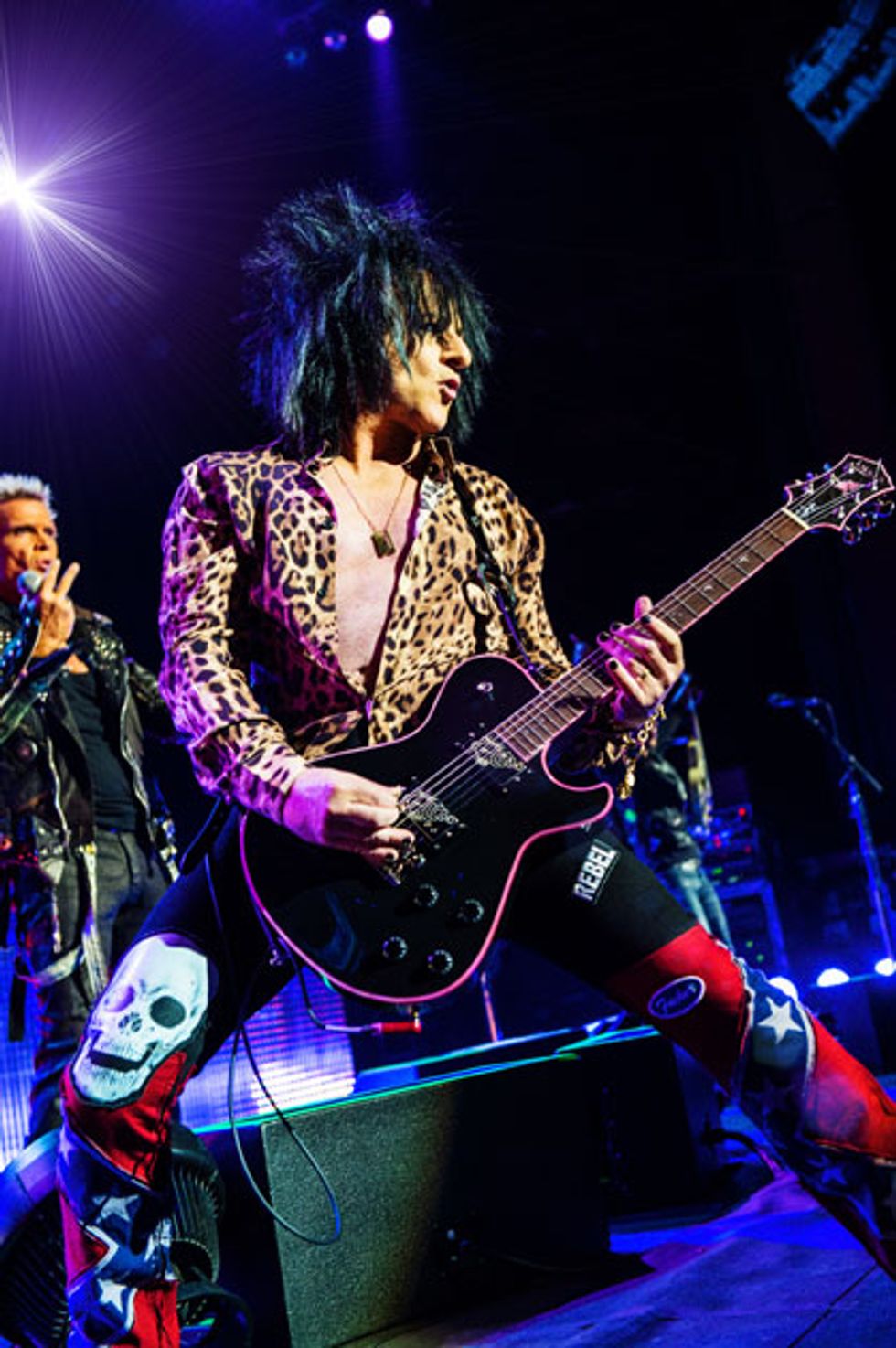 "Basically, I had the whole company at my disposal in making the guitar," says Stevens of his Knaggs signature SS1. Photo by Wayne Posner.
Guitarists of a certain age will probably always think of Steve Stevens as the dude with big hair and makeup in 1980s magazine ads for Hamer—and, of course, as the hook master behind Billy Idol's neo-punk hits like "Dancing with Myself," "White Wedding, Pt.1," "Rebel Yell," and "Flesh for Fantasy." Three decades later, Stevens' appearance is largely intact, as is his relationship with Idol, with whom he recently tracked Kings & Queens of the Underground—their first recorded outing together in nine years. But Stevens has always been more than just the hard-rock riffer on Idol cuts. He was a prog-rock fanatic when he met Idol—something that stuck in his spiky-haired boss' craw—and over the years he's evolved beyond that to become a top-shelf sideman and songwriter.
Stevens, 55, was born Steven Bruce Schneider. He grew up in Queens, New York, and by his early 20s was well known in Manhattan for his guitar skills. Through a fortuitous introduction, he became guitarist and writing partner for Billy Idol's most successful albums and tours. And the high-profile gig—not to mention Stevens' uncanny ability to write guitar parts that help define a tune without taking it over—has led to calls for heavyweight sessions with everyone from Michael Jackson ("Dirty Diana," 1987) to Joni Mitchell ("Chalk Mark in a Rain Storm, 1988), Pink ("Try This," 2003), and Sebastian Bach (Give 'Em Hell, 2014).
Beyond Idol, one of Stevens' most widely heard moments is the soaring lead break he wrote for the theme to Top Gun, for which he won a Grammy for Best Pop Instrumental Performance in 1987. His mastery of the solidbody is further showcased on the albums he recorded with Terry Bozzio and Tony Levin (1997's Black Light Syndrome and 2000's Situation Dangerous). And Flamenco a Go-Go (also from 2000) showcased a virtuosic return to Stevens' nylon-string roots.
[Billy and I] started playing shows at the tail end of the punk era. It was all pretty raw, with audiences sometimes
gobbing—spitting—on us.

More recently, Stevens' propensity for jamming is apparent in appearances he's made with all-star projects like Kings of Chaos, featuring Slash and vocalist Corey Taylor (Stone Sour and Slipknot) among others, as well as the cover band Camp Freddy (now known as Royal Machines), which includes Sugar Ray vocalist Mark McGrath and Jane's Addiction's Dave Navarro and Chris Chaney.
Having last connected with Stevens for a Rig Rundown in the summer of 2013, we caught up with Stevens to talk about the making of Kings & Queens of the Underground, his signature gear, and the evolution of his playing over the years.
A lot of people know about the highlights of your career, but can you start off talking about growing up in Queens, New York, and how you got into music?
Where I grew up, Far Rockaway, was unique because the guy who was kind of a local hero was Phil Ochs, the great protest singer. When I would talk about him 10 years ago, people didn't know who he was, but there was a PBS documentary a few years ago on him [There but for Fortune, 2010], and now people are more familiar with his work. In any case, my dad brought home a crappy guitar when I was about seven and a half years old, and my parents managed to get Phil's sister, Sonny, to give me lessons.
Steve Steven's Gear
Guitars
Gibson Les Paul goldtop
Knaggs SS1
Knaggs SS2
Music Man Armada
Pedro de Miguel flamenco guitar
Suhr Modern
Amps
Suhr OD-100
Friedman Steve Stevens Signature head and 4x12 cab
Effects
DigiTech Synth Wah Envelope Filter
DigiTech Whammy
Dunlop ZW45 Zakk Wylde Signature Crybaby wah
Strings and Picks
Ernie Ball .010–.052 string sets
Clayton Ultem 1 mm picks
As far as music was concerned, growing up in Rockaway was really great. So many people played guitar, and summers were filled with everyone taking theirs down to the beach to play for hours. Walking through the neighborhood was sometimes like going to a rock festival, with everyone playing in garage bands.
The area's become quite the hangout for artsy types. Have you been back recently?
I keep vowing to rent a car, drive out, and spend an afternoon there when I'm in New York for work stuff, but I never get around to it and haven't been to Rockaway in years.
How'd you go from playing on the beach and in garages to working with Billy Idol?
By the early 1980s, I was living in New York City and playing in a band called the Fine Malibus. Bill Aucoin, who was also Kiss' manager, managed us. But things weren't really happening for us. So at one point I got a call to go to a meeting with Billy Idol, who was ready to put something together in the United States. At that time I hadn't met any
real rock stars, and it was exciting to be around this musician who was so driven and charismatic. Knowing practically every musician in New York, I was enlisted to help him put a band together.
Billy was a punk rocker, which meant a whole different thing in New York than in England, where he's from. His movement exploded in 1977 with bands like Generation X [Idol's group] and the Clash playing in a relatively more sophisticated way than the bands we had, such as the Ramones, who were louder and used fewer chords. Billy was pretty militant against the progressive rock bands that I had liked as a kid, but we found common ground in our affinity for Lou Reed and glam stuff. We started playing shows at the tail end of the punk era. It was all pretty raw, with audiences sometimes gobbing—spitting—on us. It was really cool to be in a band with a frontman who was as commanding as Billy.
How did you and Billy start working on more dynamic and mellow songs like "Eyes Without a Face"?
That song was a pivotal moment. Before "Eyes Without a Face," we would've been hesitant to do a ballad, as it would have seemed very out of character for Billy Idol. But the time was right to stretch out and try out new ideas. The label stuck us in Electric Lady Studios for 10 months, and we were so inspired to be there that songs really started developing out of the ether. We didn't know we had a great song. "Eyes Without a Face" just appeared as we started recording.