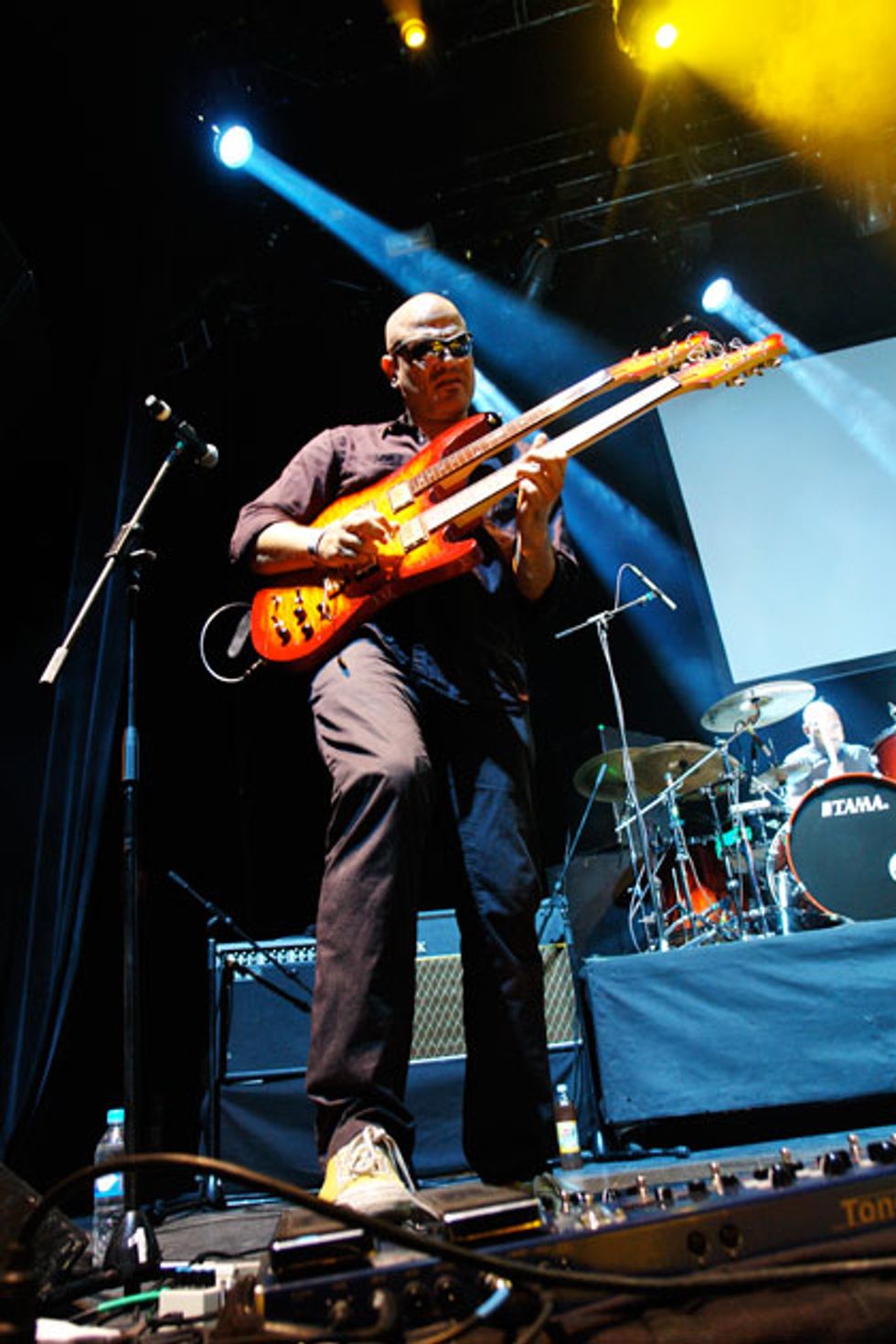 David Fiuczynski plays his custom Campbell American FuZix doubleneck with his band, the Screaming Headless Torsos. Photo by Lia Rueda.
Had you played funk before you played with Bernie?
Well there's funk and then there's funk. I mean, I got my ass kicked when I played with Meshell Ndegeocello. I was on the road with her and we were playing in Sweden. I took a solo and the audience went nuts. And then the song broke down to just Wah-Wah Watson [Melvin Ragin] on guitar. And again, he just ruined it. People lost it. And he didn't solo. He just played chords—rhythm—and I realized that I have to knuckle down.
You do a lot of funk in odd meters. There's a song on the new album in five…
I was never a natural—and I mean never ever. This last record, Gamak, with [alto saxophonist] Rudresh Mahanthappa was by far the most difficult music I've ever played—all these Indian rhythms, and not just stuff in 11, 13, 21, and so forth. The drummer, Dan Weiss, has been studying with a tabla guru for 14 years, and even when we were playing in 4/4 he would start doing odd-time stuff.
"I remember once this guy was giving me a great compliment. He was drunk—but sometimes when you're drunk you have this clairvoyance—and he said, "Man, you're amazing.
You play so out of tune."

Did you study the Indian rhythmic solfège [a method of teaching pitch and sight singing]?
I am more of a grazer. When I went back to the New England Conservatory for graduate school, I split my lessons between Peter Row, the sitar player, and Turkish music lessons for two years. I told them, "I can't do everything, and what I'm most interested in is the melodic part." I let the rhythmic stuff slide, which in hindsight was probably a mistake. But I just didn't have time. I am primarily interested in the melodic aspects, although the rhythmic stuff is amazing, too. But what really blows me away is the lyricism of Hindustani alaps or Turkish taqsims. Those rubato intros are mind blowing.
Who are some of the jazz players you listen to?
I started with some pretty traditional stuff—Bird [Charlie Parker] and Miles Davis and John Coltrane. John Scofield was one, too. And then I got into fusion—John McLaughlin—and then some of the more free players. I'm a big fan of James Blood Ulmer, especially when he had that free/funk thing—that period with Jamaaladeen Tacuma [bass] and Grant Calvin Weston [drums]. I saw that trio in Cambridge around 1985, and it blew my mind. I walked out of there shell-shocked. It was so out and so rich.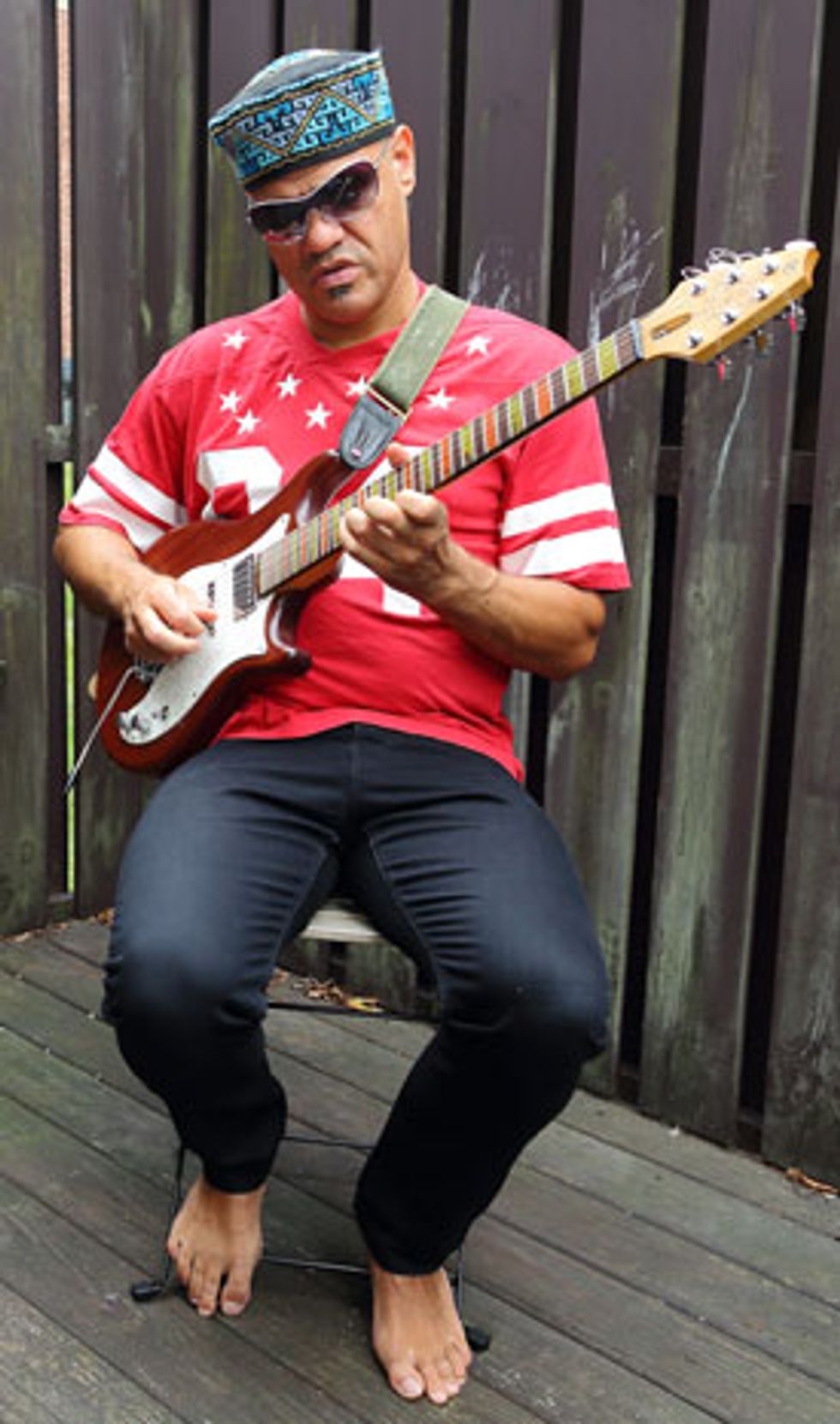 "Melodically and harmonically, I know where I want to go—there is so much further I can go, microtonally—but rhythmically I am still looking."
Photo by Rich Gastwirt.
On your earlier albums, it sounds like you're often just leaning on the whammy bar.
Yeah, with the whammy I would disguise stuff. But looking back, I can see that microtones were where I was heading. It was an abstraction. I remember once this guy was giving me a great compliment. He was drunk—but sometimes when you're drunk you have this clairvoyance—and he said, "Man, you're amazing. You play so out of tune." And that was before I was doing microtones!
When were you first introduced to microtones—was it on your 1992 trip to Morocco?
It was before that. I briefly went to Hampshire College in Western Massachusetts, and I took an Indian music class and that blew my mind. I listened to Ravi Shankar for the first time. Plus, there was an English composer who wrote a choral around an Arabic Call to Prayer. That juxtaposition really messed me up. I tried to play the Arabic Call to Prayer, but my 12-note-per-octave ruler didn't work. That is where I first got interested. I encountered [microtonal composer] Joe Maneri at the New England Conservatory when I transferred, but I didn't take a class of his until I went back for graduate school in 2006. Actually it was his last class—that was the last semester he taught. I almost feel like it was meant to be.
But the microtonal thing really comes from non-Western music and just being interested and wanting to play. That's how I hooked up with [Manhattan-based experimental klezmer group] Hasidic New Wave—they were one of the few bands that would have me and let me do whatever I wanted [laughs]. But when you're trying to do that stuff—especially Eastern European and Middle Eastern stuff—the 12-note-per-octave ruler is a joke. But I look at those notes in Middle Eastern music in an unorthodox manner—I look at them as Eastern blues. It's just like the blues—you know, those beautiful, heart-rending notes that fall between the cracks. But that Moroccan gig was off the charts. It was another mind-blower—it ranks in the top five.