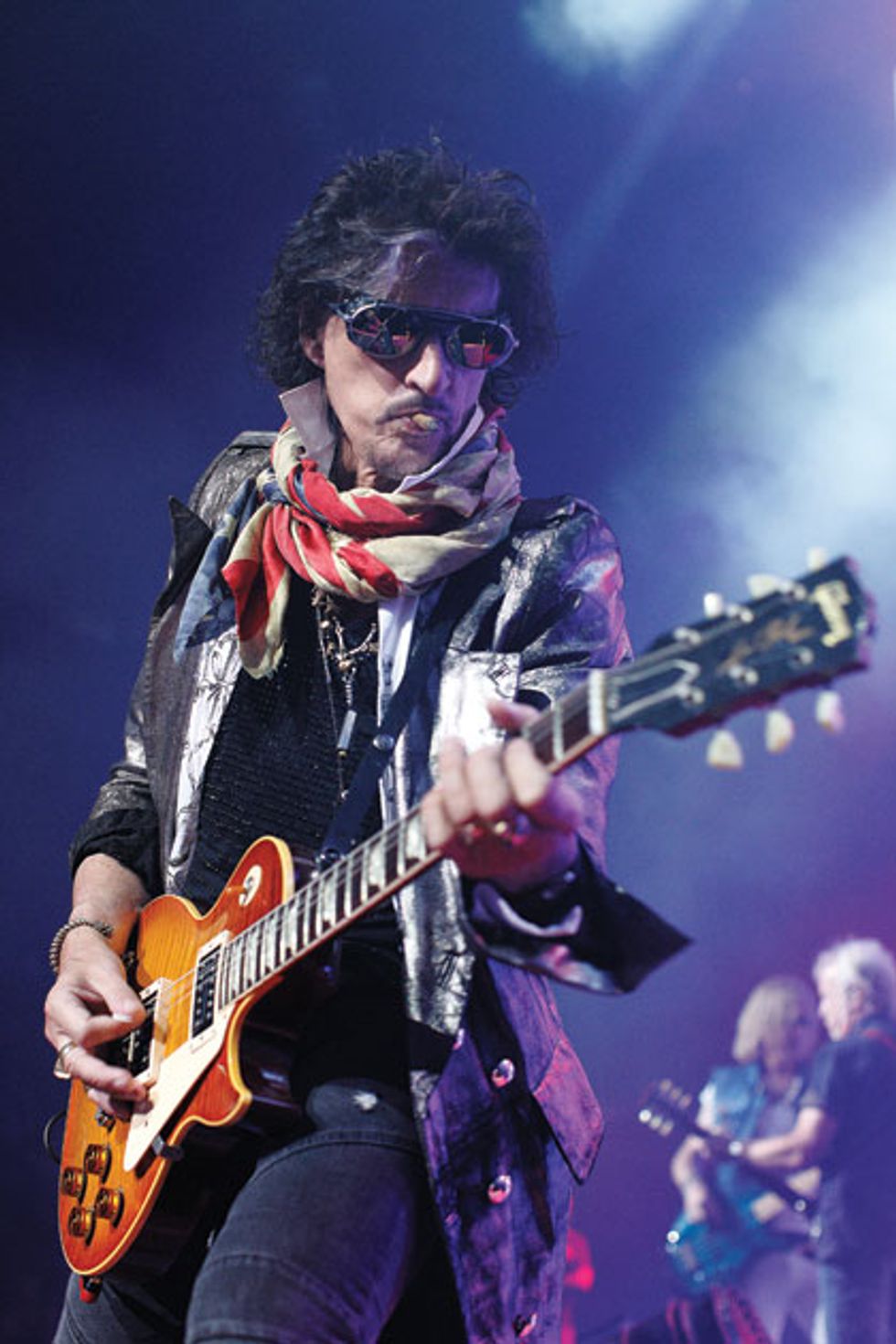 These days Perry's '59 Les Paul resides in a vault, and he tours with a Gibson Custom replica.
Photo by Ken Settle.
Joe Perry is a guitar-playing kraken—a legendary and impressive creature in his long hair, leather vests, chains, and scarves. When he propels his ripped physique across the stage with a guitar strapped over his left shoulder dispensing delirious bends, wiggy vibrato, and riffs that swagger between major and minor, he's every bit the classic rock star in the mold of Hendrix, Beck, Page, Townshend, Richards, and other near-mythic giants.
At 64, Perry has survived and thrived as the co-helmsman of Aerosmith for almost all of the band's 43 years, cowriting the enduring rockers "Same Old Song and Dance," "Walk This Way," "Back in the Saddle," "My Fist Your Face," "Ragdoll," "Love in an Elevator," and even the un-rock ballads "Crazy" and "Amazing." He has cut 19 albums with Aerosmith, plus another six as a solo artist and leader of the Joe Perry Project. And now he's sharing his extraordinary experiences in a new autobiography: Rocks: My Life In and Out of Aerosmith, cowritten with David Ritz, who's undertaken similar projects with Ray Charles, Aretha Franklin, B.B. King, Scott Weiland, and Buddy Guy.
Rocks sketches Perry's life from his small-town Massachusetts childhood and musical awakening through his sex-and-drugs-cushioned ride to the top, his precipitous drop to the bottom, and the difficult climb back up. Perry's book is earthier and less guarded than his Aerosmith foil Steven Tyler's 2012 memoir Does the Noise in My Head Bother You? It delves deeper into the band's mechanics and complex relationships, including the 12-year period when ex-manager Tim Collins resurrected the group from the rock 'n' roll boneyard, but then tried to become their puppet master.
Perry recently explained why he chose to collaborate with Ritz: "He's very heavily into Motown and jazz and blues stuff. I thought that would give him a good perspective on what Aerosmith is. He doesn't think the Beatles hung the moon. They're just another group among the generations of musicians who handed their skills down to the next generation. The Dave Clark Five, the Yardbirds, Aerosmith—we're all just links in a chain. He respects Aerosmith for what we've done. He sees our place in the bigger picture, which is an amazing perspective to find in such a skilled writer and a musicologist of the highest order."
Given Perry's once-prodigious drug intake, he doesn't necessarily recall every detail of the past six decades with perfect clarity. But Ritz's biographer's technique allowed Perry to flesh out a skeleton of his history.
"I was trading guitars a lot back then. We called them "midnight trades." If somebody had a guitar I liked at the moment, I would just trade—that and a bag of pot."

"He and his assistants put together a chronology of my career based on everything that's been written about me starting from my high school year book up till now," the guitarist recounts. "David was also up on all the records. He was quoting lyrics from songs I don't even remember."
We spoke to Perry as he was preparing for his initial public reading at a Barnes & Noble in New York City's Union Square. "When I started thinking about doing the book tour," he says, "I thought, 'Wouldn't it be great to get some of the guys from the Joe Perry Project together to play a short set and sign books?' But there just isn't time to do that, so instead I'll stand up in front of people and tell the story the way it should be told—the way storytellers did it a thousand years ago." He got a little practice when we asked him about his musical survival strategy, the fundamentals and zeniths of his playing, and, of course, his guitars.
You describe Aerosmith's story as success, drug abuse, destruction, rebirth, re-destruction, and rebirth again. You've said the band became a cult while working with ex-manager Tim Collins. You also detail your repeated frustrations with Steven Tyler, including him not informing the band about auditioning for Led Zeppelin or his deal with American Idol. How do you keep your head in the music during vexing times?
With Tim Collins, you have to consider the time period when that all went down. In the book, it's a few chapters, but living it was years of ups and downs. The first two or three years we worked with Collins, we were doing things nobody ever did: coming back from the dead, getting healthy. We were middle-aged men with lives that worked for us outside of the band, and yet we were still trying to carry that vibe of five teenagers living in an apartment onto the stage. We got out there and rocked and put all the bullshit aside. Then there were lots of years when things were really screwed up with that guy. We put up with it because we were having success and didn't want to spoil it.
Being in business together as a band requires talking a lot. We've got to talk about tours, recording, production. But we also need to get in that space of being artists putting on a rock 'n' roll show. We've been able to separate those things. There are still times when things go on in the band and I think, "Well, it can't work anymore." But there's something powerful about Aerosmith that keeps us together. Plus, everybody in the band still likes each other. You've got to dig deep down sometimes, and there are a lot of death-defying leaps of faith, but that's one of the reasons I wrote the book. I want people to understand how hard it is. We're all brothers by choice. You can love your brother, but you don't always have to like him.
Remaining friends with anybody for over 40 years is an accomplishment.
Thank you. It has been tough. But a lot of people have it tough out there. I've got no complaints. But there came a time when I thought, "People have to know what's going on behind the scenes," including some of the funny stuff. So it felt like the right time to write the book.