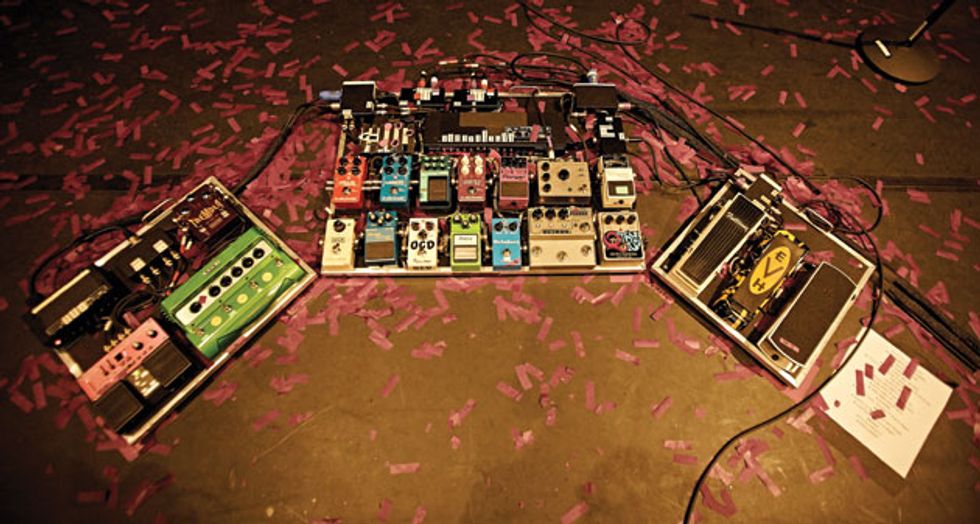 "Because there's so much ground to cover sonically, and tonally, I needed to have all the essentials in front of me," describes Grantis about her pedalboard.
How structured are the rehearsals?
Every day we have new things to work on and new goals to accomplish. Sometimes it's working on new arrangements or lifting songs, putting a setlist together, recording, or jamming out on different grooves. It's amazing to be able to do that together every day for hours on end.
When Prince brings in a song, is it a completed demo or just a few riffs?
Most of the time it would be jams that we would learn really quickly. He would come in, show us something, or maybe give me a chord progression. Prince really left a lot of room for us to contribute to the arrangement, to decide on our tone, how we would play things, or what inversions to use. Sometimes we would just record songs without playing them all the way through. He would just queue things on the spot. That really kept us on our toes. We would jam on parts for a while to really lock in the feel. Other times he's giving me directions like "Use the wah on this." And then I just take it from there.
Donna Grantis' Gear
Guitars
PRS CE 22 "Elektra"
PRS S2 Mira
PRS 513
PRS Starla with Bigsby
PRS SE Angelus
Effects
Boss RC-30 Loop Station
Line 6 DL-4
MXR M159 Stereo Tremolo
MXR Micro Amp
Boss BD-2 Blues Driver
Fulltone OCD
Ibanez TS9 Tube Screamer (modded)
Fulltone Octafuzz
Foxrox Octron
Electro-Harmonix Micro Q-Tron
TC Electronic Hall of Fame Reverb
TC Electronic Flashback Delay
TC Electronic Vortex Flanger
Boss BF-3 Flanger
Ibanez DML20 Modulation Delay III
Fairfield Circuitry Randy's Revenge
Boss TU-2 Tuner
Fulltone Deja Vibe MDV-2
Jim Dunlop Eddie Van Halen Signature Wah
Ernie Ball volume pedal
Amps
Early '70s Traynor YBA-1 (modded by Pat Furlan)
Strings and Picks
D'Addario .010–.046
Steve Clayton Delrin .73 picks
EBow
It seems like there's this line between an extremely tight arrangement and a free-form jam.
He's a master bandleader and we've really learned how to communicate onstage. We always keep our eyes on him. He could break things down at any time, queue solos at anytime, stretch out sections—anything can happen. Yeah, the other really cool thing is that he wrote the songs on PLECTRUMELECTRUM specifically for us and with us in mind knowing our styles and musical personalities.
The band also went out on a few tours of small club shows. How important was that in developing these songs?
I think in terms of playing live it just really solidified the vibe of the band and the energy we put behind those tunes. We actually recorded the songs before playing them live. During the tours we only played a couple of songs from the album. The rest of the material went all the way back to Prince's first album. The interesting thing is that all of those songs were arranged for the four-piece band. That was really cool because a lot of the songs have horns and arrangements with keys and synth sounds. We had to take those songs and figure out how to make them sound massive with only four people.
What guitar did you use on the album?
I used "Elektra" on the entire album, which is a PRS CE 22. That's been my main guitar since I was a teenager. Plus, it's purple—so I guess it was meant to be.
You cover an amazing amount of sonic space with all the different tones in your live show. I imagine your pedalboard is pretty sizeable.
I have a massive pedalboard that Craig Pattison built me specifically for this gig. One of my techs calls it the starship. It's three pedalboards, all connected together. Something like 20 pedals. Because the group is only the four of us, there's so much ground to cover sonically, and tonally. I wanted to have all the essentials right in front of me.
What pedal, or combination of pedals, do you use for your lead tone?
I actually use a lot of different combinations and when thinking about the solos on the album, I wanted them all to be slightly different, tone-wise. For example, there's a song called "AINTTURNINROUND," and there's a part where the guitars are feeding back and the lyric is "What you are listening to now is an ultrasound of Donna's brain." I stepped on almost everything. That was probably an Octa-Fuzz mixed with an OCD and a TC Electronic Flashback Delay with a Vortex Flanger and a Line 6 stereo delay—at minimum. For something like "ANOTHERLOVE" that was pretty much straight OCD plus wah with a little bit of the Flashback Delay. For "WHITECAPS" I wanted to get a warmer tone so I used reverb with an Ibanez Tube Screamer that was modded for me.