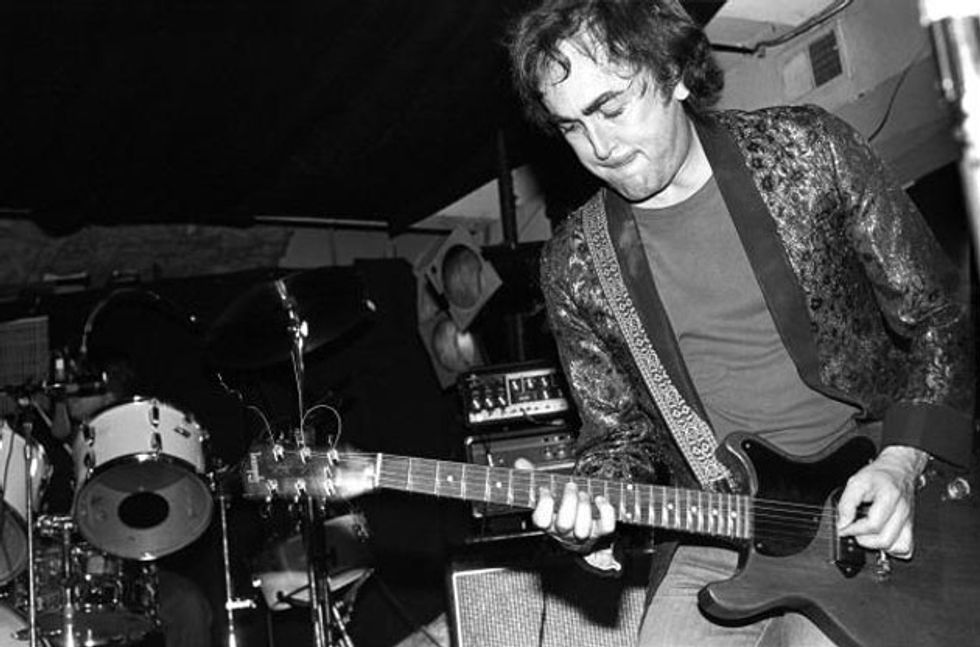 Fans familiar with Ollie Halsall's guitar work might be surprised to learn he played the "Paul McCartney" guitar parts for the Rutles, a Beatles spoof band. Halsall is shown here jamming with Kevin Ayres at Hurrahs in New York during a 1980 tour.
Post-Patto
Halsall's next band was Tempest, where he replaced outgoing guitarist Allan Holdsworth. The split was amicable, and for a few weeks Tempest featured both Halsall and Holdsworth. The BBC promoted and recorded a concert of that lineup in London in June 1973 (you can hear it on Under the Blossom: The Anthology, a Tempest compilation).
Halsall and Holdsworth were very different musicians. As Jon Hiseman, Tempest's drummer and leader, told Dmitry Epstein in a 2004 interview, "Allan was very meticulous, very clear. He had a vision about what he was trying to do. Ollie was a lunatic." He meant that as a compliment. "In any circumstance he'd find a way to make it work."
Tempest post-Holdsworth toured as a trio—lead singer Paul Williams left along with Holdsworth—with Halsall on guitar and vocals. They toured Europe and recorded the album Living in Fear, but it didn't last. Tempest broke up, and Halsall started doing session work. He also began working with Soft Machine's Kevin Ayers. "I was in AIR London studios, working on the Tempest album, and Kevin was there also," Halsall told Trouser Press in 1976. "I was just sitting around, and [producer] Gerry Bron had his pocket calculator out, fooling around. Kevin came down the corridor and asked if there was a guitarist in the house. He needed a solo put on a song ("Didn't Feel Lonely Till I Thought of You") on the Dr. Dream album." That was his first session with Ayers. It was an association that lasted until the end of Halsall's life.
Patto reunited for three sold-out shows in 1975. The concerts were benefits to raise money for the family of a former roadie murdered in Pakistan. After that, Patto—the band—never worked together again, but Halsall and Mike Patto did. Their new band, Boxer, with drummer Tony Newman (Jeff Beck, Rod Stewart, David Bowie) and bassist Keith Ellis (Van Der Graaf Generator, Juicy Lucy) signed a five-record deal with Virgin.
Boxer was a heavier band that had potential to be huge. Its members were seasoned pros with a serious work ethic and financial backing. Their songs were straight-up, in-your-face mid-'70s rockers. The cover for their first album, Below the Belt, was designed to generate controversy and press (a naked woman, spread eagle, with a raised fist covering, well, almost nothing).
But despite the press, money, and support, Boxer didn't last. After recording their second album, Bloodletting, Halsall was either fired or quit—different people tell different versions. Regardless, with Halsall's departure, Nigel Thomas, Boxer's manager, confiscated Halsall's guitars and amps—including his iconic white Gibson SG Custom—to cover his losses. Halsall was left with nothing. And as a tragic footnote, Mike Patto died of lymphatic leukemia in 1979.
"Allan [Holdsworth] was very meticulous, very clear. He had a vision about what he was trying to do. Ollie was a lunatic." —Jon Hiseman

Halsall hit hard times. He still did sessions, but he was broke. He relied on borrowed guitars. He toured the U.S. with John Otway, who'd had a huge U.K. hit, the half-spoken comedy love song, "Really Free." In an ironic twist, Halsall's biggest session was as the "Paul McCartney" character for the Beatles-spoof band, the Rutles. However, Halsall's contribution was anonymous. In the film, All You Need Is Cash, Eric Idle played "McCartney," lip-synching Halsall's vocals and miming his guitar parts.
Success in Spain
Despite professional setbacks, Halsall kept at it, spending the '80s as a musical journeyman. Peers respected him as a seasoned veteran and reliable sideman. He adapted to new styles and trends. And he finally bought a guitar: a cherry red SG that he modified similarly to the white SG Custom from his Patto days.
Halsall worked a lot in the '80s, and his biggest gigs were with Kevin Ayers and the Velvet Underground's John Cale. But he didn't play with reckless abandon like he did with Patto—he stuck to the song. "My style has changed," he told Guitar Player in April of 1989. "There are less notes than before and the sound is clear."
In 1980 he toured with Bill Lovelady, an old friend from Southport with a chart hit ("One More Reggae for the Road"). Also in that band was vocalist/keyboardist Zanna Gregmar. When the tour ended, Halsall and Gregmar moved to Spain to be close to Ayers. Halsall was based in Spain until he died.
Halsall and Gregmar also formed a band, Cinemaspop, playing synth-heavy European techno. They were big in Spain. Their recordings didn't feature guitar, although Halsall played guitar live. And yet, according to Monks, Halsall loved Cinemaspop. "They were successful and made a lot of money," Monks says.
Ayers recorded Still Life with Guitar with Halsall in early 1992, and they performed in England that April. A month later, Halsall was found dead in his apartment in Madrid, reportedly after suffering a drug-related heart attack. His death was a shock. According to Monks, Halsall was anti-hard drugs, and substance abuse wasn't something associated with Halsall. Even back with Patto—despite a third album called Roll 'Em Smoke 'Em Put Another Line Out—Ollie wasn't a big drug user. That album title was just a joke.
A small memorial was set up in Mallorca, the Spanish island where Halsall hung out with Ayers. Except for a small group of loyal fans, most people have never heard of him. But Halsall's legacy lives on—and grows over time. Halsall rumors abound: A shred label was trying to find him to record a solo album. The Stones considered him as a replacement for Mick Taylor. Eddie Van Halen was a fan. What's true? Who knows?
But one certainty remains: Halsall was a great guitarist—a true original and a pleasure to listen to. As Andy Partridge told PopDose, "[Halsall's playing was] like a beautiful gift, where you're opening a box, and you think you know what might be in it, but then you're, like, 'Oh, that is phenomenal! What a lovely little surprise!'"