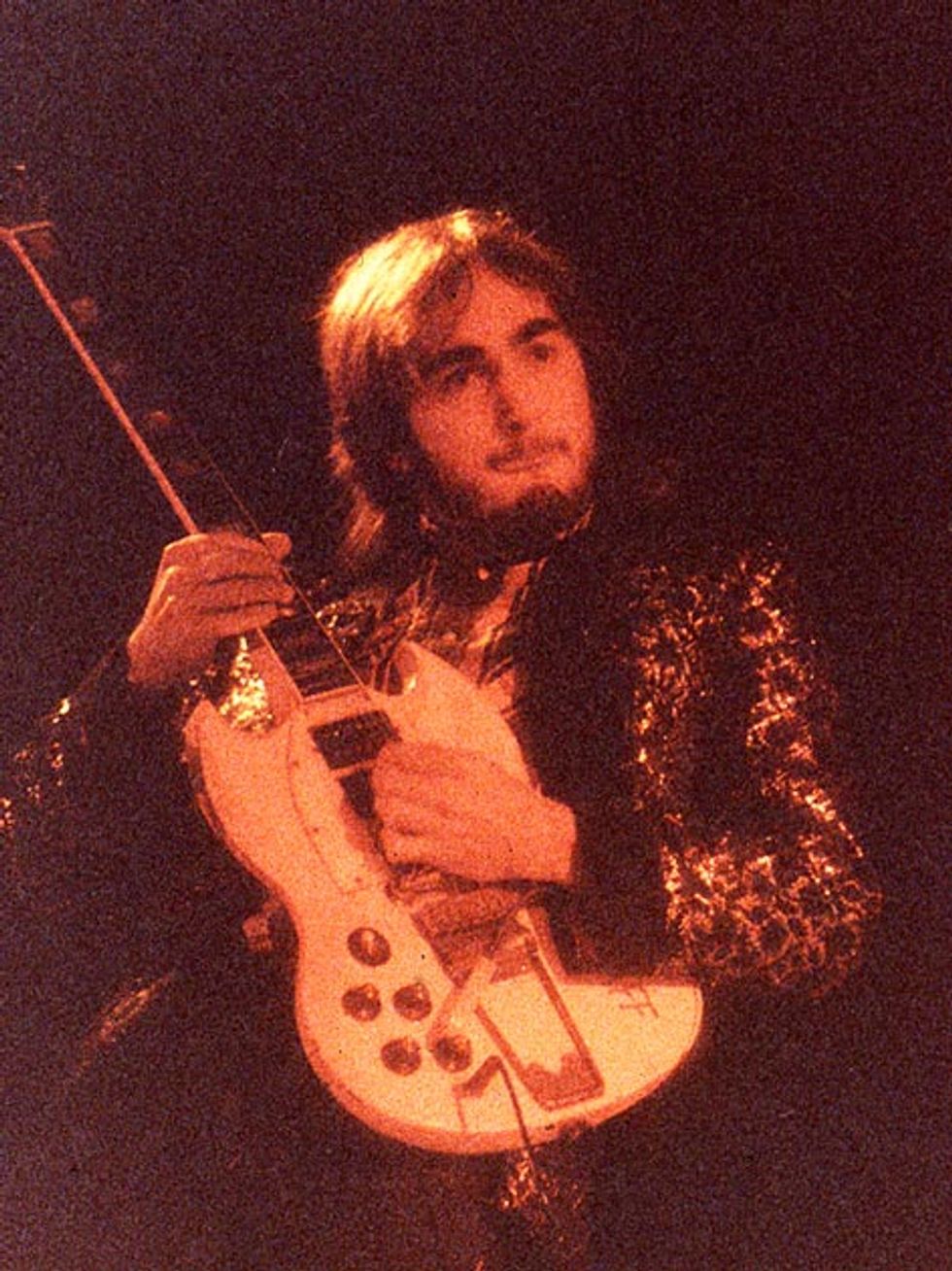 Photo by Lloyd Goodman.
Ollie Halsall's Ad Hoc Lefty SG
The guitar usually associated with Ollie Halsall was a white 1967 Gibson SG Custom. The guitar came with three humbuckers and a Vibrola tremolo unit.
Since Halsall was left-handed, Barnabus (Barney) Swain, a roadie for Patto, converted Halsall's SG from righty to lefty. Swain carved a new chamber for the electronics and moved them to the guitar's new lower bout. Halsall didn't want the knobs to mirror a right-handed model. Rather, the knobs for the bridge position—on the bottom on a right-handed guitar—were on top next to the bridge. The knobs for the neck position were nearer the floor. The 3-way toggle was kept "upside-down" as well (neck down/bridge up). The original cavity was filled with wood. The new lower horn—part of the double-cutaway—was cut deeper for easier access to the upper frets.
Halsall let the Vibrola arm hang loose, dangling over the bridge pickup, and he dealt with tuning issues on the fly. (In the '80s, he replaced the Vibrola on a different SG with a Kahler locking system to keep it in tune.)
The words "Blue Traff" were carved into the upper bout. The phrase reportedly paid homage to a never-released album Halsall recorded with Robert Fripp in 1972. Why blue traff? Spell Traff backwards and remove an "F." Got it? It makes a blue flame when you light it on fire. Boys will be boys, as they say.
Halsall's SG was found in a repair shop in 2006 and restored to its Halsall-era condition. The complete story of the guitar's restoration, as well many details provided for this edition of Forgotten Heroes, can be found at Barry Monks' website/archive for all things Halsall: www.olliehalsall.co.uk/