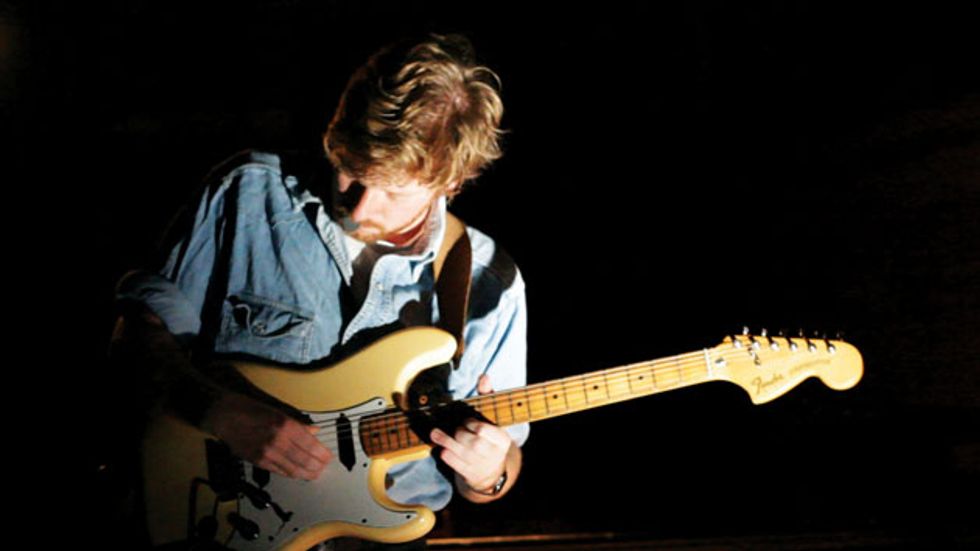 Photo by Megan Woods.
Cian Nugent
After he learned to play Doc Watson's version of "Deep River Blues," Dublin-based guitarist Cian Nugent began to explore the acoustic worlds of John Fahey and Bert Jansch, which he used as a point of departure for his own idiosyncratic approach to the guitar and songwriting. Like Daniel Bachman, Nugent, who is 25, now plays with maturity beyond his years.
Nugent has been playing professionally since he was a teenager. In 2007, he released a self-titled debut, largely in the Fahey tradition, and has since toured Europe and America with fellow guitar explorers Glenn Jones and Steve Gunn, among others. In the process, Nugent has broadened his approach, assimilating psychedelic sounds and more abstract improvisations into his solo and ensemble music, heard to excellent effect on his most recent album, Hire Purchase.
How did you develop your highly personal style—did it evolve naturally, or did it involve a concentrated effort?
Well, I always preferred the sound of playing quietly rather than hammering hard on the strings. I've also always been a fan of recordings by players that draw you into them, rather than loudly pronouncing their purpose. I've always aimed to bring people in to what I'm playing rather than playing hard in order to be heard. That said, I've been known to kick up a shit-storm with a guitar. What's the point in having ideas about how to do something if you only adhere to them?
"I always preferred the sound of playing quietly rather than hammering hard on the strings. I've also always been a fan of recordings by players that draw you into them, rather than loudly pronouncing their purpose." —Cian Nugent

Who are some of your benchmarks, both in terms of acoustic guitarists and music in general?
Two of the guitar players that have had the biggest impact on me are John Fahey, for his sense of pacing—he kept it slow without it dragging and was rich with pain—and Richard Thompson, for his refined sense of touch. Thompson showed me that you can play the blues without having to sound American.
Beyond guitar players, the way John Lennon and Bob Dylan shape harmony and melody is kinda written in my blood. I love the Azerbaijani saz player Edalat Nasibov. My friend Chris Hladowski calls him the Jimi Hendrix of the saz, and I know what he means: Edalat really gets your blood flowing and his sense of improvisation is so vital. The joyous dialogue between John Coltrane and Elvin Jones is always something I hold as an archetype of musical achievement, too.
Talk about a musical epiphany.
A big thing was learning about open tunings. I can't recall the first song I learned to play in an open tuning, but I remember the sense of freedom it allowed me, being able to go up the neck for melody and not being bound to playing chords and melodies that fit around them. In a way I feel like I've been working backwards, because recently I've been really enjoying playing in standard tuning and exploring within its confines. Sometimes open tunings can be like going to an all-you-can-eat buffet—there's a whole lot of stuff there, but you don't know where to start.
Cian Nugent's Gear
Guitars
1979 Guild G37 with 1970s DeArmond pickup
Amps
Sound City Concord combo
Strings and Picks
D'Addario EJ17 Phosphor Bronze (.013–.056)
Golden Gate thumbpicks
Acrylics from nail salon (on index and middle fingers)
To what degree does improvisation feature into your music?
I used to be totally unable to improvise, but slowly got more and more into it. I made an album of entirely improvised stuff with Steve Gunn and John Truscinski, and I learned a lot from that. I think we all shared an aim of what we wanted the music to do, and where we wanted to go with it. I think that's important when you're improvising—that you're playing with people who are on the same page.
What I love about improvising is that you can achieve shared heights with other players that can totally surprise you and that wouldn't have happened if you had everything scripted. I like to have space for improvisation in music that can go on for as short or as long as feels necessary. That way you can respond to the feel of the day, room, people, etc. I think that's the magic of improvisation: Sometimes it really works and sometimes it doesn't.
How would you describe your overall philosophy when it comes to playing the acoustic guitar?
I think it's important to play guitar from your stomach—that's where it sits and that's where you should feel it. Guitar is the most common instrument in our society and that's what I love about it. There's always a guitar in someone's house—it's a shared language, like folk music. But that familiarity can grow boring, and we can get sick of the tropes of guitar. So I try to be in a place musically that is familiar, but hopefully not too much so. I try to play the song you remember, but can't place.