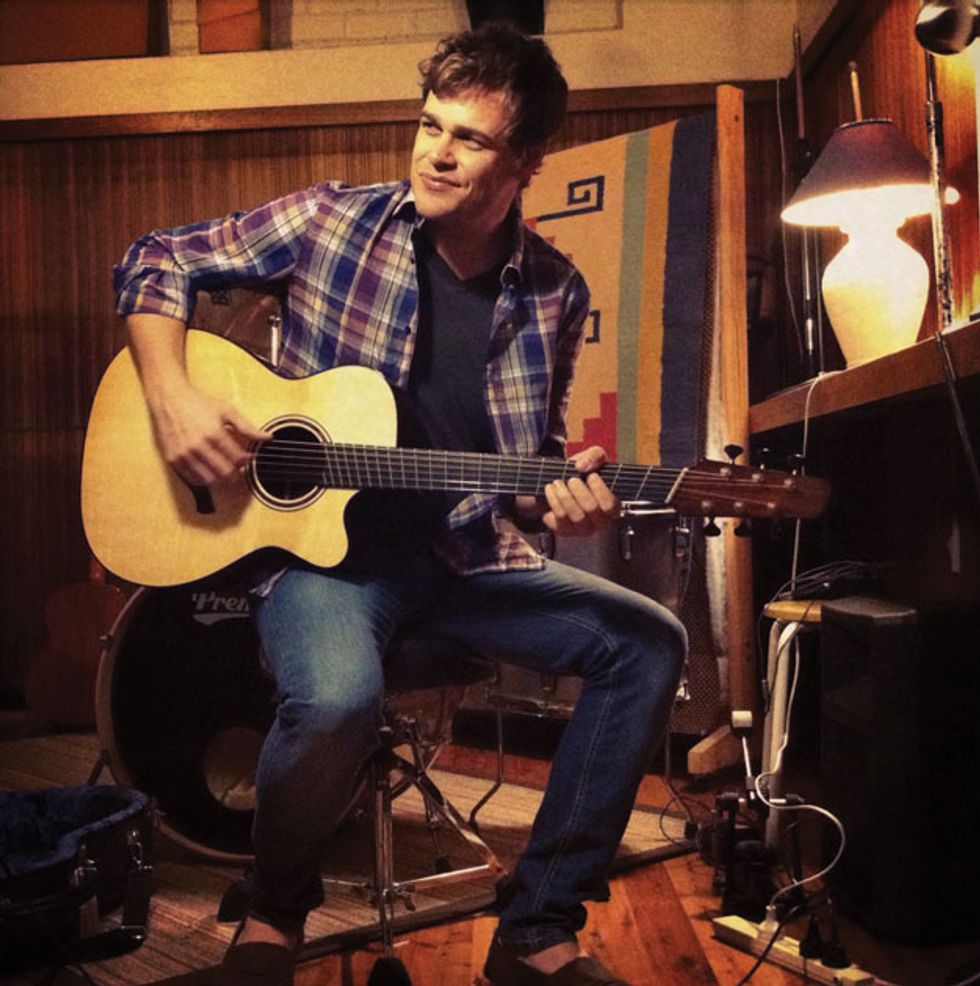 Adam Miller
With practice, a competent guitarist can learn to play a highly polyphonic piece of music by breaking it down into its individual components and slowly putting them together. But it takes an impossibly gifted player to improvise independent melodies, harmonies, and bass lines—all at the same time—while maintaining an impeccable groove. Australia's Adam Miller is one such rare phenomenon.
Miller, 34, first discovered the acoustic guitar through Tommy Emmanuel, whose virtuosic stylings he copped as a preteen. By 15, Miller was opening for Emmanuel in concert. He has since shared the stage with Les Paul, Martin Taylor, and Charlie Hunter, among others, while releasing a series of solo albums beginning with 2001's After One Day.
No slouch on the electric guitar, Miller stretches out in an ensemble with some of Australia's leading jazz musicians on his most recent album, Shifting Units. On the same release, Miller plays each of the compositions unaccompanied on acoustic guitar—evidence not just of the brilliance of his technique, but of the durability of his compositions.
"I always wanted my solo guitar music to groove more and have elements of improvisation, but didn't realize it was possible until I heard Charlie Hunter." —Adam Miller

Tell us about your formative musical experiences.
I started playing organ when I was about 4 years old and picked up a guitar at around age 9. I remember really loving Billy Joel's Storm Front album, but couldn't sing anything like Billy with my 9-year-old voice. My mum bought me Tommy Emmanuel's album Dare to be Different around the same time—1990, when Tommy was starting to become a household name in Australia. I thought I could sound like that because he wasn't singing, just playing the guitar. Of course I had no idea how difficult it was! But that was probably good, as I just tried to play like that without thinking anything of it.
How did you develop your highly polyphonic approach to the guitar?
It really came as a consequence of culture in some ways. It was trying to play the type of music I really enjoyed, but often having to perform solo. I started playing proper alternating-bass fingerstyle in my late teens, but aside from playing guitar shows, no one really got it. I was also playing a lot of electric guitar in funk, pop, and jazz band settings, and pulling good audiences. I always wanted my solo guitar music to groove more and have elements of improvisation, but didn't realize it was possible until I heard CharlieHunter. It really opened my mind to what you could accomplish as one person.
I started playing an 8-string guitar like Hunter, but really found my voice when I applied those ideas back to the 6-string. The technique I've developed really is very dynamic. I'm able to come up with arrangements very quickly and improvise quite freely—in both the bass line and lead line. It allows me to perform and compose songs in a greater variety of styles than I find with the traditional alternating bass patterns. It also allows me to imply a strong groove without the need to add tapping and percussion.
Adam Miller's Gear
Guitars
Jeff Traugott 00 fan fret
Ryan Thorell custom archtop (on order)
Pickups and Sound Reinforcement
Seymour Duncan Mag Mic
DPA 4061 omnidirectional miniature mic
D-Tar Solstice preamp
Two-Rock Coral amp
Two-Rock EXO-15 amp
Effects
Strymon TimeLine delay
Disaster Area DMC-3 MIDI foot controller
Strings and Picks
D'Addario EXP16 coated phosphor bronze (.012–.053)
Analysis Plus cables
Which non-guitarists have informed your approach?
With bass playing such a huge role in my solo music, it's probably pretty obvious that I love listening to bass players and trying to incorporate what they do. I learned all the Red Hot Chili Peppers and Rage Against the Machine bass lines as a teenager. Other bass players that have had a huge influence on me have been Andy Hess, Pino Palladino, and the Australians Steve Hunter, Mitch Cairns, and Peter Gray, all three of whom played on my new album, Shifting Units.
I also draw inspiration from the feel of drummers like Matt Chamberlain and Steve Jordan. Ben Folds is a big influence, too. I love the way the piano works in the trio environment and really use that as a muse for how you can play polyphonic parts on the guitar within the context of a band.
How do you sum up your overall philosophy when it comes to playing and composing?
I try to compose as simply as possible. It's easy when you're into jazz to get lost in changes and complex melodies. I do a lot of shows with a band and we don't often have the luxury of rehearsal. By having simple tunes, my band can imply their own voice easily. Same goes for when I perform solo, in that I'm able to take the audience to a different place each night. I don't write for solo guitar. Instead, I end up arranging my compositions back to solo guitar. In fact, the whole idea of Shifting Units was to demonstrate just that.