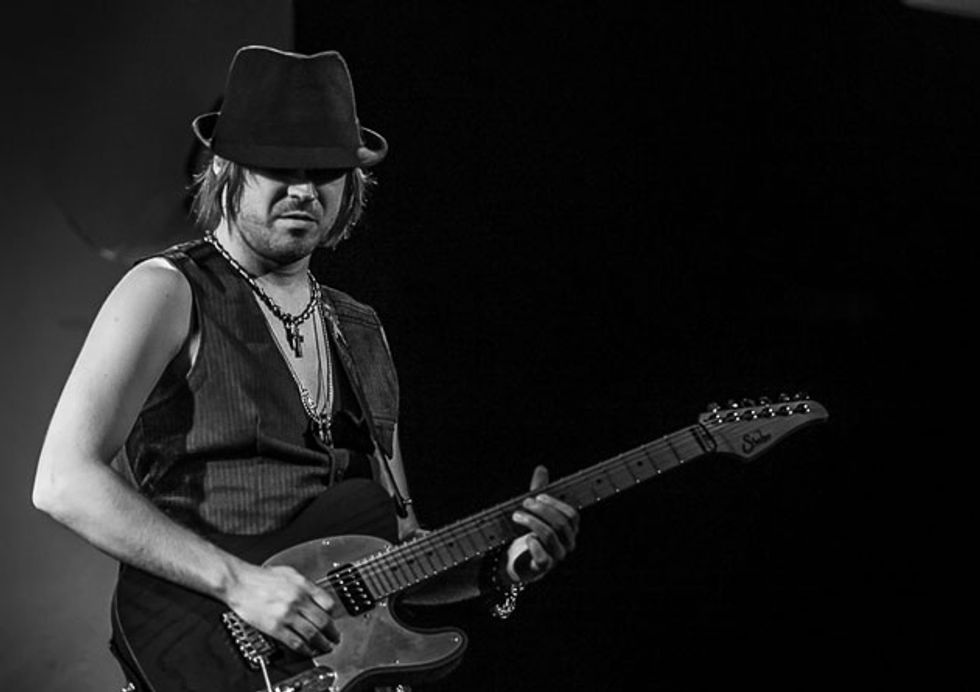 Andy Wood's 24-track sophomore solo double album Caught Between the Truth and a Lie showcases his virtuosity in both mandolin and guitar, including fusion of bluegrass, metal, and jazz styles. Photo by Andrew Fore.
Few guitar shredders, when presented with a dreadnought set up for bluegrass playing, could make the instrument sing. Fewer still would know what to do with a mandolin. But electric virtuoso Andy Wood is equally dexterous on flattop acoustic and mandolin. All sides of Woods' musical life are displayed on his new double-disc album, Caught Between the Truth and a Lie, the follow-up to his 2012 debut, A Disconcerting Amalgam.
Wood is most visible as a sideman to vocalists such as Scott Stapp and Sebastian Bach. Those gigs display Wood's sensitivity as an accompanist, but not the full range of his skills and experience.
Wood was a mere preschooler when his grandfather started teaching him mandolin. He eventually entered the competition circuit, winning second place in the World Champion Mandolin contest by age 16. He's played guitar nearly as long, but didn't take up electric until he was a teen. When he did, his mind exploded. He discovered both country greats like Brent Mason and Albert Lee and pyrotechnical rockers like Steve Vai and Joe Satriani, He eventually synthesized both styles into his own idiosyncratic approach, one that helped him triumph over thousands of rivals in Guitar Center's Guitarmageddon Competition in 2003. Around then he also founded a hard rock band, Down From Up.
"Most gigs just require that I stay in tune and have a tone that doesn't suck. People tend not to care too much about chops."

But Wood never left country behind. He's long been in demand as both a Nashville session musician and a clinician/educator. We chatted with him about how he manages to unite so many musical strands, and the tools he uses to do so.
What was it like playing mandolin as a kid?
It was really good for me. I played mandolin and my cousin played fiddle. When you're that young—we were 4 or 5—you don't realize how technically demanding uptempo bluegrass is. You just don't think of it as being hard. My grandpa showed me a bunch of traditional tunes that I learned by ear. That's where all my right-hand and alternate-picking facility comes from. I didn't learn the way guitar players typically do, dissecting the way highly technical players approach the instrument. Learning like I did was a great foundation, certainly a much different one than, say, sitting around watching YouTube videos.
Talk about finally discovering the electric guitar.
I started playing electric when I was about 17. I was working in a theater in Pigeon Forge [Tennessee] when one of the other musicians said my right hand was technically very advanced, and that I must have been listening to a lot of Paul Gilbert. At the time, I had no idea who that was. So the guy made me a tape, kind of the 101 of instrumental guitar, with pieces by Steve Vai and "Cliffs of Dover." But what really got me serious was listening to Brent Mason's solo on "Pick It Apart" [from Mark O'Connor's The New Nashville Cats, 1991], which I bought because all my bluegrass heroes are on it. When I heard the solo I just thought, "That's where I'm headed." I still remember that solo note-for-note. A friend who's a professional transcriber recently tabbed out the solo, and I was able to point out some inconsistencies between the transcription and what Mason actually plays. That's how deeply I got to know the solo.
YouTube It
Andy Wood plays the title track from his new album on a Custom Classic T model at the 2014 Suhr Factory Party.
To what do you attribute your success as a session player and sideman?
It's probably my general professionalism. We as guitar players have a bad tendency to let our egos determine what we can and can't do. For the gig with Sebastian Bach, for example I just tried to do exactly what was required to fulfill his vision and not overplay. I always strive to dial in just the right tone that the artist needs, even if it's not what I prefer. Scott Stapp, for instance, likes scooped highs and lows, but I like fat midrange. It's not my name in lights, so I do what the gig needs and make my own music, on my own terms, on the side.
Tell us about some of your recent session work.
Sessions are funny—they're never the same, but always the same. You get a call at the last minute for some random mandolin or banjo part—I don't normally play banjo, but can do a convincing overdub. Sessions tend not to be too technically demanding—I often track quickly, in one or two takes. Basically, most gigs just require that I stay in tune and have a tone that doesn't suck. People tend not to care too much about chops. There's a misconception among young players that you always have to play with the same tone, but most situations require that you be able to take off one pair of shoes and put on another.
What's the meaning of the album's title, Caught Between the Truth and a Lie?
It's an old saying from my grandpa. Sometimes when we used to watch the Academy of Country Music Awards, with all these guys playing their electrics and their gadgets, he would say, "You don't need all that—you just need a Martin and the truth." And he was right. Some players might be off the chain on the electric, but hand them a Martin with high action and .013s, and their technique just shrinks. So the lie is an electric guitar with low action, and the truth is a good old Martin. Somewhere between the two is where I'm at.