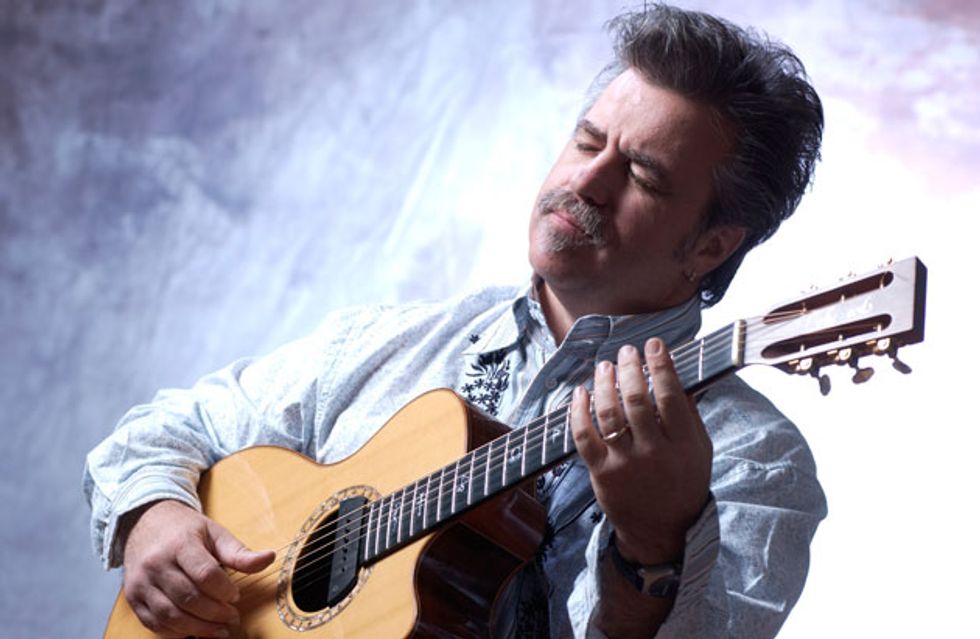 Minneapolis-based Sparks currently plays a 2004 cutaway OM built from koa and spruce by
renowned luthier Charlie Hoffman.
North Carolina has produced some legendary musicians—saxophonist John Coltrane and pianist Thelonious Monk, to name just two. Fingerstyle guitarist Tim Sparks also grew up in North Carolina, and like those jazz pioneers, he has synthesized a range of far-flung sounds to develop an idiosyncratic voice on his instrument.
Sparks, who is 60, learned to play guitar through deciphering country blues and gospel songs by ear. At 14, he received a scholarship to the North Carolina School of the Arts, where he flourished as a guitarist, studying the nylon-string under Jesus Silva, a protégé of the great Andrés Segovia.
After graduating from the School of the Arts in 1973, Sparks had no trouble making a name for himself as a working musician. While touring with an R&B band, he discovered Minneapolis and soon made it his home base. In the Twin Cities, Sparks played in the jazz ensemble Rio Nido before exploring traditional music in Portugal and Eastern Europe through a series of grants—music he'd revisit in various world-music ensembles in the United States beginning in the late '80s.
"Now we live in an eclectic world where people mix and match styles, but that was a big step back then."

In 1992, Sparks amazed fans of solo steel-string guitar with his inventive adaptation of Tchaikovsky's The Nutcracker Suite. The following year he won the National Fingerstyle Guitar Championship, and then, starting with One String Leads to Another (1999), began to explore both his American and world-music roots in a series of solo outings. At the same time, Sparks put a new spin on traditional Jewish music by releasing a quartet of albums—Neshamah (1999), Tanz (2000), At the Rebbe's Table (2002), and Little Princess (2009)—on composer John Zorn's Tzadik label.
Sparks' latest release, Chasin' the Boogie, is something of a homecoming. He conceived of the album during recent visits to his ailing mother in North Carolina, which, naturally, triggered memories of his early years spent learning music. On the album he reworks traditional numbers like "What a Friend We Have in Jesus" and "Wayfaring Stranger," and explores new territory in more contemporary songs like Paul McCartney's "Blackbird" and Joni Mitchell's "Both Sides Now."
We talked with Sparks about his formative experiences in North Carolina and the musical travels he's enjoyed along the path to becoming a fingerstyle great.
Tim Sparks' Gear
Guitars
2004 Charlie Hoffman OM cutaway
Strings and Picks
John Pearse 510L (.011–.049 silk-wound phosphor bronze)
What was the scene like at the North Carolina School of the Arts in the early 1970s?
My teachers were Javier Calderon and Jesus Silva. Javier taught me how to imagine the guitar sound projecting to the back of the concert hall. Jesus Silva was a disciple of Andrés Segovia, who came to the school to conduct master classes. Silva was also a protégé of Manuel Ponce. Silva emphasized creating expressive and beautiful music, and not getting tripped up by mistakes in performance. My exposure to Bach, Sor, Albeniz, and Latin American composers was crucial.
I also met Duck Baker when I was a student there. He introduced me to a postmodernist, omnivorous approach to music that could be played on guitar. And I discovered Fats Waller, who seemed to embody both the streams of blues and classical music, which would become an important blueprint for my style.
Tell us more about what you learned from Baker.
Through Duck I came to understand that I didn't need to be on a strictly determined path and only play classical or jazz. Duck played everything from Irish jigs to ragtime to swing to modern stream of consciousness. He really opened my eyes to what a modern player's repertoire could be like. Now we live in an eclectic world where people mix and match styles, but that was a big step back then.
How did you become immersed in the ethnic music scene, for lack of a better term, and what impact did this have on your playing?
My ensemble Rio Nido came to an end around 1987, and then my wife and I traveled for a few months in Europe. I had always been captivated by Béla Bartók and Eastern European folk music, so our trek included Budapest, Hungary, and Yugoslavia, where we encountered amazing Roma music and, of course, rhythms in meters like 7/8 and 9/8. This music sparked my interest in playing these crazy rhythms and mysterious scales.
How did you go about learning those crazy rhythms and mysterious scales?
When I was back in Minneapolis, I began working as an accompanist in all kinds of ethnic ensembles—Brazilian, klezmer, belly dancing, Persian. I got a chance to understand the music in more than just an intellectual way. I learned these meters by playing with drummers—who had a way of naturally accenting the beats in an odd measure so that I always knew when the downbeat was coming—and by watching dancers. Through playing with these groups, I also developed a melodic affinity for the music, and a connection on a lot of levels.