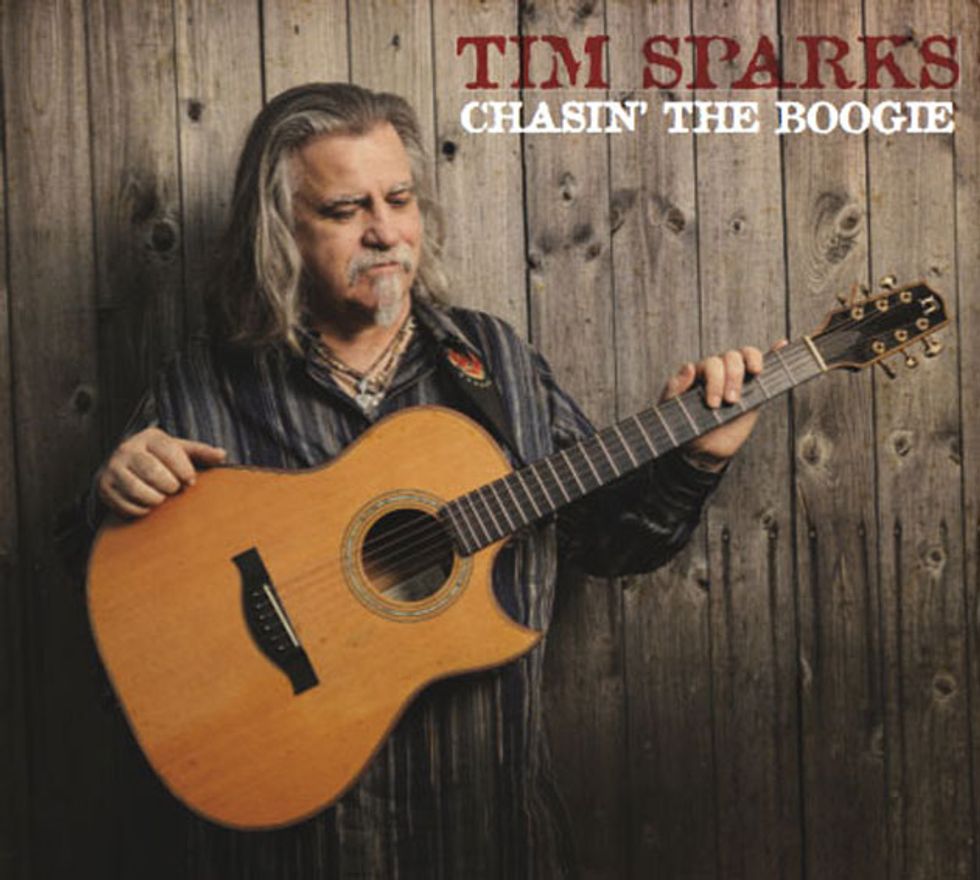 Tim Sparks' 10th solo album, Chasin' the Boogie, was produced by Peter Finger in Osnabrück, Germany. Finger also produced Sparks first solo record, Nutcracker Suite, in 1993.
Talk about being exposed to fado and the guitarra Portuguesa while you were in Lisbon.
I spent a lot of time in a little quarter of Bairro Alto known as the Bica, and there was a fado joint in the area where a big congregation of fadistas would gather on weekends. A guitarra Portuguesa and a violão, which is what they call a guitar, sat in the corner to be played for all the singers. Everyone was welcome—amateurs and professionals. If the crowd liked you, they would show their approval by joining in on the chorus. I was also able to learn some things from Pedro Caldeira Cabral, an extraordinary master of the guitarra Portuguesa.
Like what?
I learned certain techniques that were new to me. For instance, I saw him take a walnut shell, put it on his thumb, and use it to tap on the soundboard while he played, adding a percussive element to what he was doing with his other fingers.
Also to embrace the new and the old: Pedro Cabral is sort of a Portuguese Ornette Coleman. He took traditional music into new and atonal places. Just as with Ornette, this was met with negativity in a lot of quarters, especially in the fado community. But at the same time, Cabral has a very deep understanding of Renaissance and medieval music, as well as the traditional music of his country. Portugal is a very small country, but with four or five different regions. He's very familiar with the distinct musical style of each.
"I learned these meters by playing with drummers—who had a way of naturally accenting the beats in an odd measure so that I always knew when the downbeat was coming—and by watching dancers."

What did you learn from adapting Tchaikovsky's Nutcracker Suite to guitar in the late '80s?
It's not always possible to play everything that's in a full orchestration. I worked from a piano reduction in order to do my arrangement. Some of it was mechanical—reducing octave parts to single notes in the bass, for example. It's kind of like you want to get to the bones of a piece in order to do something that reflects its spirit in a meaningful way.
Another thing is that I learned the pieces in their original keys, transposing some of them to the best possible key on guitar. Now I use a capo for easy transposing, but then I did everything without the capo, which sometimes required going through different fingerings in order to find the best key to play a piece in.
What's it like to work with John Zorn?
It was through Duck Baker that I was introduced to Zorn, who produced Spinning Song, Duck's amazing recording of the music of Herbie Nichols. Zorn is very sincere. He has a contagious enthusiasm. All the musicians in his circle, like Cyro Baptista and Greg Cohen, are warm, totally down-to-earth people. The work I have done for Tzadik [Zorn's label] has been the best experience. Zorn has encouraged me to be eclectic in my repertoire and, more importantly, in my improvisational vocabulary.
YouTube It
Tim Sparks revisits his roots in this masterful fingerstyle arrangement of "I'll Fly Away."
How did the title track of Chasin' the Boogie come about?
I've done many arrangements of ragtime and jazz piano music for guitar, and a lot of this is on my album Sidewalk Blues. For "Chasin' the Boogie," I had the idea to play a piano boogie-woogie on guitar. I just started crafting and discovering riffs, and by tuning the 6th string to D, I found a basis to create the tune.
Some of the covers—"Blackbird," "Mr. Bojangles," and "Both Sides Now"—use dropped-D tuning for rich reharmonizations.
Yes. In drop D, the D chord is very big and rich. I find it so interesting to play in keys other than D in this tuning, like in A, on "Mr. Bojangles," where the rich D chord arrives as the IV chord, creating a special moment in the arrangement.
On "Both Sides Now," there are moments that recall the harmonies of John Coltrane's "After the Rain." Is this just a coincidence? And why did you quote "As Time Goes By" in that song?
"After the Rain" is one of my favorite Coltrane tunes. In my arrangement of "Both Sides Now," I play the reharmonization of the melody over a D pedal tone, which calls to mind the Coltrane tune. I added the quote of "As Time Goes By" because it's also a tune about acquiring wisdom.
What was the recording process like, and what gear did you use?
I recorded the album at Peter Finger's studio in Osnabrück, Germany, all in one day. The next day we did some edits and mixes. I played a spruce-and-koa cutaway OM made by Charlie Hoffman, a luthier in Minneapolis. I can't remember the mics Peter used, except that they were nice, and not the expected Sennheiser or Neumann models.
Your vocalizations and other transient noises add human warmth on the recording.
I like to joke that I spent years carefully studying the vocalisms of Keith Jarrett, Thelonious Monk, and Joseph Spence, but actually it's just an involuntary response. Perhaps it reflects the connection between the cognitive process and the motor process of playing music. I agree that it does convey a sense that music is happening in the moment.