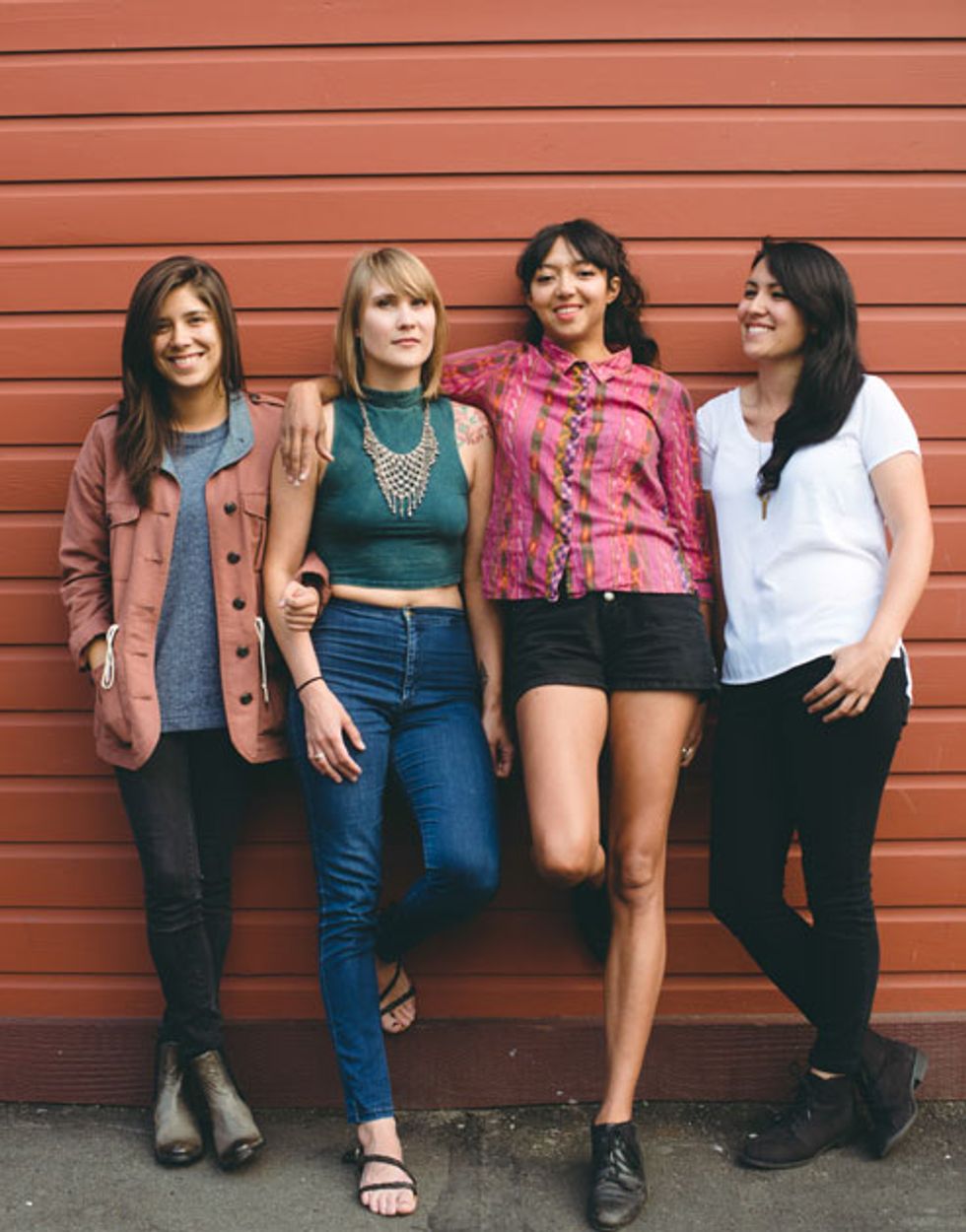 La Luz
Over the past few years there's been a resurgence of West Coast bands influenced by 1960s garage and surf rock a la Dick Dale and the Beach Boys. Bands like Shannon and the Clams, and Guantanamo Baywatch, but at the top of that list is La Luz––a Seattle-based quartet featuring guitarist/vocalist Shana Cleveland, bassist Lena Simon, keyboardist Alice Sandahl, and drummer Marian Li Pino. I caught La Luz's SXSW performance on a depressingly rainy Saturday afternoon on the outside stage of the Panache showcase at Spider House Café & Ballroom, but the gloomy weather didn't affect the band or the audience. Excited listeners crowded around the stage, smiling and dancing the entire show.
La Luz grabbed the attention of passersby, too, with a captivating blend of graceful, period-correct harmonies, haunting keys, and, of course, incisive solos awash in twangy spring reverb. But the band's influences seem to span a range of genres beyond the surf and garage labels––from doo-wop to straight-up pop. Cleveland's Strat-and-Princeton riffs were alternatingly raucous and tender, Simon's Hofner-through-Ampeg bass lines were simultaneously solid and sinewy, and both had fun with their bandmates by doing little choreographed dances, laughing at each other, and making jokes we all wished we were a part of—and yet there wasn't one thing sloppy about this amazing show.
---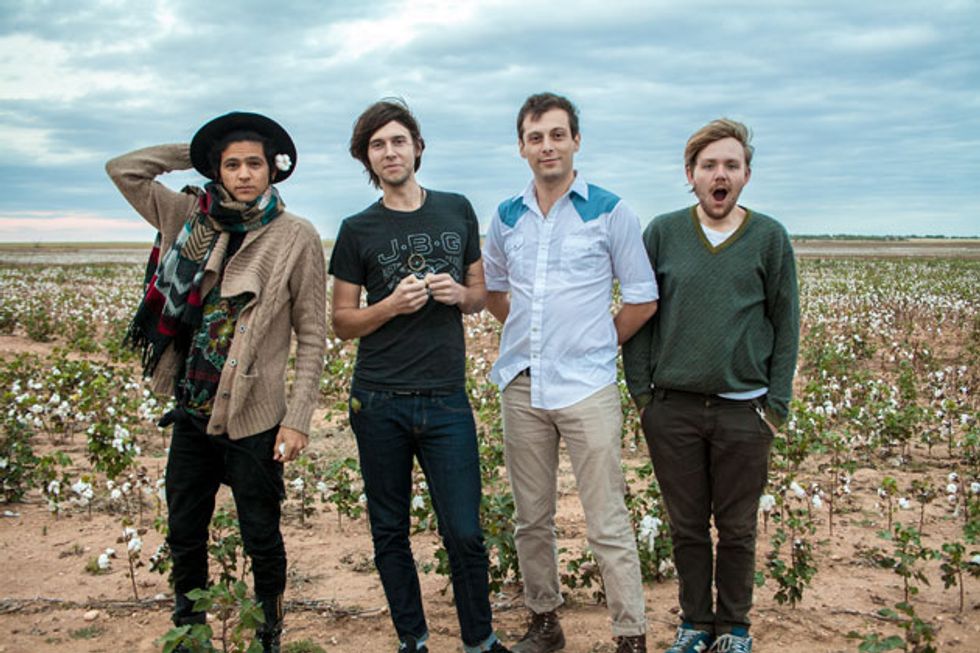 Hikes
Twenty-three-year-old Nathan James Wilkins has been leading and producing heavy hitters under the moniker Hikes for as long as he's been playing guitar—a whopping four years. Initially a drummer in the Fayetteville hardcore scene, Wilkins has turned into an incredibly innovative math-rock guitarist. His techniques range from standard barre chords to tapping, complex fingerpicking, and creative harmonic use in open tunings. Wilkins, who favors Tele-style guitars, is the kind of player whose jaw-dropping intricacies make you wonder whether he's a prodigy or just extremely dedicated. Of course it's not just Wilkins who powers Hikes. Co-guitarist Will Kauber (who often plays a Fender Bullet Deluxe, as well as a Jazzmaster), bassist Colin Jenkins (who prefers Fender Jaguar and Danelectro basses), and drummer Chris Long bring the same intense energy that resonates so well with audiences.
As I entered Javelina––a small Austin bar that's become quite a hot spot––on the last night of SXSW, I encountered a crowd of sweaty headbangers singing along to Hikes. Many seemed like they were ready to jump onstage at any moment. For much of the show I was completely transfixed by the effortlessness of Wilkins' playing up and down the neck, so to be honest, it wasn't until the final moments of the set that I began to realize how intricate the rest of the band members' playing was, too. Like a game of Tetris or a 1,000-piece puzzle, Hikes is engaging and challenging, yet often quite subtle in its nuance.