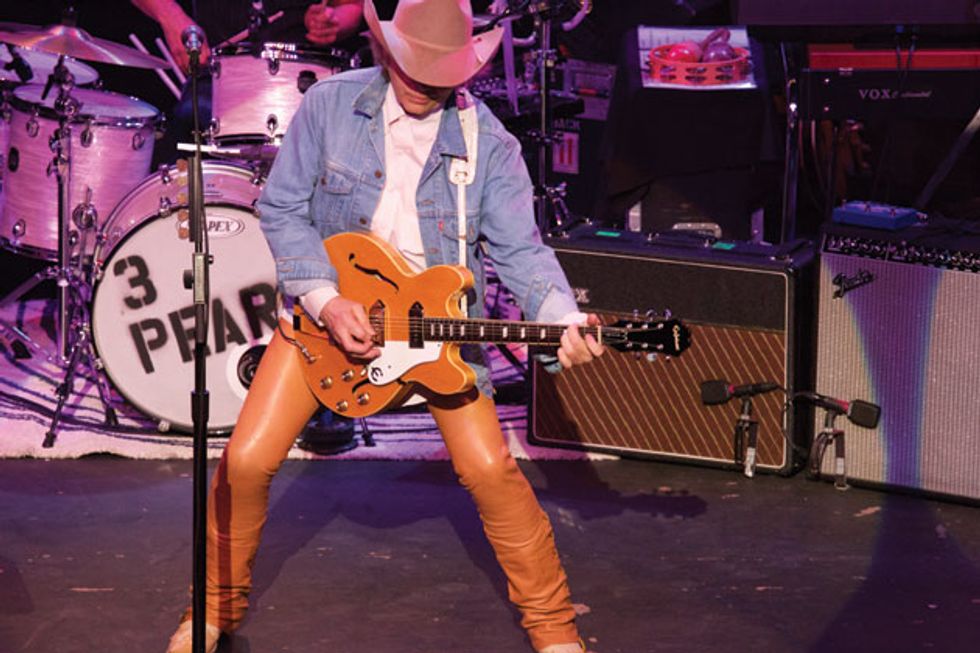 Yoakam's go-to electric is the Epiphone Casino Elitist—the Japanese-made copy that is modeled after the original Casinos from the mid '60s. Why? "Those P-90 pickups," he says.
What was your go-to electric guitar on Second Hand Heart?
My Epiphone Casino. It's an Elitist model—the Japanese-made copy that's true to the original Casinos from the mid '60s. I love that guitar, the sonic soul of it is all over this album, and was also all over 3 Pears. Those P-90 pickups—hey, you know, if it's good enough for the Beatles on Revolver all the way through "Revolution," I guess it's good enough for me to trash around with. I use heavier strings on the electric. Years ago I started stringing up with jazz sets that include a wound G, but I'm still not in Stevie Ray Vaughan territory.
How did you approach tracking the guitars on this album?
I came back to [lead guitarist] Eugene Edwards, who's played with me now since the release of 3 Pears. We went in as a unit and recorded as a band. I didn't overdub the countermelody stuff—I let them play it. That's what I think you're hearing—and I've come full circle now on that first question!
"The riff is like the musical spiritual guide. When I'm ripping on the riffs, it takes me to the emotional place of the song."

Can you share a memorable moment from those sessions?
On "Liar," I was showing the band the progression while we were getting mic sounds. I was in the iso room at Capitol Studio B singing, and the guys were out there live. I looked at [engineer] Marc DeSisto and said, "You know, you oughta record this anyway, just for kicks." He hit record, and that's the track. What you hear is the first time we played "Liar" as a band. I played electric rhythm guitar using that Casino through a Vox AC30. It's Eugene out there with the "Dwight Trash" Casino that Epiphone made for me.
The Dwight Trash Casino? Please explain.
I loved my Casino so much I had them build another version. I said, "I've got an idea. I want to monkey around a little bit. The [Gibson Firebird] reverso headstock ... can you put that on the Casino? I'd like to see how that looks."
So they made it for a couple of years. The headstock change altered the tone a little bit. I found that for my sound, the Elitist with the original headstock still had a little more of the brashness, the breakup. But this one was wildly great. I played it on 3 Pears, but then I gave it to Eugene to use as the lead guitar on this album. He used it on "In Another World"—pretty much everything. There are only a couple moments of Tele lead. I think Brian Whelan played Tele on the lead for "Man of Constant Sorrow." Almost everything else is that Dwight Trash Casino doing the lead guitar part.
Dwight Yoakam's Gear
Guitars
2001 and 2004 blonde Epiphone Elitist Casinos with P-90s
1978 sunburst Fender Telecaster with three-piece ash body
Two 2011 Gibson J-200 True Vintage series acoustics
Amps
Vox AC30 with Blue Bulldog speakers
Fender Super Reverb reissue
Fender Deluxe Reverb reissues (modified by Robert Dixon)
Acoustic Amps
Fender SFX (used as a preamp)
Crown XLS 1500 power amp
Peavey speaker cabinet
Effects
Morley ABC Selector/Combiner (amp switcher)
Strings and Picks
D'Addario EJ21 Nickel Wound Jazz Light (.012–.052)
Martin Marquis 92/8 Phosphor Bronze (.013–.056)
Fender 351 medium picks (tortoise shell)
How did Chris Lord-Alge become co-producer?
He was going to mix the album and said, "I want to come by the studio and watch what you're doing in there, see how you're delivering this to me." I'd cut the song "Believe"—another guitar part with the Casino—and I was going to have Brian play Telecaster, but Chris interrupted. He said, "You just did it. We like what you just did. Just play it on the Tele." We ended up doing a second track like that. People think it's a 12-string, but it's actually two 6-string Telecasters. He took over the session, and that's how he ended up co-producing.
You've always had strong riffs in your songs.
With the Beatles, it wasn't just about the lyric and a melody, but their riffs. Whether it's "Ticket to Ride," "Day Tripper" [sings the guitar part]—hey, all the way to Neil Diamond writing "I'm a Believer" for the Monkees. These songs all have killer opening riffs.
The riff is like the musical spiritual guide. When I'm ripping on the riffs, it takes me to the emotional place of the song. I think it's because I'm a singer. It's also coming out of organized music in some fashion, marching in school band and listening to swing, which has a lot of riffs. I don't read charts, but I was a drummer and there were always those kinds of parts in swing music.
A lot of the songs on Second Hand Heart include acoustic, electric, and baritone guitars. What inspired you to use that instrumentation?
To me, it's about having an Appalachian foundation, hearing music in thirds, and hearing drones. And that comes from the Scottish, Welsh, and Irish music that, in America, evolved into commercial country music in the early 20th century ... the Carter family, the Everly Brothers. I'm talking about the border of Kentucky and Virginia, where I was born, Pikeville. It's just there in the DNA. You hear it in the Beatles interpreting the Everly Brothers with "Love Me Do"—those droning thirds. Certain instruments just work with the baritone guitar. I can be the counterpoint to the melody in a droning fashion, while simultaneously being percussive.