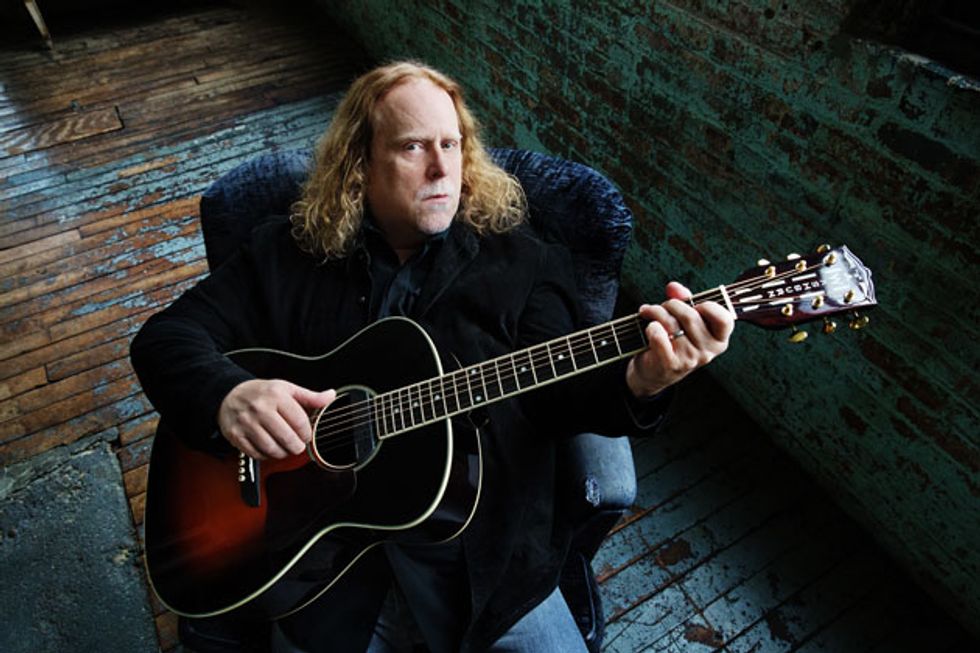 Haynes with his signature-model Washburn. "Whatever the situation, the majority of songs I write start on the acoustic guitar," he says. Photo by Danny Clinch.
One of the great Gibson players, Warren Haynes uses a fleet of Les Pauls, Firebirds, SGs, and ES-335s—even the occasional ES-175—to create the massive, singing blues-rock lines that are his bread and butter. But on Haynes's recent album, Ashes and Dust, made in collaboration with the New Jersey-based roots band Railroad Earth, his trusty Les Paul and 335 share equal billing with a D'Angelico New Yorker, his signature-model Washburn acoustic, and a handful of other steel-strings.
Now 55, Haynes has played in various incarnations of two legendary jam bands: the Grateful Dead and the Allman Brothers. He's also a founding member of Gov't Mule, still going strong 20 years after launching as an Allman Brothers side project. In addition to recording and touring with those outfits, Haynes is a songwriter and producer with several critically acclaimed solo albums to his credit.
While he's known for playing thunderous riffs and burning slide, Haynes is also a folkie at heart. Though his solo acoustic sets have always hinted at this, it's never been more apparent than on Ashes and Dust, the follow-up to 2011's soul-and-blues-oriented Man in Motion.
"I'd been wanting to make this kind of record for a long, long time. The album is really a collection of life memories."

Supported on Ashes and Dust by fiddle, banjo, mandolin, and upright bass, Haynes plays Americana-tinged songs he's been incubating for decades, along with newer numbers and covers. "These songs have all been important to me for so many years," he says. "They're like snapshots of where I was at certain time points in my life, captured in music. The album is really a collection of life memories."
We asked Haynes to explain how he brought these memories to life with the help of Railroad Earth, and what challenges he faced stepping outside his comfort zone to work with this predominantly acoustic ensemble.
Does Ashes and Dust represent a homecoming for you?
I grew up in the mountains of North Carolina. Celtic and Appalachian tunes—what we call mountain music—were very prevalent, as well as folk and bluegrass. I've been surrounded by that music since I was a small child. My dad was a very good singer, and he loved musicians like Bill Monroe and Ralph Stanley. I rebelled against that influence until I was about 14 years old, when I realized it was really amazing music.
I began sneaking into folk clubs to soak in as much information as possible. At the same time I started learning blues, rock 'n' roll, and a little jazz. But what was most important to me was being mentored by singer-songwriters, and I didn't even realize that until recently when I made the new record.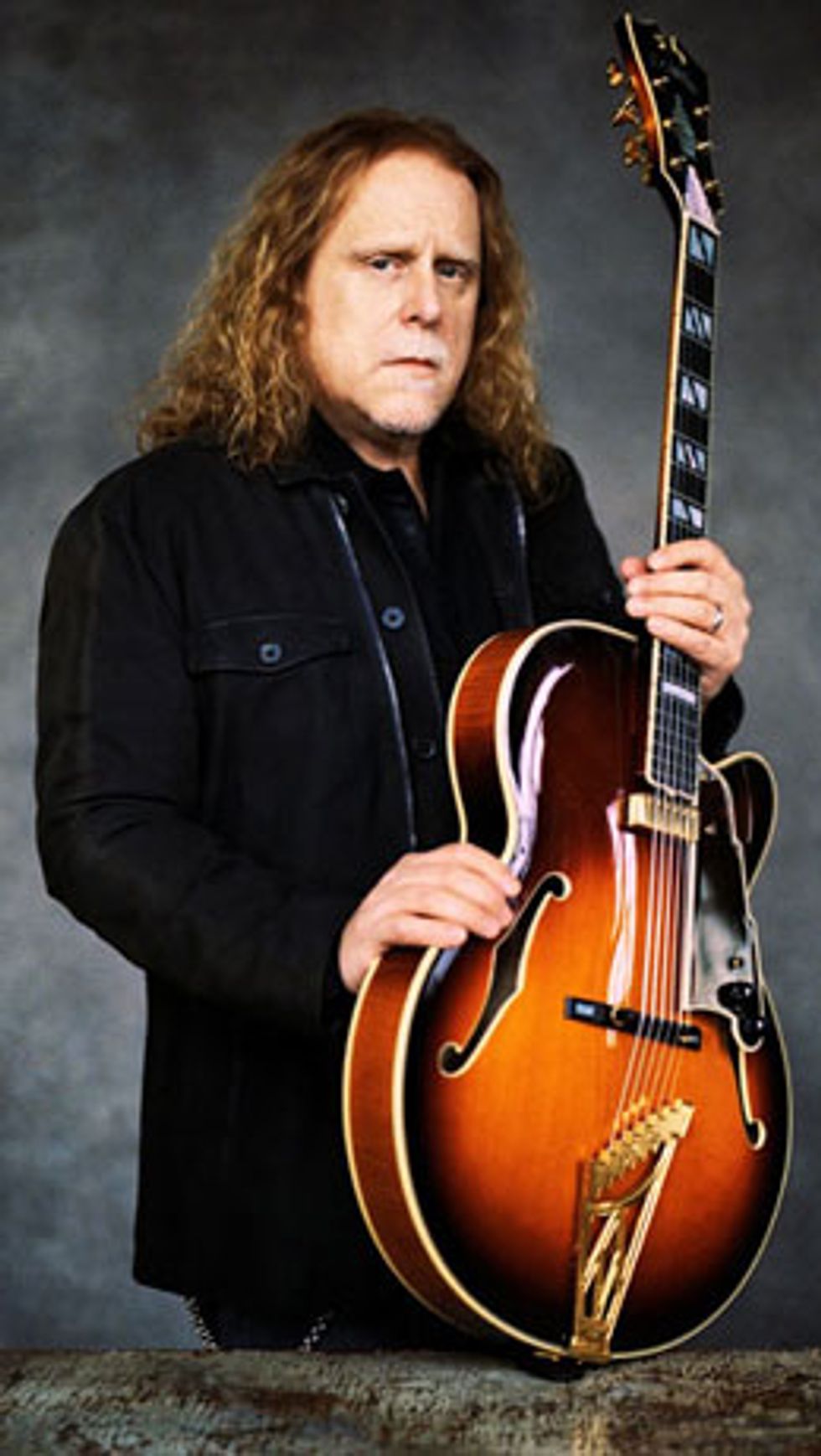 Haynes has owned this D'Angelico New Yorker for some 15 years, and it's featured on Ashes and Dust. "I strung it with flatwounds and dialed in a clean, jazz-like sound. This forced me to play differently than I normally do."
Photo by Danny Clinch.
To answer your question, I do think it was a homecoming. Not only is the instrumentation folky, I was able to pay tribute to the singer-songwriters I learned from early on. The song "Coal Tattoo," for instance, is by Billy Edd Wheeler, a local legend who wrote songs for Johnny Cash—"Jackson" was his—and for Jefferson Airplane, Judy Collins, Richie Havens, and many others. I tried to capture as much of the original spirit as I could, mostly from recollections of when I first learned the music. It was nice to go back there with the guys from Railroad Earth, who are so good at what they do. It felt so natural—nothing was forced.
What was it like to revisit the songs you wrote 20 or 30 years ago?
I'd been wanting to make this kind of record for a long, long time—I even started planning six or seven years ago. Some of the songs are brand-new, but many are old. These songs are really close to my heart. I've always kept them in the forefront of my mind and always wanted to record them for the right reason, at the right time. They wouldn't have fit on my last solo album very well. I never thought of them as Allman Brothers or Gov't Mule songs—obviously, they could've been interpreted in a new setting in either group, but I wanted to present them as a collection in a certain light, similar to the way I originally wrote them.
Have the old tunes evolved at all?
They're essentially the same, but they got longer as I sat in a room and played them by myself on an acoustic guitar before making the record. Then I went into the studio, where all this other instrumentation—fiddle, banjo, mandolin, upright bass, and so on—stretched the pieces out in a textural way, while bringing in some cool improv elements as well.
How did it feel to focus on an album of songs, as opposed to more jam-oriented structures?
Even when I'm working in a more jam-based context, the songwriting side is always important to me. In Gov't Mule it's always important to strike a balance between the songs and the jamming. It's important to consider the big picture, as too much of one aspect would be detrimental to the other. Of course, the new record is a little more centered around songs—none were written as vehicles for jamming, per se—but there was improvisation within the arrangements.