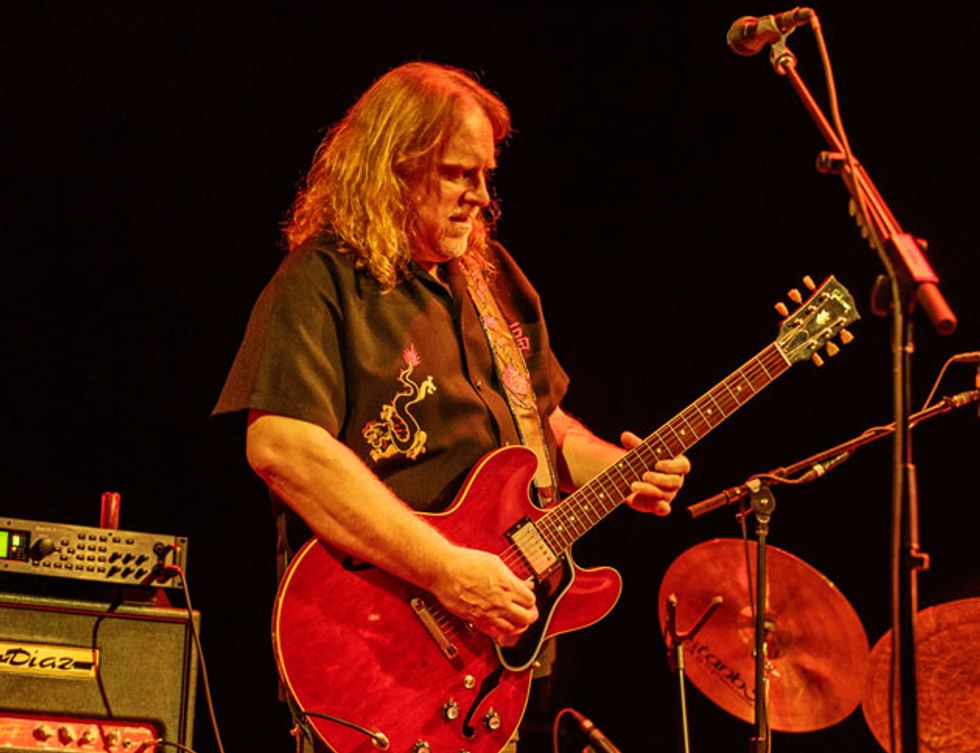 "One of my favorite guitars ever," says Haynes of his 1961 ES-335. Photo by Scott Friedlander.
What challenges did you encounter in the sessions?
The biggest challenge was that we tried to record everything as live as possible, with minimal overdubbing. If a finished track felt like it needed a little something extra, we might have added it, but we generally tried to avoid that. Every record I've ever made, from the Allman Brothers to Gov't Mule, has been all about capturing a live vibe. Ninety-five percent of the solos you hear on the record were what I played on the live tracks. I always tell myself I'll start doing more with overdubbing, where it's so much easier to achieve perfection, but I just can't get away from this approach. It feels more natural.
Did you all play in the same room?
The fiddle, upright bass, and drums were isolated, but all in rooms where we could easily see the players. The rest of us were behind gobos, but again, we could all see each other.
How long were you in the studio?
Probably about 14 days, but we recorded a lot more material than the 13 songs on the album—close to 30.
"I enjoyed playing as much acoustic as I did on this record. It was a challenge for me to be a part of this sonic world, working with musicians who are used to playing acoustic all the time."

How did you decide which ones to include on the album?
I tried to pick the songs that fit together to make the most cohesive statement—songs that balance off each other nicely and flow together well, but are different enough from each other. Overall, I like a record to have a conceptual feeling, a personality of its own.
On "Stranded in Self Pity," you play some beautiful jazzy lines. What's the extent of your jazz training?
I've been listening to jazz since I was about 14 and have continued to listen to it as much or more than any other type of music. When I was younger, I played in bands that did music similar to the Mahavishnu Orchestra. But I would never consider myself a jazz musician and never pursued the long path to becoming one. Lots of other things occupy my music—I love so many different types and try to take a little bit from everything.
YouTube It
Haynes and his cohorts put a folky spin on the Rolling Stones' "Wild Horses."
How did you get the creamy slide sound on "Coal Tattoo?"
Mainly by boosting the mids—I played my Les Paul through the Homestead with its midrange boost selected—and manipulating the guitar's volume control.
Tell us about leaving the Allman Brothers Band.
The last year was a very emotional year for all of us. Three or four years ago we agreed that we made the right decision to stop touring as a band after our 45th anniversary. But that got kind of convoluted, because at least one member of the band got cold feet and wanted to revisit the decision. [Co-guitarist] Derek [Trucks] and I had already made plans accordingly that we could not change.It was emotional because the music means so much to all of us. I spent 25 years with the band and it was an amazing honor to be a part of the institution that's so important to American music.