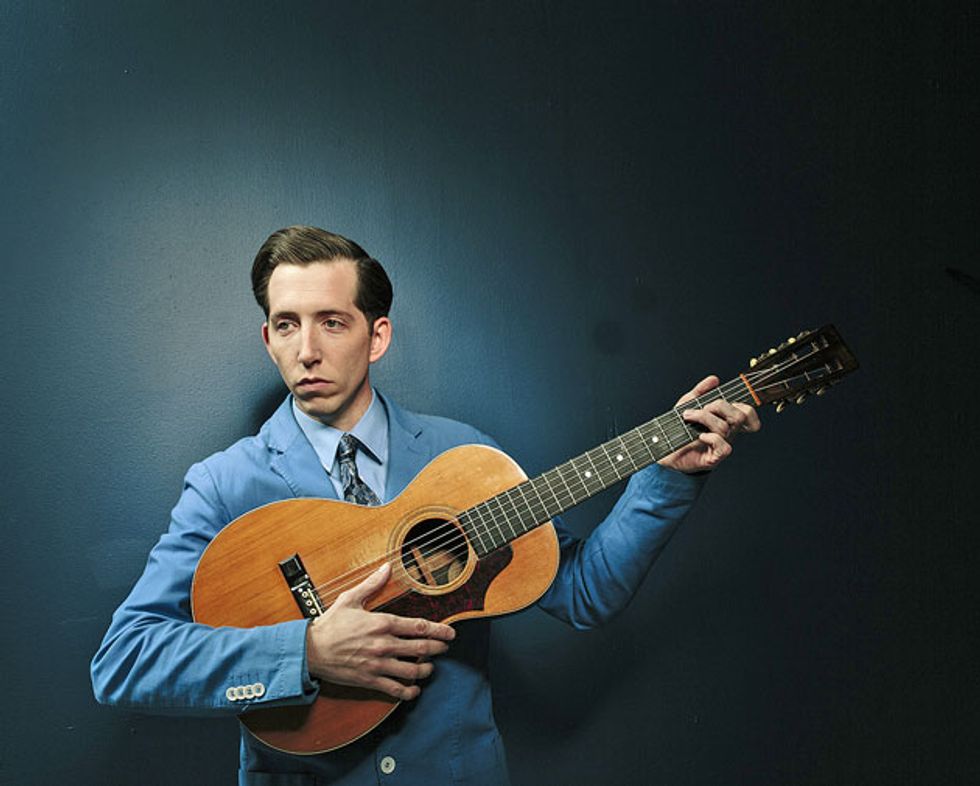 Unsurprisingly, LaFarge favors old guitars—and his oldest is this Lyon and Healy parlor model from 1895.
Some doomsayers predict the guitar's demise as younger musicians gravitate from traditional instruments toward electronic means of music production. But the wealth of youthful guitarists saying new things in older styles—with little electronic assistance—seems to indicate the contrary.
Consider 32-year-old Pokey LaFarge, whose given name is Andrew Heissler. (He received the nickname Pokey in childhood when his mother chided his leisureliness.) Since launching his recording career in 2006 with the album Marmalade, LaFarge has built a body of work that draws from such vintage American styles as country blues and swing-era jazz. His extensive touring in the U.S. and abroad have cemented his reputation as a magnetic live performer—and one who makes period-correct sartorial choices.
LaFarge sharpened his tribute to American music—especially the music of the Midwest—on the albums Beat, Move, and Shake (2008), Riverboat Soul (2010), and Middle of Everywhere (2011). His work earned the admiration of Jack White, another artist putting his own spin on Americana. White has championed LaFarge's work on his own Third Man label, producing the 2011 EP Chittlin' Cookin' Time in Cheatham County and 2013's Pokey LaFarge. This affiliation has been a boon to LaFarge's career, as did his reading of the standard "Lovesick Blues" on the soundtrack of HBO's Boardwalk Empire.
"It was just write, write, write, throw it all away, start over, write, move on to pre-production, throw it away, write, and record."

LaFarge's latest album, Something in the Water (Rounder), is his most ambitious to date. Produced by Jimmy Sutton (known for his work with JD McPherson),the record augments LaFarge's core ensemble with boisterous horns and walls of harmonized vocals. It's all over the place stylistically—in a good way—from the updated ragtime of "Wanna Be Your Man" to the mysterious strains of "Goodbye, Barcelona."
We caught LaFarge while he was touring Europe and discussed his robust old archtops, his musical identity, his friendship with Jack White, and how the Midwest has shaped his music.
How did you come to be such a purveyor of retro sounds?
I was exposed to much of the same music as my peers when I was growing up—the pop music of the '90s. Then I wanted something different, so I started with classic rock and went backwards from there. One of my grandfathers played the banjo, and that got me into acoustic stringed instruments pretty early on.
You hitchhiked around the country when you were 17. What did you learn, musically and otherwise?
It benefited me mostly from a songwriting perspective—seeing all the things I saw, experiencing all the things I experienced, and remembering all of these things vividly. It all became good fodder for authentic songs.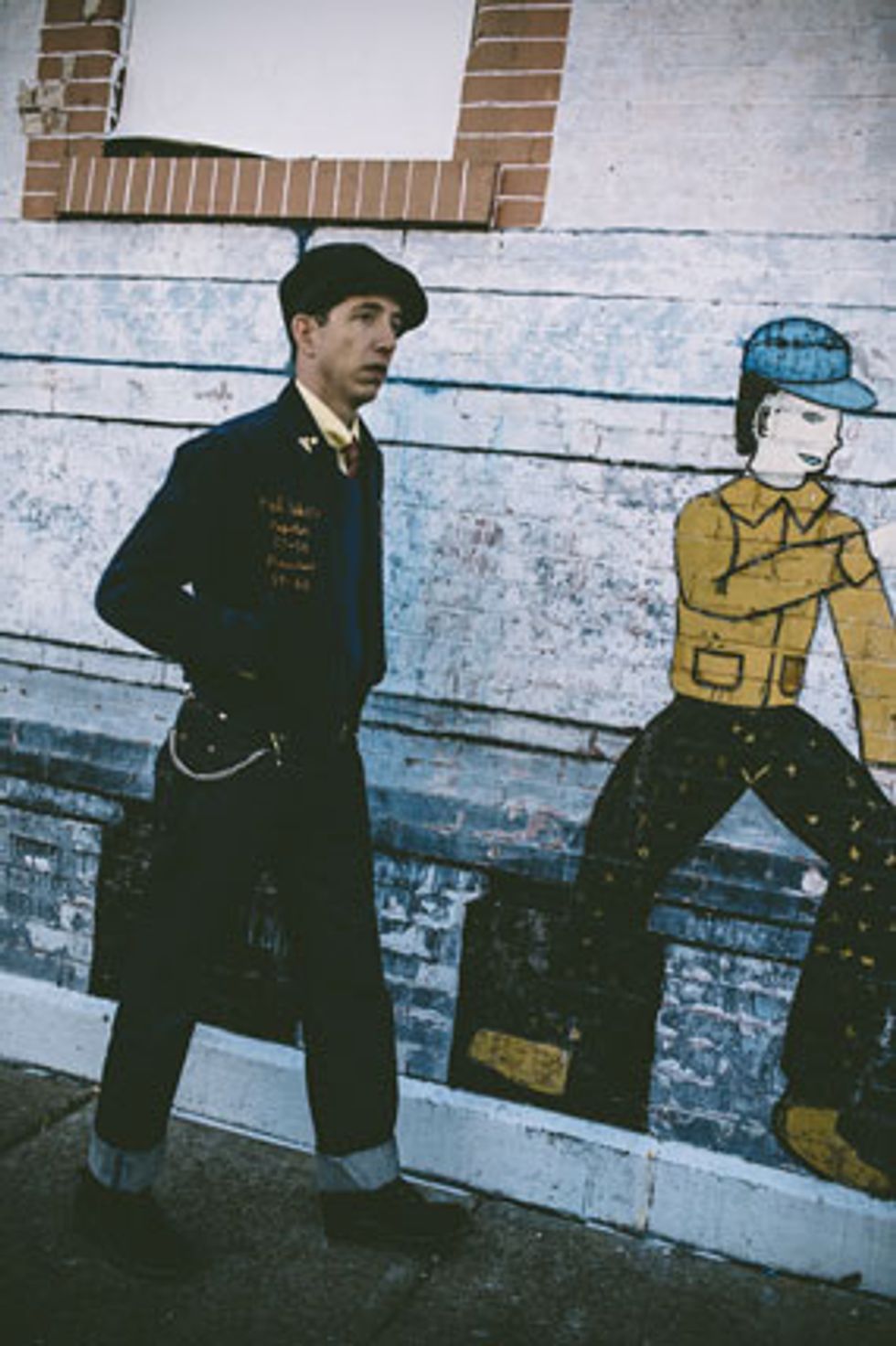 Who are some of your most important influences?
In terms of guitarists, the most important ones have been Big Bill Broonzy, Ry Cooder, Leon Redbone, S.E. Rogie, Grady Martin, and Lefty Frizzell. On other instruments, there's [banjoist] Bahamian Blind Blake, [player of self-made instruments] Danyel Waro, and [singer/yodeler] Jimmie Rodgers. The composers who influence me most are Bob Dylan, Jimmie Rodgers, Hank Williams, and Otis Redding.
How did you learn to play so many early American idioms? Are you self-taught?
I'm self-taught, yes. I started out listening to all of the early acoustic blues and jazz recordings I could get my hands on—this was before you could find anything you need on the Internet—and picking out just the chord progressions at first. Then I started writing my own pieces and working on solos.
How have you found your own identity in preserving vintage American music?
I suppose that's part of who I am, but my identity isn't necessarily tied to that. Preservation is one thing—I'm all for that—but what I do now is more rooted in creating contemporary things based on the world around me. That said, the influence of early American styles in my compositions is a form of preservation in its own way.
Talk about the influence of the American Midwest.
I was born and raised in the Midwest, and I write from a Midwestern perspective. I understand that perspective so much more after traveling for so long and getting out of the Midwest. I'm also influenced by early players in all styles who were from the Midwest, many of whom made their careers there. And the people playing on the new record are from Wisconsin, Chicago, and St. Louis—you can tell from the attitude in how they approach the music. Plus, I just relate to the strong Midwestern work ethic.