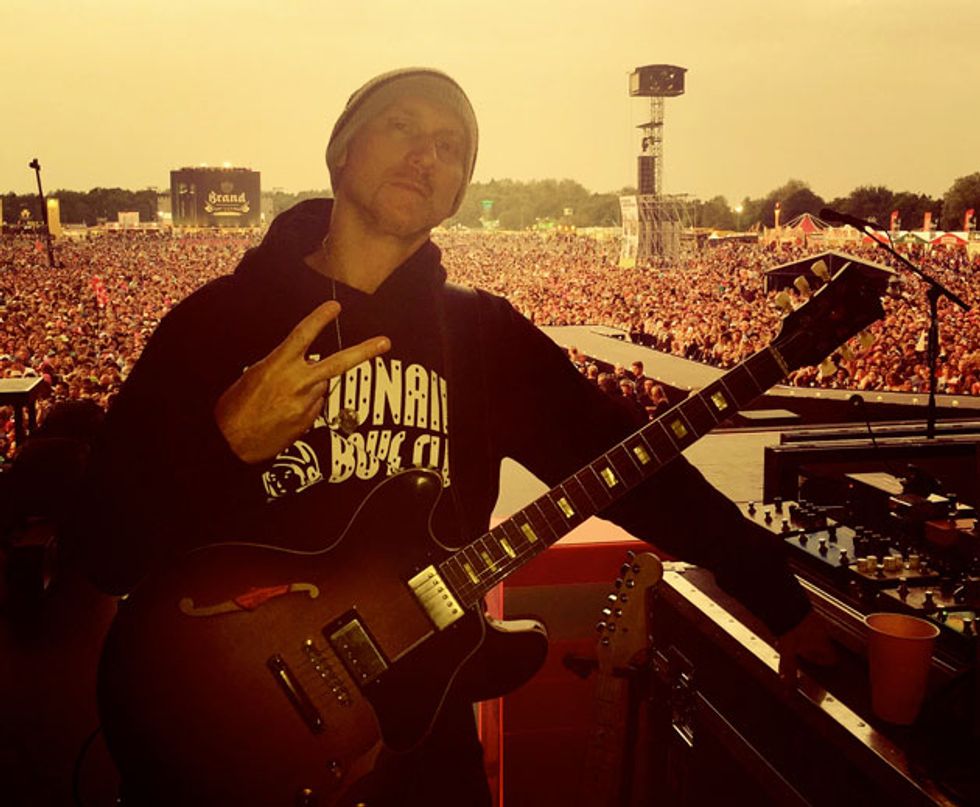 "Pharrell has been asking for older sounds recently," says guitarist Brent Paschke. "He'll say 'Chuck Berry' or someone in that style. I know that usually means a semi-hollowbody, and that was my excuse for getting a good 335."
Speed. For most guitarists, the word is synonymous with shredding. But for Brent Paschke—the longtime session and touring guitarist for the Grammy Award-winning singer-songwriter and producer Pharrell Williams—speed means something else: It's about delivering the right part and perfect sound at a moment's notice.
"With Pharrell, time is very limited," says Paschke. "We can be bouncing from room to room quickly, so I have to adjust to his workflow. If I had to tell him I need five or 10 minutes to adjust mics and check out different amps, I'd totally kill his vibe—and that's the first thing to keep intact."
Paschke knows a thing or two about nurturing the vibe, as evidenced by his datebook, which includes session work for such hitmakers as Snoop Dogg, Katy Perry, and Rob Thomas. The Twin Cities native was a member of the pop/rock band Spymob when he began working with Pharrell nearly 15 years ago. The Neptunes (the production/writing team of Williams and Chad Hugo) were Spymob fans, and they hired the band to record and tour with their hybrid musical side project, N*E*R*D. The opportunity would change Paschke's career and expand his approach to the guitar. As he explained during a break from Pharrell's 2015 tour, backing one of the world's most digitally savvy producers means combining old-school tone and feel with cutting-edge skills in technology, arranging, and recording.
Does a session player need a special approach for electronically produced pop and urban music?
My studio work differs a bit from the traditional session musician. I work with a lot of producers who use keyboards and do a lot of programming. In these sessions, I usually get very little time. Because parts can be fixed "in the box," things are a little more immediate. I'll often be given some direction, but typically there are no charts, so you just have to be prepared to figure out what's needed and do it fast. Start times can be 1 a.m., and you can be waiting for hours before recording. It's all part of the session and you have to be flexible.
"I used to spend hours on end playing some of the simplest funk riffs over and over to records. Still do to this day."

But overall, it's not just about playing the part. If that's all you're worried about, you probably won't have a pro gig for long. You need to get to a more spiritual level. What is the appropriate feel? What is the purpose of this song? What is supporting the vocals? What is my role in this song? How can I make this performance better without thinking of myself, but rather thinking of the song?
Do you write parts, or do you take your parts from demos?
Pharrell is a "100 percenter," meaning he usually finishes whole songs by himself. I'll sometimes suggest parts, but a song is finished in his head even before it gets onto a recording platform.
When you're asked to play on songs by producers like Pharrell, Rodney Jerkins, Ryan Leslie, and Tricky Stewart, the tracks are already really dope. These guys know how to make stuff sound amazing right inside a keyboard. So the trick is to not screw it up. If they've recorded a keyboard part using a guitar sample and they want it recreated on a real guitar, you have to figure out what voicings, tone, and feel are going to either complement or replace those parts, while making them sound a little better.
What are the special challenges in adapting parts written on a keyboard or programmed in a sequencer?
A keyboard usually sounds a bit, for lack of a better term, flat. So that might mean my job is to add some excitement to the parts by double-tracking them. But some keyboard parts I'm asked to copy may also have chord voicings that can't be played on guitar. In that case, I have to be careful with what notes I play on top of the chord. If it's a major 7, for example, and the seventh is the top note in the keyboard part, I need to make sure my voicing matches it. Also, timing is an issue. If I'm doubling, I have to get that as tight as possible. Otherwise I'll have to either manually nudge the notes in Pro Tools or use a plug-in like VocAlign to match the parts.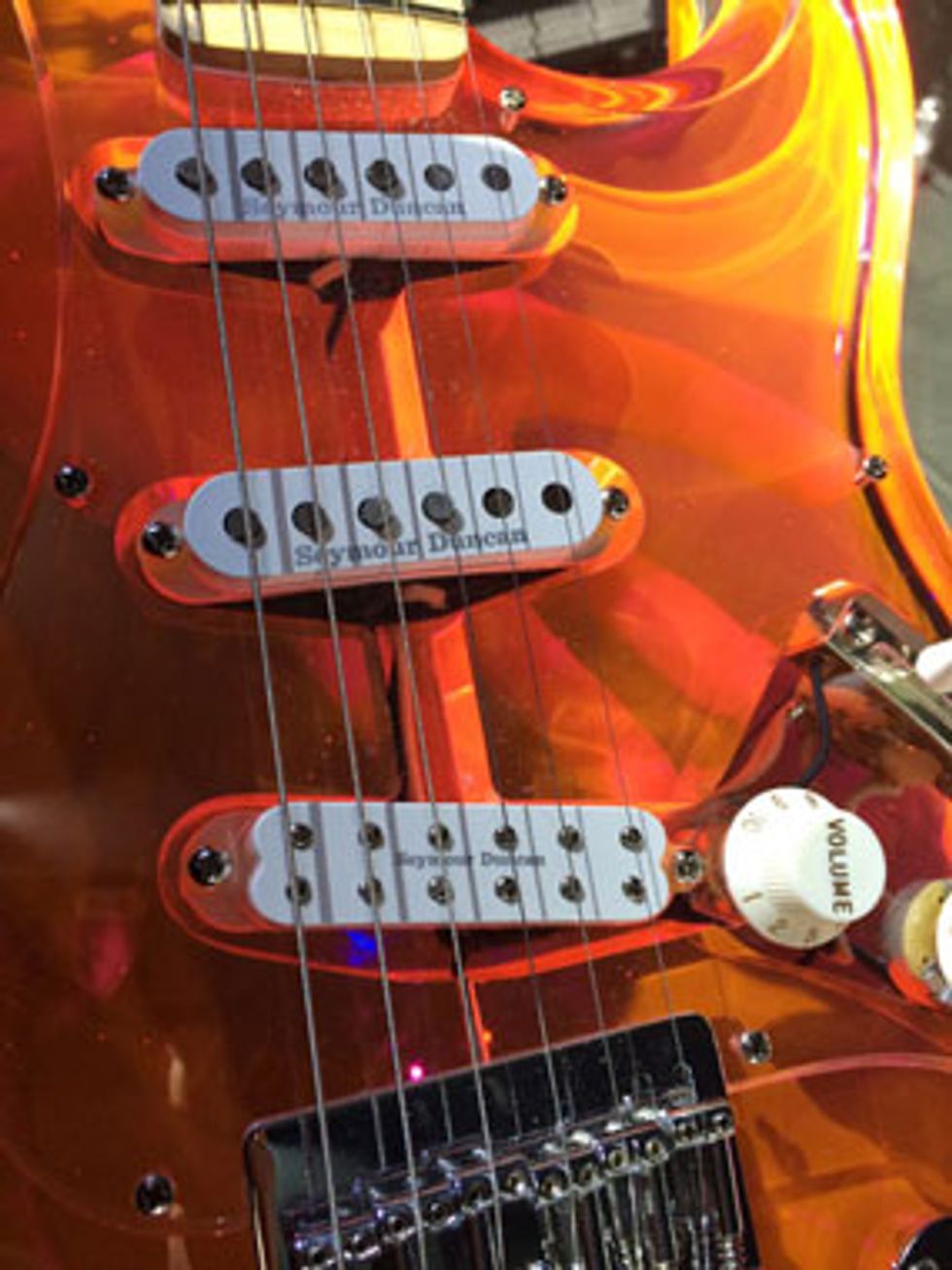 Paschke's custom pink Plexiglas Strat-style loaded with three Seymour Duncan including a JB Jr. in the bridge.
How do you perfect the ability to get into the groove?
Practice, practice, practice—but practice the right things. It's not enough to spend a week, or even a month, saying, "I'm going to practice being a funk player." It's something that takes years. In today's world where you can get lessons from pretty much anyone you want online, it's easy to stop at just learning the technique. It takes more than just technique. You have to get that feel in your bones.
I used to spend hours on end playing some of the simplest funk riffs over and over to records. Still do to this day. Not because I need to learn the technique, but because I need to get that feel ingrained in my body. All the time I hear professional drummers talk about good guitarists not being able to lock into the simplest feels. Take the riff in "Sweet Home Alabama." It's fairly simple to play, but can you get it to feel like Lynyrd Skynyrd? I'd have to spend a little time making sure I had that. If it was me in the studio, I'd be in my headphones working over and over to get it to feel as close to Skynyrd as I could, with as much heart and proper respect to the original as I could. That's the difference between someone who gets studio gigs and someone who doesn't.
Does playing outside traditional guitar genres make you stretch beyond "typical" guitar skills?
Some days I'll get asked to play guitar, but make it not sound like a guitar. The producer will want that hint of a guitar, but he doesn't want it to sound totally organic. Recently I did a lot of work on the upcoming Rob Thomas album, which was produced by Matt Serletic—an amazing producer with a big track record of huge pop hits. Matt will layer a lot, let you stretch out a bit, then start choosing parts from there. On Rob's album, the approach was to really tweak that guitar—to go for something different. That means having Pro Tools chops, Melodyne chops, plug-in chops, and Beat Detector chops. I'll record and then start editing. I'm really good with the computer and I've learned to think like a producer.
At these sessions, just being a hotshot guitar player won't get you the gig at all. You need to understand what's going on with guitars in pop music and how to get there in the computer. What does a straight root-five power chord sound like if it's played once using the root and once using the fifth—but then copied and pasted each time? Then maybe a little of the end of the note is taken off. Or maybe it sounds better if the fifth is actually just pitch-shifted from the root, rather than played. Or maybe it sounds better if the fifth starts later. These are some of the tweaky things I might think of and do on sessions.