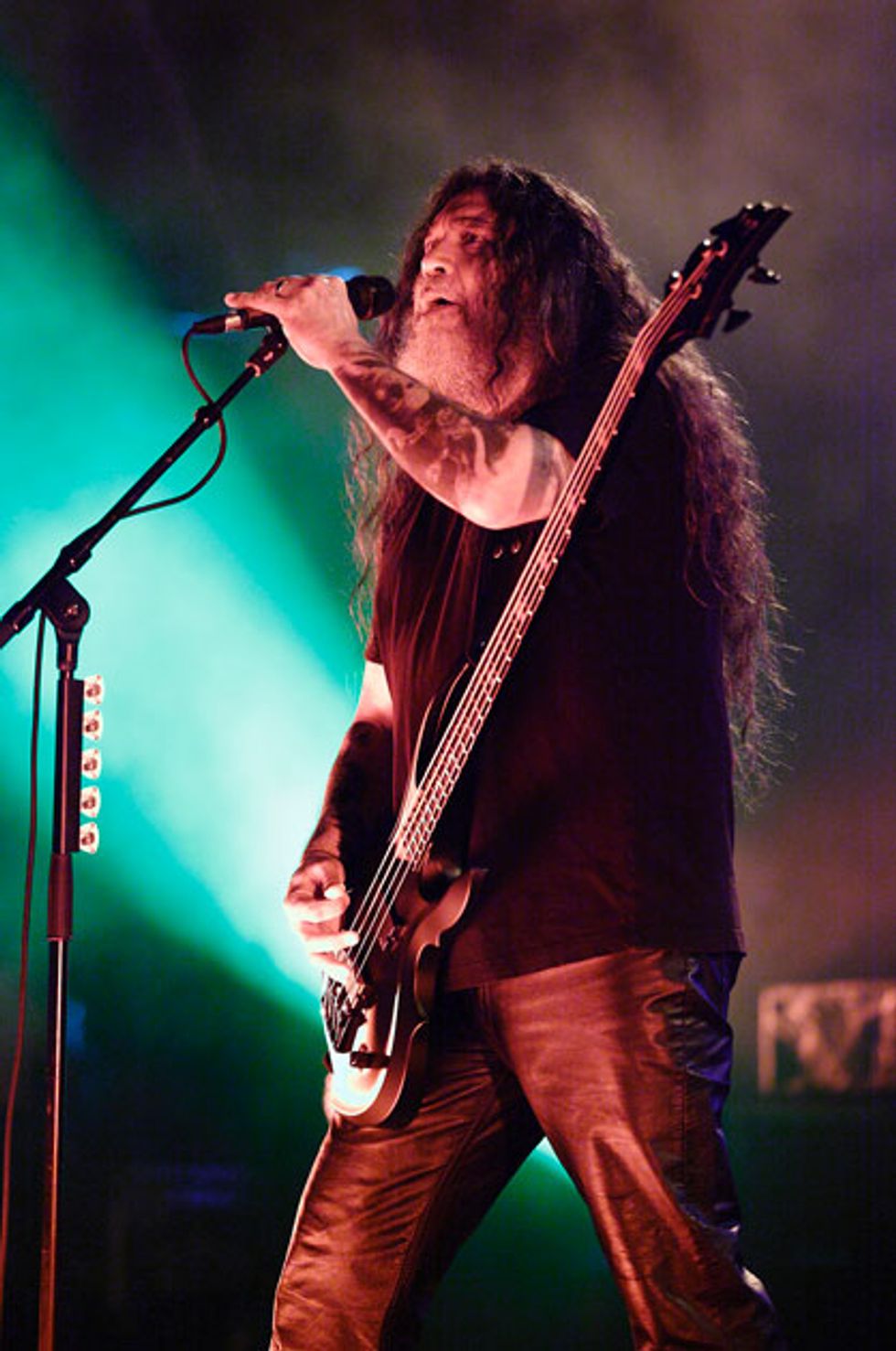 Slayer frontman and bassist Tom Araya plays his signature ESP model, which has an alder body, maple neck, ebony fretboard, Gotoh tuners and bridge, and EMG 35DC pickups. Photo by Ken Settle
That resolution did not come easily. "For the first time in my life," King continues, "everything was a question mark after Jeff got sick and had to be replaced—we'd hoped temporarily—by Gary, and then died. The last few years have been stupid hard as we've tried to figure out if we wanted to keep going, if the music still translated onstage and in the studio without Jeff, and if the fans were still going to be into it.
"Touring with Gary for the two years before Jeff died answered our questions about the fans, who've stuck with us. But it wasn't until I wrote 'When the Stillness Comes' that I could stop holding my breath."
Repentless makes the case that Slayer is Slayer on every track, whether Araya's taking the bully pulpit in the anti-racist "Pride in Prejudice," which glides on a deep head-banging groove, or King and Holt are setting fires with their tag-team approach on compositions like "Take Control," a sonic joyride that starts with a "Misirlou"-meets-metal intro and speeds into a tidal wave of riffs that stills just long enough for the two string-slingers to trade solos—Holt going for a hot melody and King sculpting an anthemic crescendo.
The album's title number was also composed as an ode to Hanneman, who cofounded the band with King after they met at an audition and jammed on tunes by Def Leppard, AC/DC, and Judas Priest.
"I wanted to write a song about the way Jeff looked at the world," says King. "He was repentless, just like Slayer is repentless. Jeff shared my views on religion. He believed we make our own destiny. No regrets. The challenge was working the aspects of his playing into the song, letting the riffs evolve in little variations as it goes on. And then me and Gary just let the solos rip."
"I may come up with an intro riff, a chorus riff, or whatever. But after I come up with that first riff, my job is to find its 'friends.'" —Kerry King

Ripping solos have been Holt's specialty for as long as Slayer has been Slayer—albeit mostly with a different band: Exodus, which he joined and then led in 1981. And he's got plenty of experience in guitar partnerships. Kirk Hammett was Holt's fretboard foil in Exodus for two years, until Hammett departed for Metallica in '83.
On Relentless, Holt blazes in "You Against You," playing rapid-fire melodies over King's chords. And on "Take Control," he delivers an essay in high-speed single-note chromatic soloing, whipping the song's instrumental break to an ecstatic level.
Like King, Holt is fond of his wah pedal. Both frequently use the classic effect as a transitional flag, announcing new sections of a song or a solo with its sweep. And Holt, in particular, uses the device as a treble boost, snapping it down to make his tone more cutting. It's a move first mastered by such old-school guitar heroes as Hendrix and bluesman Albert Collins, and still a reliable attention getter a half-century later.
Kerry Kings' Gear
Guitars
B.C. Rich Kerry King V Two Tribal Onyx
B.C. Rich Kerry King Metal Master V
B.C. Rich Kerry King Metal Master Warlock
B.C. Rich Kerry King Warlock Two Tribal Onyx
B.C. Rich Kerry King Signature Warlock 6
Amps
Marshall 2203KK Kerry King Signature JCM 800
Marshall MF400 Mode Four 400-watt 4x12 Cabinet
Effects
Dunlop Zakk Wylde wah
MXR Flanger
Shure wireless system
Strings and Picks
Dunlop Kerry King Icon string sets (.010-.046 and .010-.052 for dropped tuning)
Dunlop .88 mm Tortex picks
Holt also sidesteps thrash clichés, using space for dramatic effect—a concept learned from influences that include Robin Trower and Ritchie Blackmore—and avoiding sweep arpeggios. "I was sweeping my ass off years ago," he explains. "I was way into Yngwie when he came along. But I've consciously moved away from that with Exodus and with Slayer.
"Since my playing in both bands is essentially the same stylistically—except I play more chromatically with Slayer and use more scales with Exodus—going into the studio with Slayer for the first time was really natural. And while Kerry was writing new songs and we were making Repentless, I was also working on a new Exodus album, Blood In, Blood Out. So there wasn't a lot of time to overthink things. I played from the gut.
"The trickiest thing about Slayer was adjusting to the way Jeff and Kerry write chord changes," Holt adds. "It takes a while to get inside their heads by analyzing the songs and watching Kerry play, and it's only after that happened that I could learn their note selection and preferences, which dictate where I need to go."