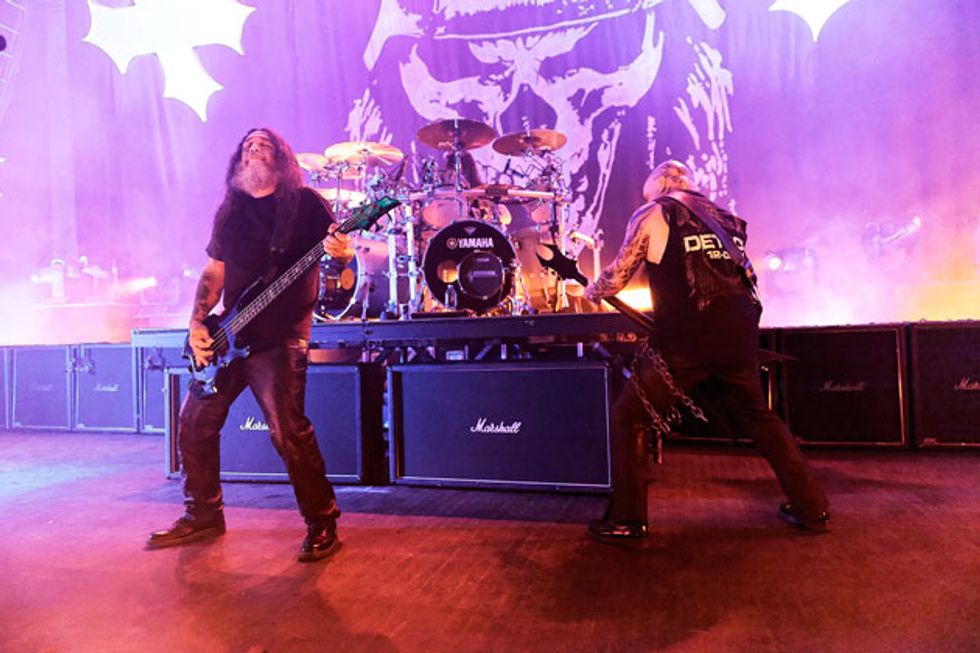 Bassist Tom Araya (left) and guitarist Kerry King are the only original members in the current Slayer lineup.
Photo by Ken Settle
King, who was the primary songwriter on Repentless, also helped with that. "Kerry picks the spots he thinks are well suited for me to solo," Holt explains, "and after three years of playing together on the road, he knows my style well and those spots are usually exactly where I already have a cool part in mind. We're really in sync.
"One thing a lot of people don't know about Kerry is how hard he works," Holt continues. "We'd have a day off on tour and I'd just want to see the insides of my eyelids. Kerry would disappear into his room with his guitar and write songs all day."
"Jeff covered the violence of war and its effects on society. I covered the psychological aspects of the evils that men do to one another. And Kerry is the anti-religious guy." —Tom Araya

Much of the album was composed during Slayer's 2013 European tour. "I like to think visually, and I get a lot of inspiration for song ideas from movies and things I see in everyday life," says King. "So I think of the songs on Relentless as 11 mini-screenplays."
Riffs are typically King's opening reel. "I have two acoustic guitars at home, and I don't think they've ever seen the outside of their cases," he laughs. "But I play my electric guitar unplugged when I'm writing songs and when I find a riff, I record it on my iPhone. I put the phone on my knee so it'll pick up the sound of the strings. I may come up with an intro riff, a chorus riff, or whatever. But after I come up with that first riff, my job is to find its 'friends.' A new riff doesn't have friends yet, but when I come up with another riff that works with it, and another one that works with that new riff, and they all start to connect, that's when I know I've got a song. It's all about finding riffs that are each other's friends and putting them together."
Gary Holt's Gear
Guitars
ESP Gary Holt Signature model
Amps
Engl Savage 120
Kemper Profiler Rack Guitar Amp Modeler
Marshall DSL 300 heads
Marshall MF400 Mode Four 400-watt 4x12 Cabinet
Effects
Maxon Overdrive
Dunlop Jerry Cantrell wah
TC Electronic Shaker Vibrato
MXR Smart Gate Pro
Pigtronix War Hog
Epigaze Audio Singularity Fuzz
Shure wireless system
Strings and Picks
Dunlop Heavy Core hybrid sets (.009-.046, .010-.050 for Eb tuning, .010-.52 for C# tuning, and .010-.060 for C tuning)
Dunlop .88 mm Tortex picks
Sometimes King's "friends" stay lonely for a while. The chorus riff for Repentless' "When the Stillness Comes" was written 20 years ago.
"I'd mess with it from time to time, and put it away again," he says, "but this time it started to have friends. After I got the riffs and chords for the song together, I wrote the lyrics during a three-hour van ride through bum-fuck nowhere to get to the next gig."
The result is one of Repentless' most melodic, dynamic, flowing numbers. It starts with a subtle guitar melody supported by gentle cymbal strokes from Bostaph, then relents to a chugging and slashing wall of guitar that builds to a sonic pyre, while Araya smoothly croons about violent death ... proving yet again that Slayer lives on.
"With every album, we do grow musically and lyrically as a band," says Araya. "But this time, just managing to move forward was the goal, and we did it one step at a time.
"Originally the band was four parts," he continues. "Then Dave left, and it was three. Now it's just two of us, and me and Kerry have come to terms with the idea that as long as we can continue to approach things in the right way, Slayer will be Slayer."
YouTube It
This live video from a 2014 German concert displays the current Slayer lineup tackling a band classic, the song "Angel of Death" from 1986's Reign in Blood. The interplay between Kerry King and Gary Holt heats up at about the 1:30 mark, when they tear into unison riffs that straddle melody and rhythm. Two minutes later Holt proves why he's such a capable replacement for the late Jeff Hanneman. It's a textbook performance by this thrash metal institution.