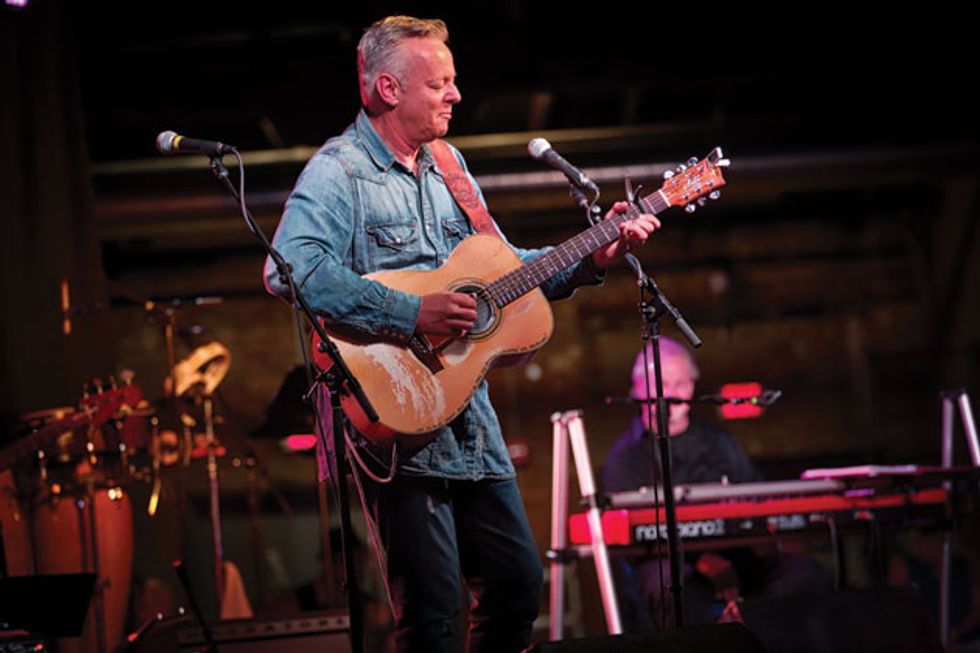 Tommy Emmanuel plays one of his much loved Maton signature acoustics—which is nicknamed "Yellow Mouse"—at a Jerry Reed tribute show at Nashville's Cannery Ballroom on June 11, 2015. Photo by Andy Ellis
Most acoustic guitarists can do a little Travis picking—the syncopated fingerstyle approach pioneered by the legendary country guitarist Merle Travis—but few are inventive enough to use this technique as the foundation for new work. Chet Atkins was one of these players, as is Tommy Emmanuel, the Australian virtuoso and one of only five guitarists Atkins honored with his "Certified Guitar Player" award.
Now 60, Emmanuel has been a professional musician since the age of 6, when he and his siblings, under the direction of their father, began living out of a station wagon and playing in informal touring bands. Later Emmanuel emerged as a top-shelf session player in his native country. His electric-guitar work can be heard on albums by such Aussie rock groups as Air Supply and Men at Work.
But Emmanuel's first love was fingerstyle acoustic and in recent years he's developed a body of work that blends country, folk, pop, and jazz in the most tasteful—and often awe-inspiring—ways. In no situation is Emmanuel more impressive than when playing solo as a virtual one-man band. And so it's a real treat that Emmanuel's latest album, It's Never Too Late, is his first new record of solo pieces in 15 years.
Speaking via Skype while kicking off a tour in Australia, Emmanuel examined his musical life for us, including his deep connection to Atkins. And, being fiendishly devoted to the guitar, he couldn't help but pick up one of his Matons to demonstrate some of the inner workings of his music.
There's such a wide roster of influences apparent in your playing. What first inspired you to take up guitar?
I started playing because my mother was playing music and I wanted to as well. So she bought me a little guitar for my 4th birthday and that got me started. My brothers and sisters took up instruments at the same time and before long we were a band. My first musical influences were country: Hank Williams, Jimmie Rodgers, Hank Snow, Jim Reeves—that's what played in my house. I heard Chet Atkins on the radio. He was my biggest inspiration when I was young, and he changed the way we all listen to music.
"When I started, there was nobody around who could explain what Jerry Reed and Chet Atkins were playing, so I had to figure
it all out by ear."

Then there were Les Paul, Merle Travis, Duane Eddy, and of course also Buck Owens and Merle Haggard. I listened to all their records, and I learned as much as I could from players like James Burton and Roy Nichols. During my teens, I listened mostly to Don McLean, Gordon Lightfoot, Carole King, Neil Diamond, and other singer-songwriters. I just kept an ear out for all the good songs. I was really interested in what I could learn from the songs and how I could become a songwriter myself. Later on I discovered jazz, classical, and R&B. I like all kinds of music and I always have.
Tell us about some of those good songs.
Hank Williams and Jimmie Rodgers were my first big influences—I learned all their songs. Merle Travis with "Nine Pound Hammer" and Doc Watson with "Deep River Blues" were big as well. I listened to a lot of Tony Rice's stuff back in the '70s. And, of course, along the way came Larry Carlton and Lee Ritenour and people like that. I bought all their albums and tried to steal as much as I could. Like everyone else, I checked out jazz guitarists like Wes Montgomery and Django Reinhardt. I got into classical for a while and listened to Julian Bream and Andrés Segovia, and also Paco de Lucía, who were such an inspiration to me, and to this day, probably the best guitar player I've ever witnessed.
You became a professional at age 6. What was that like?
It was a lot of fun because being a kid you didn't notice all the hardships so much. I'm sure my parents did, dragging six kids around the country and trying to make a living. A lot of times I'm sure my mother had to perform a miracle to pull a meal out of the air. But for us it was fun—we enjoyed playing music and we met a lot of kids our age along the way, played games and went fishing, that kind of stuff.
What have you taken from those years?
It was a good start to my career, that's for sure. I learned how to work hard and get out there and play, no matter how I was feeling. And things are a lot better now obviously. I'm actually living the dream I had back then when I'd fantasize about touring the world, playing in beautiful halls. I kept my dream alive and eventually got there. I'm still working like crazy at it, but it's extremely fulfilling and challenging for me. It keeps me pumped about what I'm doing.
Given that guitar instruction wasn't nearly as accessible in your formative years as it is now, how did you learn to play in your signature contrapuntal style?
When I started, there was nobody around who could explain what Jerry Reed and Chet Atkins were playing, so I had to figure it all out by ear. I'd get the record, stack coins on it to slow it down, and try to work out some of the more complex parts. There were some books—Chet Atkins Note-for-Note and Jerry Reed Heavy Neckin'—but I couldn't read the music notation, so I looked at the photos and that's about it. I had to work it out myself.
Every now and again I'd run into someone who had figured out more than me and I'd say, "How does that go?" and they'd show me. I'd always love it when I'd run into guys who were much more advanced because we'd stay up all night showing each other stuff.