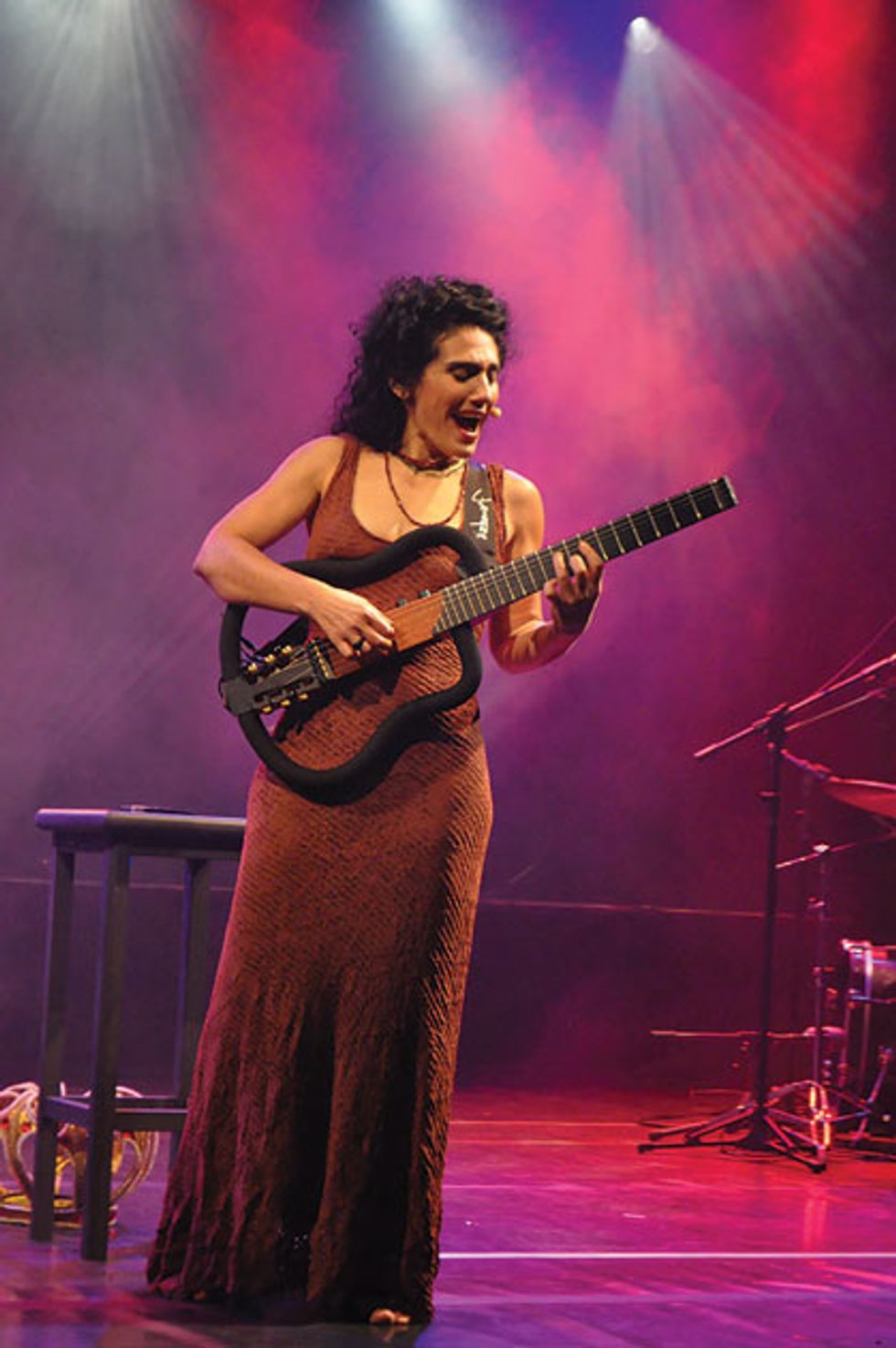 For most live dates, Badi Assad uses her Frame Works acoustic-electric nylon-string because of its light weight and the portability afforded by its detachable body "frames."
Do you ever play electric guitar?
[Laughs.] I'm afraid of steel strings, even when I play steel-string acoustic. I don't play with a pick—I play fingerstyle, and it eats my nails. It's just not my thing.
Tell us about your Frame Works guitar [a solidbody nylon-string electric guitar with detachable side "frames"].
The Frame Works is for travel, as I travel a lot by myself. Sometimes I take a Takamine if I put songs into the repertoire where I use the body of the instrument. The sound of the Frame Works guitar is just as good as the Takamine for live use, and I don't lose the quality of the sound. I have two herniated discs in my neck, so I can't handle a lot of weight, and now I have 40 days of traveling. I leave Brazil and go to South Korea, then to Cuba, and then to America for the release. If I have to carry something on my back—oh my lord! So it's like, do you want me performing, or do you want me with an acoustic guitar?
Will you be playing with a band to support this release?
The only reason I'm not playing with a band is economic: I sponsored the CD, the distribution, the P.R.—it's too much for me! I decided to keep it easy, because I can reproduce the sound live. The arrangements were done mainly with guitar and vocals. If you take the other instruments away, the songs are still interesting.
Badi Assad's Gear

Guitars
Paul Fischer classical (recording)
Frame Works acoustic-electric nylon-string (live)
Strings and Accessories
D'Addario EJ46 Pro-Arté hard-tension sets (.029–.044)
Pink capo of unknown make
You incorporate harmonics, chords, rhythms, and single-note melodies in a fascinating way. Are any of the parts overdubbed?
No, it's just one guitar.
Some of your guitar work on the new album is pretty involved—like on "Royals"—so you recorded the vocals afterward, right?
Yes. When I came back home, I said, "Okay, now I have to do both!" To play "Royals" and sing it? Oh my!
That guitar part has a lot movement—and there's no bass accompaniment, either.
The guitar part came to me that way, but it was very intuitive. It was easy to play on guitar, but it wasn't so easy to play and sing it because I didn't compose the parts together. But now I know what I'm doing, so I'm fine. You just have to practice until it gets incorporated, and then you don't have to think about it anymore.
You have some nice originals on the album. Which is your favorite?
I love "Spirit Dog." It's not a new song—it was on a rare album that went nowhere. When I started having my hand problems, I was living in Ohio. I was devastated when I discovered that my problem was focal dystonia [a neurologic disorder]. The doctors didn't know how to help—they just said, "Good luck! You'll probably never play the guitar again—and it could spread to the other hand." I lost 98 percent of my ability to play. I said, "This is it."But I had a spiritual mentor, David Levitan, who wrote the lyrics for "Spirit Dog". He lent me that poem, and I remember walking around with it in my hands for weeks, crying. I said, "Okay, I'm not a victim." After two years I recuperated and was playing again, so that song is special for me.
What are your future plans?
I don't know when—because we've been so busy—but I have a project planned with [slide guitarist] Roy Rogers called String Shot. There's another musician on it, Carlos Reyes, who I think is from South America. He plays harp and violin—he's a monster! We've got one song recorded, produced, and mixed. Now we have eight or nine more to go!
YouTube It
Badi Assad sings and plays "Night of Saint John" and "Anything for You" in this July 2015 performance for Brazilian television program Sr. Brasil.