20 albums that dominated PG's playlists. Plus, our most-anticipated albums of the New Year.
John Bohlinger—Nashville Correspondent
Chris Stapleton
Traveller
When Chris Stapleton left the Steel Drivers I thought it was a huge mistake. The band had a Grammy nomination and a bright future. Why jack with that? Then I caught Stapleton at a festival in Canada. He was the opener, playing before five more successful acts. With his Jazzmaster and an old Deluxe, Stapleton and his band—his singing hippie-mama wife, Morgane, a bass player, and a drummer—tore up that stage. No light show, no backing tracks, no smoke machines or big production—just killer songs played by people who felt every note. I immediately bought their latest album. The rest is history. Just goes to show that following your heart—even if it seems crazy—is the right thing to do … if you're that talented.

Ryan Adams
1989
It's a bit embarrassing to admit you like Taylor Swift. What self-respecting guitar dude listens to the breakup songs of a young, rich, white girl? But that shows what a true artist Ryan Adams is—he recognized Swift's songs for what they are: well-crafted, beautiful, insightful tunes that are catchy as a cold in January. Adams rocks where he should rock and goes dark as he tends to do, but he still taps into the relentless fun of a great album.
Most-anticipated 2016 releases: the Rolling Stones, David Bowie
Ted Drozdowski—Senior Editor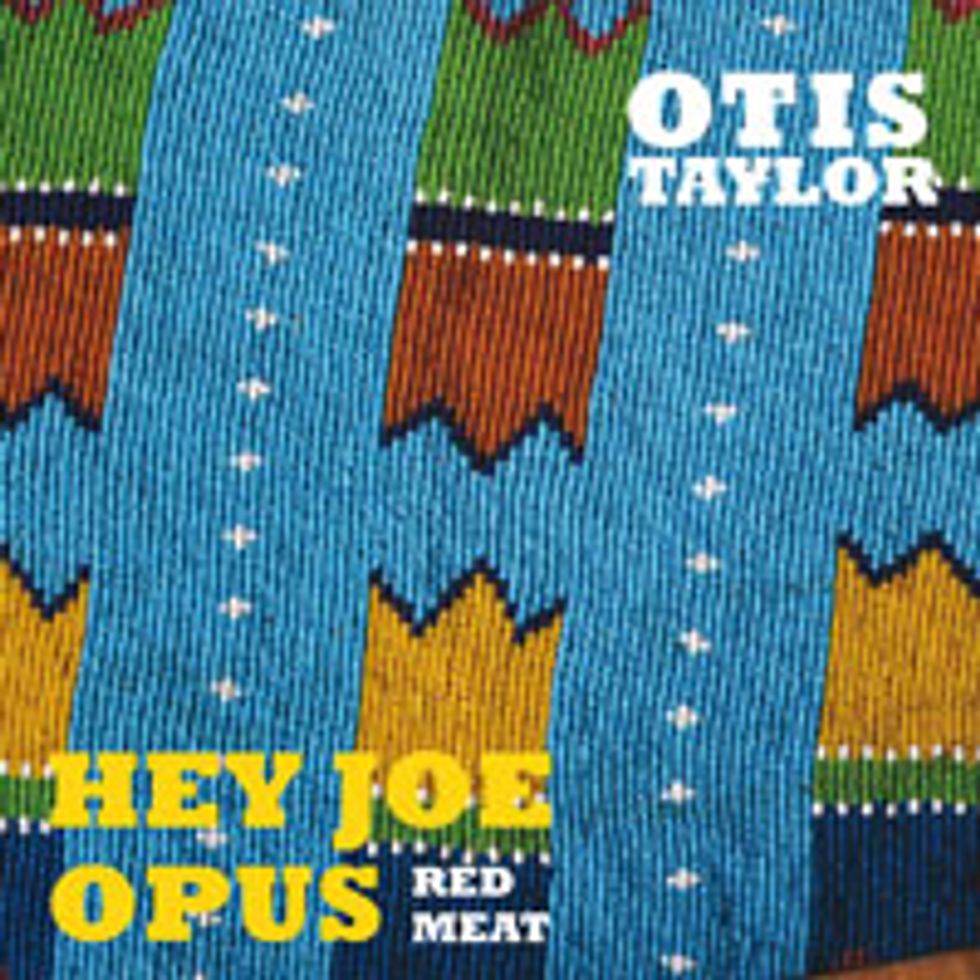 Otis Taylor
Hey Joe Opus Red Meat
Otis Taylor's been almost single-handedly keeping blues sonics and songwriting relevant and contemporary for years, and this is his psychedelic masterpiece—with an epic conceptual sweep comparable to Pink Floyd's Wish You Were Here. Taylor paints tales about addiction, sex change, isolation, infidelity, and devotion with his spare poetry, majestic baritone voice, and a swirling tapestry of guitar, banjo, and violin, often drawing on the powerful, one-chord trance music of Africa and Mississippi hill country for inspiration. A former bandmate of the legendary Tommy Bolin, Taylor has a unique, driving, edgy approach to guitar, typically played on his Stratocaster in open G (or related banjo tunings) with a dollop of digital delay on top. Warren Haynes joins in for three numbers, including an imaginative reworking of the Billy Roberts tune in the album's title that Hendrix cast in stone in 1966. It's proof that deep roots music needn't be covered in dust.
Most-anticipated 2016 releases: Ava Mendoza, Tool, Lucinda Williams, Lush, Richie Owens and the Farm Bureau, Tedeschi Trucks Band
Chris Kies—Associate Editor
All Them Witches
Dying Surfer Meets His Maker
All Them Witches prove that finding memorable stoner psych-rock east of Rancho De La Luna is possible. The powerful quartet's third album shows all the members hitting their respective peaks. Bassist/singer Charles Michael Parks Jr.'s slithering-yet-thunderous bass lines rumble like John Paul Jones and Geezer, and his vocals add mystic touches to haunting jams like "Call Me Star" and "Dirt Preachers." Meanwhile, guitarist Ben McLeod harnesses fuzzed-out fury with restraint and precision, making the impact of his twisted blues-meets-Sleep riffs that much more powerful. But lighter psych-folk passages like those in "Call Me Star" and the opening of "Talisman" also show a musical maturity not seen on the band's previous work.
Honorable mentions: Jason Isbell's Something More Than Free, Tyranny is Tyranny's The Rise Of Disaster Capitalism, and Courtney Barnett's Sometimes I Sit and Think, and Sometimes I Just Sit
Most-anticipated 2016 releases: Tool, Frank Ocean, Explosions in the Sky, Nikki Lane
Andy Ellis—Senior Editor
Dave Heumann
Here in the Deep
Best known for playing fuzzed-out electric guitar in Baltimore's alt-rock Arbouretum, Dave Heumann reveals a more introspective, meditative side with his debut solo album. He hasn't completely abandoned his psych-rock soloing—great news for those of us who dig his stoner leads—but acoustic guitar and shimmering electric provide the foundation for most of the 10 songs on this album. As always, Heumann reaches back to the late '60s for inspiration, but this time instead of paying homage to Blue Cheer, Heumann subtly channels Bert Jansch, the Grateful Dead's Working Man's Dead, and early Traffic. The songwriting, artfully layered guitar textures, and superb mixing make this an album I return to again and again for satisfying aural immersion. Headphones recommended.

Dave Rawlings Machine
Nashville Obsolete
Gillian Welch and Dave Rawlings make acoustic music that's spare, honest, and starkly beautiful. On this outing, Rawlings' vintage Epiphone archtop gets plenty of space to release its tinkling, almost resonator-like tones. Of course, were anyone else to play his diminutive instrument, it wouldn't sound remotely the same: No one flatpicks like Rawlings. It sounds like he chisels his lines from 100-year-old oak using the finest, razor-sharp blades and a master engraver's touch. And those chromatic approach notes! How does one find a voice so unique, so immediately identifiable?

Debashish Bhattacharya
Slide Guitar Ragas from Dusk Till Dawn
If you're familiar with Hindustani slide, which is played lap style on a guitar configured with both sympathetically vibrating and plucked drone strings, you'll be delighted with Bhattacharya's latest collection of ragas. If this "secret" world of slide is new to you, Slide Guitar Ragas offers an excellent introduction to the hypnotic sounds pioneered by Brij Bhushan Kabra on his 1967 album Call of the Valley. On Slide Guitar Ragas, Bhattacharya plays several instruments of his own design, including the 24-string chaturangui guitar. He also plays Kabra's modified Gibson Super 400—the instrument that arguably started the entire Indian slide guitar movement—on "Roshni," a 17-minute early-morning raga. Anyone coming to this music with an open mind and the patience to absorb unfolding overtones and melodies will come away transformed by Bhattacharya's stunning musicianship.
Most-anticipated 2016 releases: Tedeschi Trucks Band's Let Me Get By
Shawn Hammond—Chief Content Officer
Various Artists
A Girl Walks Home Alone at Night
soundtrack
Ana Lily Amirpour's noir-Western A Girl Walks Home Alone at Night isn't just the best vampire flick since Tomas Alfredson's Let the Right One In (tying with Jemaine Clement and Taika Waititi's hilarious mockumentary What We Do in the Shadows)—it's also a sheer musical delight. The Iranian-American director of this Persian-language film shot in the desert just outside Bakersfield, California, chose a stunning array of tunes that perfectly suit the stark cinematography and the duality of the protagonist's dark walk among the living. Highlights include Radio Tehran's delectably throbbing "Tatilat" and soaring indie-rock slow-build "Gelaye," Iranian singer-songwriter Dariush Eghbali's lilting nylon-string lament "Chesme Man," the breathy vocals and acoustic-and-accordion interplay on Kiosk's "Charkhesh E Pooch," and a handful of avant spaghetti-western pieces from Portland-based outfit Federale.

Pokey Lafarge
Something in the Water
On his seventh studio LP, St. Louis singer-songwriter Pokey LaFarge pulls off at least two minor miracles with his mélange of American roots music. He and the other six members of his band are virtuosos in the truest sense of the term: Although they've got chops up the kazoo (literally), LaFarge's gang (including fantastic Gypsy-jazz guitarist Adam Hoskins and upright bassist Joey Glynn) always uses these skills to instill their infectious blend of old-time folk, Western swing, country, and ragtime blues with an irresistible groove and a nonstop sense of fun. It's a concoction that's simultaneously retro and modern, combining bygone genres in unique ways while updating them with witty, tongue-in-cheek lyrics too risqué to have been mainstream in decades past.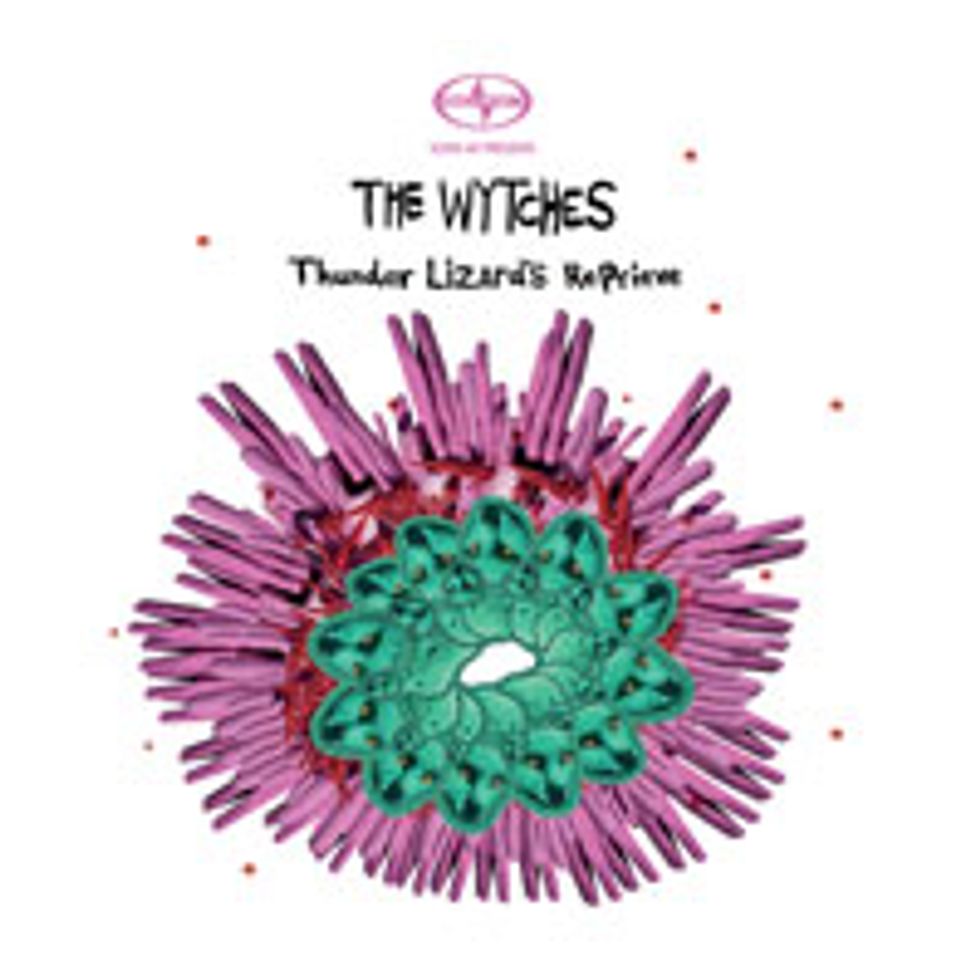 The Wytches
Thunder Lizard's Reprieve
Though not as filling a feast as last year's Annabel Dream Reader, this EP from U.K. trio the Wytches is chock-full of the sort of reverb-drenched surf-punk mayhem that made that outing such a delight. On the album opener, "DADFAC#," vocalist/guitarist Kristian Bell pumps out fuzzy, primitively discordant bends, while bassist Daniel Ramsey and drummer Gianni Honey plod between heightened tension and free-flowing release before the three devolve into a snarling, feedback-soaked grunge/speed-doom outro. "Gettin' Lucky" juxtaposes that mayhem with wistful vocals, crunchy Jazzmaster strumming, and a tortured, swirling solo that's equal parts Tony Iommi and Kurt Cobain. The third track, "If Not for Money," gets even mellower, with trippy Mellotron flutes draping a gauzy haze over a backdrop of laidback fingerpicking, loose drums, and strung-out vocals. Album closer "Wasteybois" begins with guitars that sound like a young Pete Townshend blowing up his Vox, but quickly froths into fits of shrieking, psychedelic thrashing before crashing to the floor in a heap and staring at the ceiling spinning above its own glorious mess.
Most-anticipated 2016 releases: Division of Laura Lee, the Raveonettes, Radiohead
Tessa Jeffers—Managing Editor
The Helio Sequence
The Helio Sequence
I was instantly blown away the first time I heard this album's opening track, "Battle Lines," wafting through an East Nashville record store. "Who is this?" I asked the guy behind the counter. I took extra time browsing so I could hear more of the record, then I bought the vinyl edition on the spot. This is psychedelic rock with evolved, compositional instrumentation—and oh, how it moves! I'll go out on a limb and say Helio has the songwriting depth of Radiohead (sue me) and an orchestral groove like the Beta Band. It's all the more impressive when you realize this band is a duo. On standout tracks "Red Shifting" and "Upward Mobility," the lush soundscapes are framed with catchy, minimalistic guitar ostinatos that build tastefully into a cloud of feel-good vibes reminiscent of the album's beautiful cover artwork. Helio keeps it uplifting but goes deep.

Ryan Adams
1989
Looking back over the year, this was the album I was giddily counting down the days for. Even if you're not a Taylor Swift fan, it's difficult to deny the original collection of catchy tunes on 1989 shows real growth for her. It won't change your life or anything, but I'm in love with the idea of an artist doing something controversial and not caring if everyone dismisses it. Many accused Adams of merely having a crush on a girl. If that's the case, he is an absolute romantic badass. He took a stripped-down album of big-production pop songs and gave them a different life. They breathe and brood, and it feels like he got inside these songs and experienced his own birth. Father John Misty was so jealous he copied the concept right after. Eat your heart out, Father John!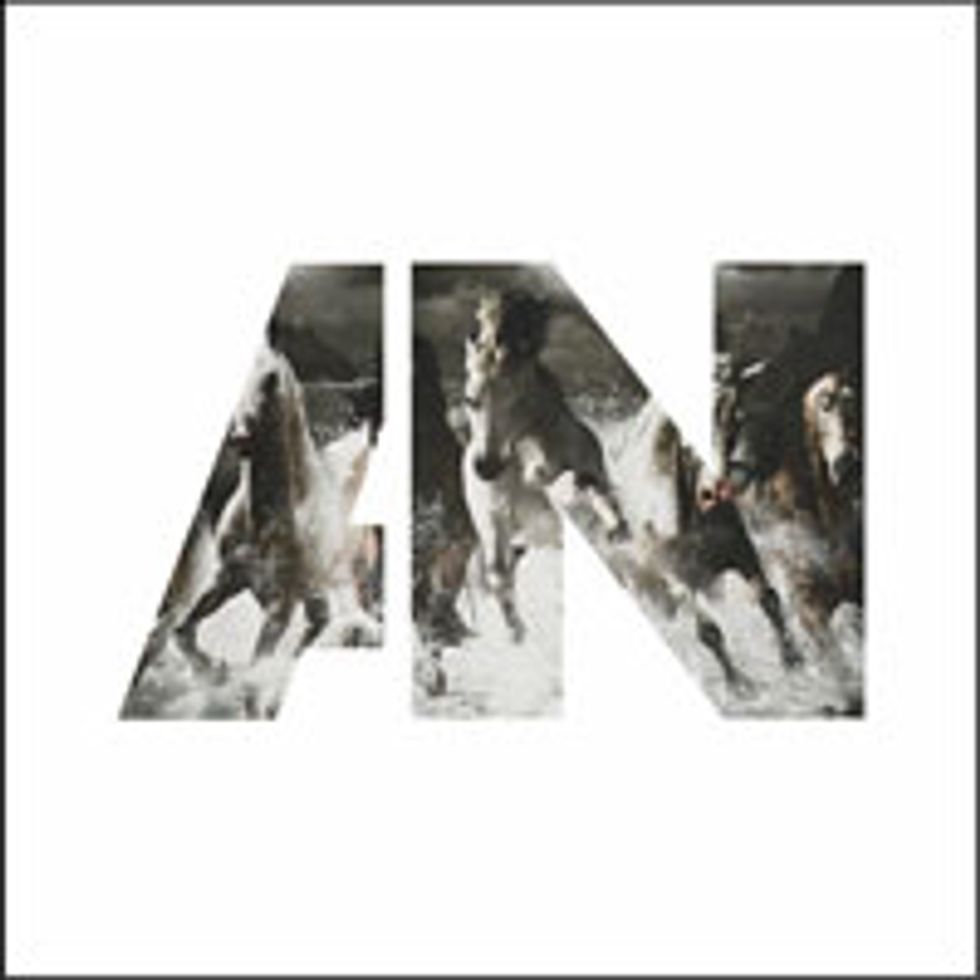 Awolnation
Run
I was shocked when I learned Aaron Bruno made an entire album with just one other person in the room. I've been a fan of Awol since Megalithic Symphony, but I thought it was a traditional band. Regardless, I love what Bruno is doing—making edgy music that gets played on the radio. Maybe "Sail" is all you know, but Awol experiments with raunchy bass lines and guitar sounds never heard before with confrontational abandon. It's fearless and speaks to your primal instincts, and that's something I'm constantly searching for in the music of our times. Bruno played piano, drums, guitar, and everything else you hear on Run, but he's also using digital technology as a legit instrument in itself to make complex songs that he can still recreate live with a full band.
Honorable mention: Wolf Alice's My Love Is Cool
Most-anticipated 2016 releases: Haim, Radiohead, Jeff Buckley, Kanye West, Gorillaz
Rich Osweiler—Associate Editor
Astronauts, etc.
Mind Out Wandering
This record has remained at the very top of my list since I got my hands on it last spring. The 10 soulful jewels that frontman/singer/keyboardist Anthony Ferraro put together with his troupe of jazz players oozes '70s soft rock, but in a modern and funkified manner. Think Bread meets Ben Folds meets Remy Shand—although you can also feel a bit of a Toro y Moi vibe (which should be no surprise since Ferraro splits his time as keyboardist for the latter). It's stellar songwriting with some especially gorgeous guitar work from Derek Barber.

DMA's
DMA's
Since releasing their debut EP this year, these lads from Down Under have amassed a number of comparisons to Oasis. I get it—a little—but there's much more to DMA's than Britpop. Excellent melodies, great hooks, and big choruses fed by glittery guitars are usually a great recipe for something special, and that's what you get here. But the acoustic-fueled ballads "Delete" and "So We Know" also bring a nice balance. A full-length effort called Hills End is due in February.
Most-anticipated 2016 releases: Lush, Radiohead, Robin Nolan
Charles Saufley—Gear Editor
Six Organs of Admittance
Hexadic II
What do you do when you get in a guitar rut—buy a new phaser? Ben Chasny decided to invent a whole new freaking system for approaching the instrument. While the esoteric origins of the system run deep, it is fundamentally rooted in letting chance reconfigure the fretboard and guide composition. He field-tested the system first on Hexadic I, an electric, often heavy band piece. Hexadic II, however, represents a more focused, personal, acoustic-based application of the system. Not surprisingly, the results sound unlike any other guitar record out there, and the songs weave like tendrils of vine around a lattice made up of Morton Feldman's modern minimalism, Japanese koto pieces, and Eastern European folk melodies.

Cairo Gang
Goes Missing
One of these days Emmett Kelly—long the right-hand man and guitar slinger for Bonnie Prince Billy, and now Ty Segall's Muggers—will receive his due as one of the most versatile and classy guitar players alive. This LP, performed and sung almost entirely by Kelly, also showcases his protean voice and formidable songwriting chops. This particular batch of songs veers from ecstatic Meet the Beatles! and Beau Brummels-inflected pop jewels peppered with Herb Ellis-meets-George Harrison chord moves, to Guided by Voices-style nuggets that sound conceived by some lonely genius plying his craft in a dim garage at the end of a lost suburban cul-de-sac.
Honorable mentions: Flying Saucer Attack's Instrumentals 2015, Laura Cannell's Beneath Swooping Talons, Peacers' Peacers, Daniel Bachman's River, Howlin Rain's Mansion Songs, Kurt Vile's B'lieve I'm Goin' Down…, Sir Richard Bishop's Tangier Sessions, Kelley Stoltz's In Triangle Time, Moon Duo's Shadow of the Sun
Jason Shadrick—Associate Editor
Jason Isbell
Something More Than Free
It's official—Jason Isbell is no longer "the guy who used to be in the Drive-By Truckers." With Something More Than Free, he plants his flag as the best Americana songwriter of his generation. The overall tone on these 11 tracks is a bit happier than on his breakthrough album, 2013's Southeastern. This time around Isbell brought his band, the 400 Unit, into the studio to help shape and craft the album. Producer Dave Cobb returned to help capture amazing guitar tones, such as the ethereal slide solo at the end of "Children of Children." Isbell's Muscle Shoals roots come through on "Palmetto Rose," a swampy, blues-inflected number that moves between a stomp-your-foot jam and a lilting, power-pop chorus with ease. If this ends up being Isbell's Darkness on the Edge of Town, it will only mean the best is yet to come.

Martin Sexton
Mixtape of the Open Road
Many of Martin Sexton's fans come to his shows for the otherworldly vocals—and rightfully so—but it's his unbelievably percussive, harmonic-fueled, flat-out grooving rhythm playing that brings me in. And on his latest album, Mixtape of the Open Road, you hear this type of amazing fretwork spread amongst a fully realized vision that goes from the bouncy soul of "Pine Away" to the Laurel Canyon-esque folk-rock of "You (My Mind Is Woo)" to the retro stomp-rock of "Dandelion Days." The cumulative result is a varied collection of soulful, heartfelt songs that—just as the album's title suggests—will inevitably lead to a lot of repeat listening.

Julian Lage
World's Fair
Although Julian Lage gets lumped into jazz circles, his ability to transcend style and expectations is rather stunning. Armed with a 1939 Martin 000-18 and a mic, he sounds as comfortable as ever navigating through this collection of original compositions. The intimacy of the recording is engaging and the pre-war Martin sounds full and dynamic, thanks to co-conspirators Matt Munisteri and Armand Hirsch. The deft picking on "Gardens" has peripheral classical elements and counterpoint, but soon moves to a melody that's served several different ways—and with striking dynamics. The album closer, "Lullaby," has moments where you hold your breath while Lage pulls everything he can out of a series of minimalist fragments that ache with melancholy beauty. This isn't a reinvention of Pass' Virtuoso series—it's a snapshot of a virtuoso inventing an entirely new vocabulary.
Most-anticipated 2016 releases: Jimmy Page, Metallica, Lake Street Dive, and anything produced by Dave Cobb.
D'Angelico's foray into flattops yields a stylish grand auditorium model.
At last winter's NAMM show in Anaheim, California, D'Angelico Guitars unveiled a line of steel-string flattop acoustics with names like Gramercy, Mercer, Lexington, and Madison. These are, of course, references to locales in Manhattan, where the legendary luthier John D'Angelico built the finest archtops to order from the 1930s until his death in 1964.
With its onboard Fishman electronics, the Asia-built Gramercy is a very different guitar from those classic original archtops. And apart from D'Angelico's iconic art deco headstock, it doesn't really resemble anything that the master guitarmaker ever built. But after I put the Gramercy through its paces (and in spite of the very high expectations that come along with the D'Angelico name), I found it to be an agreeable guitar in its own right.
Fancy Meets Subdued
The grand auditorium-sized Gramercy is made from a nice selection of all-solid tonewoods. The top is Sitka spruce with scalloped-X bracing, and the back and sides are rosewood. The mahogany neck is fitted with a rosewood fretboard, and the bridge is rosewood too.
The Gramercy responds equally well to all types of strumming approaches, from boom-chuck to crisp
Freddie Green-inspired comping.

At five pounds, nine ounces, you can't say the Gramercy is lightweight, but the craftsmanship is very good. The polyurethane gloss finish is free from orange peel and other cosmetic defects, and all of the binding is tight and flush with the body. The frets are cleanly dressed and smooth at their edges. The bone nut and saddle are immaculately cut. Inside, everything appears tidy too. The bracing and kerfing are free from traces of excess glue and rough unfinished surfaces.
The Gramercy is available in five different finishes: natural, vintage sunburst, cherry sunburst, black, or a very contemporary grey black. Our review model came in natural, which best showcases the soundboard's fine-grained, cream-colored spruce and the dark-chocolate, quartersawn rosewood on the back and sides—a very nice set of boards. The guitar is handsome, but to some players the trademark headstock, with its ornate inlay work, mirrored truss-rod cover, pointed scroll, and chevron-shaped machine heads, might look out of place on an otherwise restrained and traditionally appointed flattop.
Clear Up Top
The Gramercy has a C-shaped neck with a slim profile that's super comfortable and familiar—especially for players who typically play electric. But the action on our review model was higher than optimal, making it a strain to play barre chords for extended periods and inhibiting fast picked single-note lines. This isn't necessarily a deal breaker. A good guitar tech could certainly lower the action. But it's hard not to expect a better setup for a guitar that's nearly a thousand bucks.
Ratings
Pros:
Nicely made, versatile, acoustic-electric. Solid woods.
Cons:
Setup could be better. Design elements seem mismatched.
Tones:


Playability:


Build/Design:


Value:


Street:
$999
D'Angelico Gramercy SG200 Grand Auditorium
dangelicoguitars.com
Acoustically, the Gramercy lacks some of the resonance and liveliness of a fine grand concert model, and the bass register is a tad underwhelming. But the Gramercy does deliver impressively present mids and clear treble tones. Harmonically speaking, the note-to-note definition and separation are good. And in this context, at least, the buzz-free higher action pays bonus dividends.
Any sonic shortcomings are often compensated for by a guitar's versatility, and in that regard the Gramercy responds equally well to all types of strumming approaches, from boom-chuck to crisp Freddie Green-inspired comping. When fingerpicking—in both standard and altered tunings—the high action made me feel less nimble, but single-note lines had good presence and definition.
Comprising an under-saddle pickup and onboard preamp, the Gramercy's Fishman INK-4 electronics package is a nice fit for the guitar. Mounted to the upper bass-side bout, the low-profile preamp is less obtrusive than most. Plugged into a Fender Acoustasonic, the Fishman system sounds terrific, very natural and free of extraneous noise. The bass, middle, and treble controls offer more than enough tonal flexibility for any situation, while the brilliance control adds zing to the guitar's already sparkling personality. The INK-4's built-in tuner, which turns green when the string is at pitch, is very readable.
The Verdict
Purists and collectors might not have time for D'Angelico apart from an archtop made on the Lower East Side. But those without such allegiances will find a nice modern flattop in the Gramercy—a guitar that can be played in a variety of styles and stands stage-ready, thanks to the well-matched Fishman electronics. For the price, it does lack some of the complexity and bass richness you'd expect from a good grand auditorium—a body shape often chosen for its strength in those regards. But the ringing high-mids mean it can sit nicely in contemporary studio settings. If you like a little touch of Downtown glam with your otherwise functional flattop, the Gramercy is a great place to start.
Watch the Review Demo:

A reader receives a 1964 Harmony Silhouette H14V as a birthday gift.
Hey Zach,
I'm not looking to sell this guitar or anything. I'm just curious because I haven't been able to find much information about it. For my birthday a few years ago, I received a 1964 (says it under the pickguard) Harmony H14V Bobkat. It was purchased for about $250 (CAD) and now I'm seeing them on the used market shooting up in price. I really don't know much beyond the killer sounds I get from it. What it's worth, hypothetically?
Thanks,
Mitch Finck in Stratford, Ontario, Canada
Hi Mitch,
This is a cool guitar and it appears to be in great shape. Your Harmony's condition is somewhat of a rarity since they were often a guitarist's first instrument, and subject to the beating and torment of youngsters trying to emulate Pete Townshend.
The Harmony Silhouette series was introduced in 1963. Based on their body shape/configuration, it appears these guitars were intended to compete with Fender's newer Jazzmaster and Jaguar instruments. Harmony, however, provided something Fender didn't at the time. There were four versions/price points of the Silhouette, making one affordable to nearly all guitarists. The original prices were $64.95 for the single-pickup H14, $89.50 for the two-pickup H15, and $137.50 for the H17 that had two pickups, a polished finish, and vibrato. The top-of-the line fourth model, the H19, was priced at $189.50 and had two pickups, a deluxe vibrato, and block fretboard inlays. Compared to Fender's price of approximately $350 for a Jaguar or Jazzmaster in 1963, Harmony was very competitive.
Vibrato versions of the H14 and H15 officially appeared in Harmony catalogs in 1966 (and were noted as the H14V and H15V, respectively), but Harmony had been selling add-on vibrato tailpieces since 1964, so vibrato versions were possible during the entire run. In 1968, Harmony changed the name of the guitar series from Silhouette to Bobkat. They also introduced the "Color Kat" models that were essentially the same models with custom-color finishes. Candy apple red wasn't unique to Fender in 1968, or at least Harmony didn't think so! The Silhouette/Bobkat series lasted through the early 1970s with only minor style and body changes during the run.
These pickups on their own are often worth as much as the guitar, which is too bad since it often turns a guitar into a donor project.

These guitars—especially the H14—were designed and priced as entry-level instruments, and were mass-produced quickly. Today (and probably in the 1960s as well), it's hard to find one with decent action, tolerable intonation, and a neck thinner than a baseball bat. (It's interesting to note that these guitars were advertised as having a "Slim Line" neck.) The hardware on these instruments often fails and it's somewhat difficult to find replacement tuners, bridges, and tailpieces. To find one of these guitars that plays decently is a treasure unto itself when you consider how many you could have sorted through.
You mention the killer sound that the guitar puts out. The DeArmond-designed gold-foil pickup is mostly responsible for that. These high-output pickups produce that dirty garage-rock sound so many artists are looking for these days. (Think of bands like the Black Keys and the White Stripes, where simplistic style and heavy distortion define their sound.) These pickups on their own are often worth as much as the guitar, which is too bad since it often turns a guitar into a donor project.
St. Vincent (aka Annie Clark) is a notable Harmony player with her H15V, and this has most likely contributed to these guitars becoming more popular in recent years. I've also read numerous stories about the fond memories associated with an H14 being the first instrument for many guitarists. Most of these instruments were traded in for better guitars, but many baby boomers are now trying to find their first instrument some 50 years later.
This was a $100 to $150 guitar just a decade ago, but today, an H14 with a vibrato is worth between $300 and $400. No doubt the nostalgia of a first guitar, the sound of the DeArmond pickup, and the association with a famous artist are partially responsible for the appreciation. This is a great treasure of a birthday present, especially if it continues to increase in value.