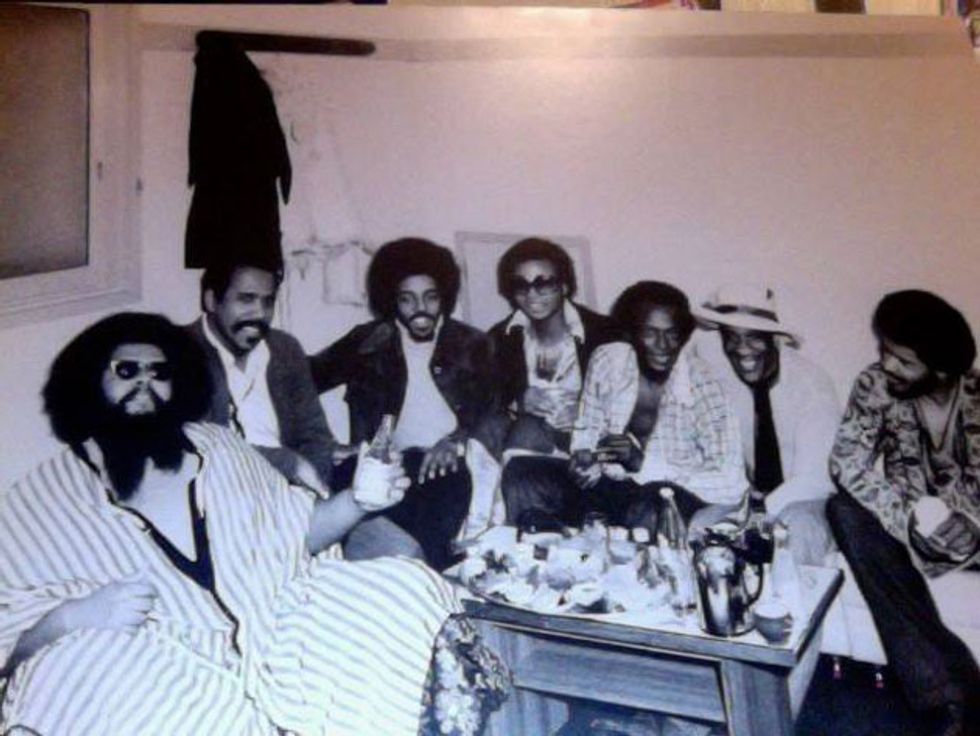 Miles Davis (third from right), Pete Cosey (far left), and the band chill with food and beverages in this circa-1970s photo.
Photo courtesy of Miriama Cosey
Gibbs laughs as he recalls his experiences with Cosey and tunings. "Pete had, like, a gazillion tunings—which he didn't share! He used different tuning systems for different songs, and that was an integral part of his approach. We did some gigs where I didn't send him the music ahead of time. I realized later that he wanted music ahead of time so he could listen to everything and adjust it to his tuning systems."
Cosey even reserved different guitars for special tunings, although he wasn't able to travel with all of them. "He tried to bring a lot of guitars with him on tour, but he couldn't get them all on the plane," Henderson says. "Miles cut him down to three. He had to reserve extra seats. Pete was a big guy, so he would have to have two seats for himself, then he would get extra seats for his guitars—and he had his pedals with him, too. There was no way you were getting him to put his instruments underneath the plane."
A number of Miles Davis albums feature Cosey's playing, the most significant being a trio of live albums—Dark Magus, Agharta, and Pangaea. The latter two were the afternoon and evening performances, respectively, from a single day in Osaka, Japan. Many critics consider Agharta the better album and praise Cosey's exceptional playing on it as an example of instrument mastery, as well as a study in contrasts. He's insanely fast at times, tasteful and atmospheric at others. He employs intense chromaticism and dissonance, yet is firmly grounded in the blues. His sense of phrasing is blistering and in your face, but somehow also restrained. He uses a small army of effects—a huge innovation for the time—and is in complete control of his feedback. His sonic sense is outstanding and totally original.
"He was like a funny combination of really bluesy shit and out stuff," Liebman says. "He sat there with a table and all these pedals. He had the ability to make some really different kinds of sounds."
Milkowski wrote that although Cosey played a variety of guitars during the Miles years, he primarily played an SG-like Guild for Agharta and Pangaea, and '54 and '59 Gibson Les Pauls for Dark Magus. He kept a '61 Strat in reserve, just in case. A trademark of Cosey's stage setup was a table loaded with assorted percussion instruments. He sat behind the table and put his effects—two wahs (a Morley for warm tones, a Halifax for solos, and sometimes a Vox Clyde McCoy), a Jordan Bosstone for dirt, and a Gibson pedal—underneath it. He also often used an EMS Synthi A synthesizer.
Cosey wasn't a student of a tradition. He was a living extension of that tradition, constantly building on it.

"Pete would try everything," Gibbs says. "Every time I was with Pete he was trying a different guitar—he had, like, a Spinal Tap level of guitars. He had many different pedals, too, but he had a range of sound that he liked." Cosey also used a Vox Phantom XII electric 12-string and a Morris Mando Mania guitar, among many others. "Another thing that's really interesting about Pete is that he was one of the first people to mess with guitar synths," Gibbs adds. Years later, in addition to the EMS Synthi A, he also had a headless Ibanez MIDI controller, a Roland guitar-synth controller, and a Yamaha TX81Z.
Post-Miles Pete
In 1975, Davis broke up the band and began a five-year hiatus from music. He and Cosey stayed in touch and did various sessions together, but for the most part Cosey stayed in Chicago and worked on other projects. He appeared on Herbie Hancock's groundbreaking 1983 album, Future Shock. In addition to being a platinum-selling success, the album was revolutionary in its use of drum machines and record scratches, and it dominated MTV. The guitar solo on the title track, despite the serious '80s surroundings, is classic Cosey—wide intervals, twisted dissonance, subtle whammy use, and unorthodox tones that stick out like thorns from a mix that otherwise conjures visions of badly-dancing club goers in pastel-shaded blazers with shoulder pads.
Cosey didn't record much in the '80s and '90s, but he stayed busy leading various projects, teaming up with drummer Buddy Miles (Hendrix/Band of Gypsys), and working with Gibbs. "Pete became a member of the group Power Tools, which was myself, Ronald Shannon Jackson, and originally Bill Frisell," Gibbs says. "Bill moved on, so we got Pete to come in."
Gibbs used Cosey for a number of projects over the next 20 years, including a spectacular solo on "Canto por Odudua" from Gibbs' 2012 Elevated Entity album, Ancients Speak. Cosey's solo is what you'd expect—overdriven, dissonant, idiosyncratic, yet complementary and song appropriate—proof that despite a dearth of recorded output, the master still had it. And Gibbs has a backlog of recordings set for release. "We did a whole session based around the [1970 Miles Davis album] Bitches Brew," he says. "I had a bunch of musicians play along to the original recording. I then took the original record away and mixed what they had played to it. Pete sounds great on that."
Cosey was involved in many other projects, including the aforementioned "Godfathers and Sons" documentary episode, Greg Tate's 2003 Burnt Sugar version of Stravinsky's The Rite of Spring (conducted by Butch Morris), and free-jazz saxophonist Akira Sakata's 2001 album Fisherman's.com.
YouTube It
Miles Davis leads his band through a live performance of "Ife" in this 1973 footage. Check out Pete Cosey's remarkable eclectic solo just after the five-minute mark—it goes from mellow, approachable jazz to nastily discordant and fuzzed-out wailing high up on the neck.
He led groups that included Gibbs, drummer JT Lewis, and DJ Johnny "Juice" Rosado (Public Enemy). He was also involved with educational programs as part of the Jazz Foundation's Agnes Varis Jazz and Blues in the Schools program.
Cosey kept Davis' music alive as well. He performed with Gibbs at the Davis tribute Wall-to-Wall Miles, and formed the group Children of Agharta to record and perform with the Grammy-nominated project Miles from India. "He had me come sit next to him during the long rehearsal," says Kaiser—who subbed for Cosey on some live Miles from India performances that Cosey missed for health reasons. "He explained everything he was doing to me so I would know in case I had to substitute again. It was amazing to get to do that with one of my heroes."
True to the End
Cosey was a powerful spirit. "I've had the opportunity to be around a lot of singular, influential people," Gibbs says. "People like Ornette Coleman, Gil Evans. Pete was one of the most influential—without being influential—people in my life. He's known because he made other people's music happen: He made Miles' music happen … he was part of that great Chess band. But a lot of his information is filtered out as being other people's information." He knew how to process his influences, internalize them, and make them his own. "Like I said, Pete would have existed even if Hendrix didn't exist. Pete took that same pool of information and made a natural progression."
Cosey told Cole, "I wasn't living an easy life. I went through a lot of great struggles but I kept true to the music. I never lost sight of that. I never stopped experimenting, improving, and crystallizing, and creating, and I still do that. I realized a long time ago what my mission is and I've stayed true to that."
Health issues became an increasingly difficult struggle for Cosey near the end of his life. According to the Chicago Tribune, he died of complications from an undisclosed surgery on May 30, 2012. He was 68. He left behind a legacy of incredible playing and a core group of people who loved him.
"If you learn anything from his playing then you learn something about the man," Henderson says. "Pete Cosey was a way of life. He was a good man—he knew how to live—and you heard it in his playing."