Etymotic ER•4 microPro
Earphones
Headphones are crucial in many recording situations, and while we love conventional cans, there are also times when we say "stick it in your ear"—in the nicest possible way. Etymotic, a company that makes a wide range of hearing protection and safe-listening devices, has a solid reputation for combining high fidelity and hearing safety, which is why its ER
•
4 earphones make this list. When inserted correctly, ER
•
4s are designed to block outside noise and provide a balanced sound with plenty of bass. The logic is that, because you don't have to crank up to overcome outside noise, you'll listen at a safer volume, so if you're recording in a room full of amps, next to a loud drummer, or mixing in the outside world, these should have you covered. Each set comes with a number of ear-tips, but if you have the budget for the optional custom-molded ear-tips, they're said to improve the noise-blocking seal. If the ER
•
4s are too rich for your budget, you might check out the lower-priced hf3s ($149).
$299 street
etymotic.com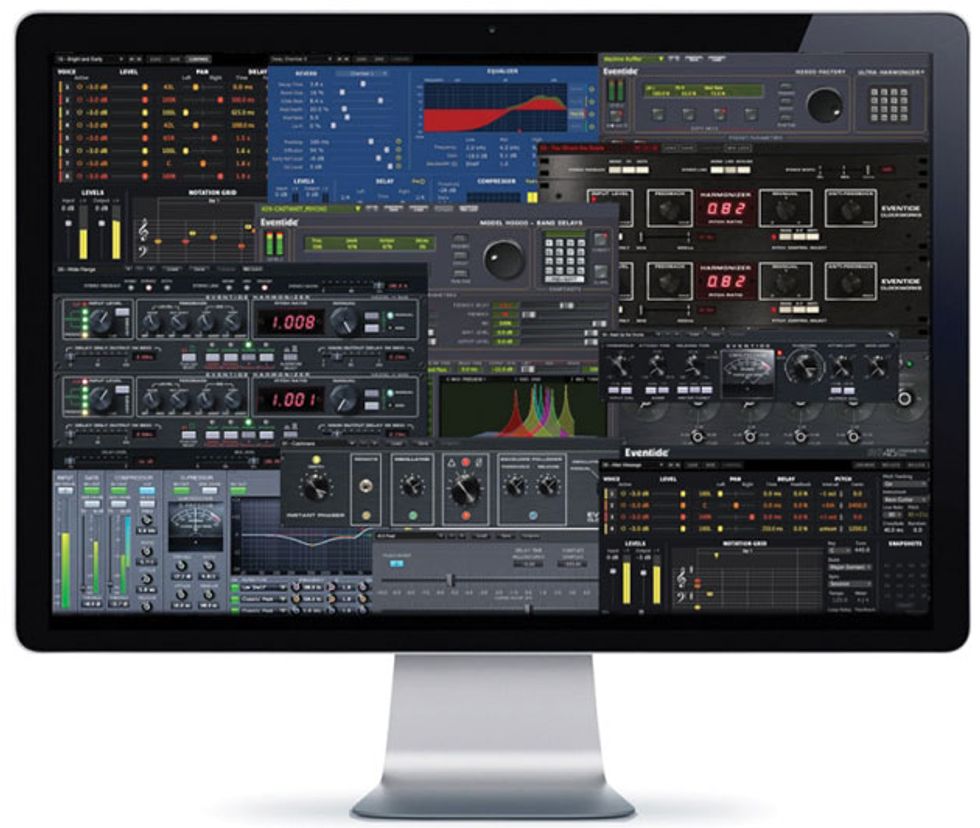 Eventide Anthology X
Plug-in Suite
Ever wonder why your stompboxes never quite matched the creamy chorus and shimmery pitch shifting of Frank Zappa or Eddie Van Halen? More likely than not, that sound was provided by an Eventide Harmonizer. The Anthology X bundle is designed to capture the company's classic hardware in native plug-in form, while adding what they're calling "future classics." A number of the 17 plug-ins emulate vintage hardware with serious guitar bona fides, including the H910 Harmonizer (favored by Frank Zappa), Omnipressor (Brian May), H949 and Instant Phaser (both used by Jimmy Page), and the H3000, a late-'80s multi-effects powerhouse that was the first device to boast diatonic pitch shifting. The set also sports Eventide effects of more recent vintage, including UltraReverb (which has nine algorithms) and Octavox (an eight-voice diatonic pitch shifter using technology from the company's H8000 hardware)—as well as EQs, channel strips, mastering plug-ins, and more. If the Anthology's asking price is out of reach, you might opt for the H3000 Factory ($349), which recreates most of the effects found in the original. Demo versions are available by request.
$1,195
eventide.com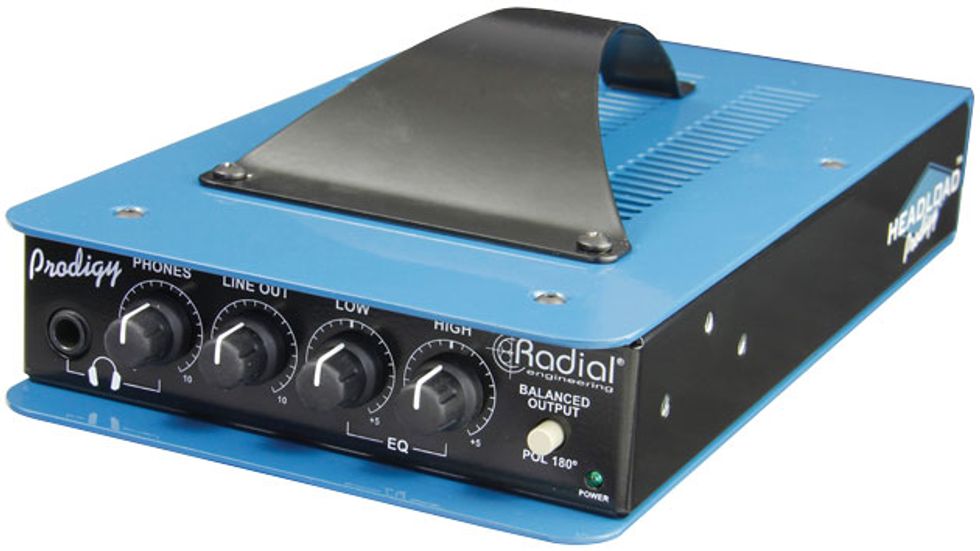 Radial Engineering Headload Prodigy
DI and Attenuator
It's no secret that power tubes can be shy about unveiling their charms unless you push them a bit. It's also no secret that "loud amp" and "good recording" rarely go hand-in-hand: Even if you don't have neighbors to worry about, a loud amp in a small room can be a nightmare to mic, and often ends up sounding thin. Radial's rugged new Headload Prodigy lets you tackle both problems at the same time. A smaller, more affordable version of the Headload ($899), the Prodigy is housed in a 14-gauge steel chassis and combines a speaker load box with a DI output, letting you reduce the volume going to your amp's speaker by 50 percent (for miking) and simultaneously send the power amp's output directly to a mixing console or recording device. The Prodigy has custom-made, cement-encrusted resister coils, and it can handle up to 100 watts RMS and also operate as a full "dummy" load, allowing you to safely disconnect your amp's speaker and record in silence. Depending on the output you choose to connect, you can take the amp's tone "dry" or with EQ and an emulation of a 4x12 half stack miked by a Shure SM57. Other highlights include an XLR output with switchable polarity and ground lift, a 2-band front-panel EQ, and a headphone jack with its own volume control.
$399 street
radialeng.com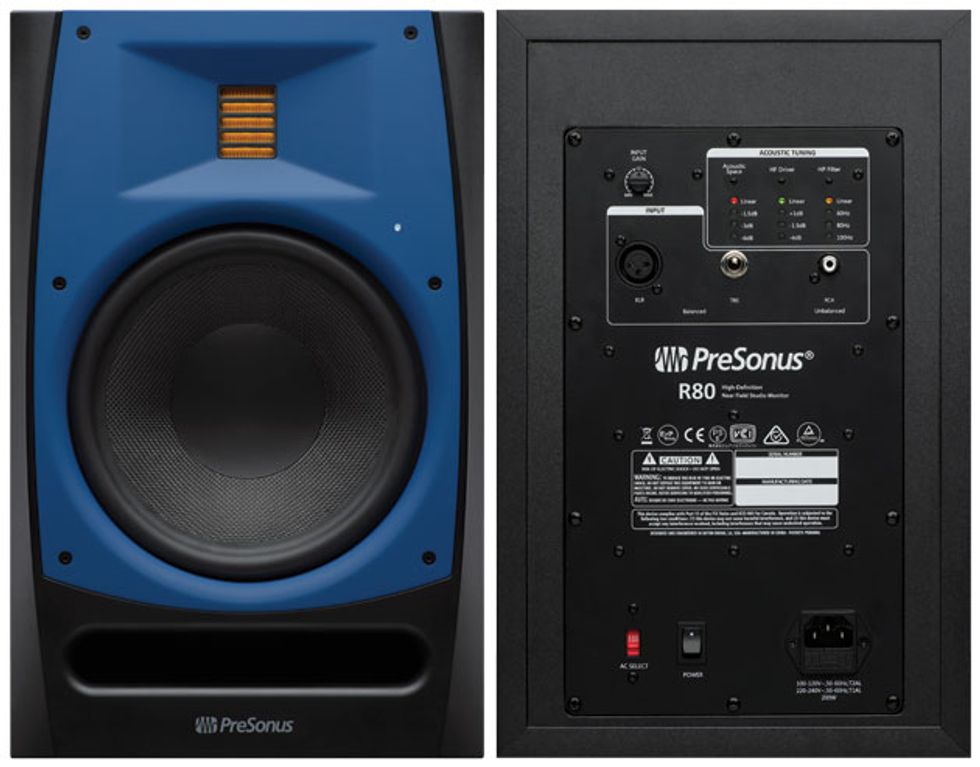 PreSonus R65
Active Monitor
When it comes to mixing guitars, the low to low-mid frequencies are often a battle zone. You want to preserve your axe's bottom without cluttering up territory rightfully claimed by the bass and kick drum. Small monitors—especially when they're underpowered—can cloud this crucial frequency range, but with 100 watts going to a 6.5" coated Kevlar woofer—and another 50 going to a custom Air Motion Transformer (AMT) tweeter—the R65 Active Monitor is designed to handle lows while responding to transients as well as anything of its size and price point. Offering a 50 Hz to 25 kHz frequency response, the monitor can be adjusted with a set of Acoustic Tuning switches, including Acoustic Space (designed to compensate for the bass boost that can occur when a monitor is placed near a wall or corner) as well as settings for the tweeter and for use with or without a subwoofer. There are both balanced (XLR and 1/4") and unbalanced (RCA) connections for use with pro and semi-pro recording gear. The R80 ($499.95) offers similar features with an 8" woofer, extending the low-end response down to 45 Hz.
$399 street
presonus.com