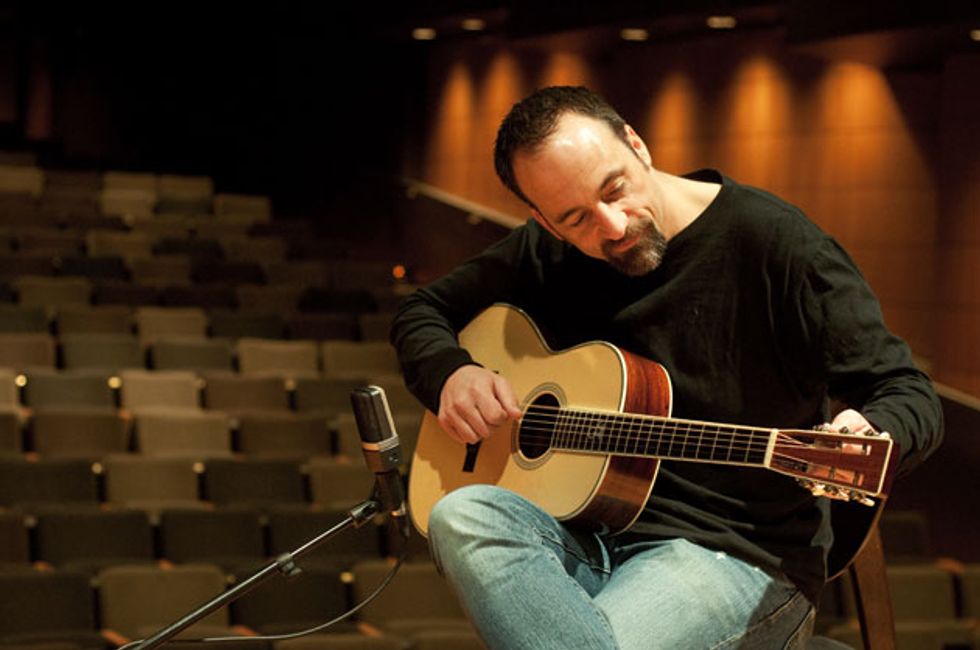 Eric Skye performs live and in the studio with his two signature model 12-fret 00s built by Santa Cruz Guitar Company. One has an Adirondack spruce top and cocobolo back and sides, and the other has a European spruce top. Photo by Andrea Corrona Jenkins
What makes for a good listener?
Skye: I would compare listening to meditation—at least in the sense that what I'm trying to remember to do is just notice when shiny objects appear on the road, but not pick them up. So thoughts about what I just played or wish I played, or about my back aching in the chair, or what I need to do when I get back home, I try to set aside and come back to what's really happening in the moment. Mark?
Goldenberg: [Feigns inattentiveness.] Uh—what you were saying.
How have you influenced each other in working together as a duo?
Goldenberg: Well, I'm always trying to steal his licks [laughs].
Skye: Mark's had a huge influence on me. I really wasn't writing a lot of music before playing with him. Most of my albums had just been me butchering jazz tunes [laughs]. I'd only occasionally done originals. But Mark has really encouraged me to write some tunes. And I've always been kind of a chord nerd, but Mark is even more so. I'm definitely thinking much more about harmony, and my playing has become more edited, which I think is definitely needed.
Mark Goldenberg's Gear

Guitars
Collings 001Mh
Kenny Hill Performance Series classical
Strings
D'Addario EJ16 (.012–.053)
Eric Skye's Gear

Guitars
Two Santa Cruz Eric Skye signature models
Strings and Picks
Santa Cruz Parabolic Tension Strings (mid tension)
aLaska Pik fingerpicks
Fred Kelly extra heavy thumbpicks
How has it become edited?
Skye: When Mark plays, he's very eloquent and very melodic, telling great stories with his improvisations. He naturally cuts away everything that isn't related to the tune or the melody at the moment. There's not a lot of extra stuff in there saying, "Look at me, I'm a guitar player." It's incredibly complex, but it's simple at the same time. And I think that I do play like that sometimes, but other times I get some ego in there, and fill in more. But now I'm trying to think more maturely.
Mark, what have you learned from Eric?
Goldenberg: Eric hassuch superior technique; he can do so much on the guitar that I can't even hope to do. It's phenomenal, and I just like to comp and take a back seat. I go, "Wow—he just did all that with one finger. Holy mackerel!" But it's never like I'm watching someone who's grandstanding. He has the ability to make all this stuff really musical, which is why I think we play well together. Because even though we have different techniques and approaches, we both try to tell a story.
Mark, at the Genghis Cohen gig, you played a nylon-string, and Eric, you used a small-body Santa Cruz. What guitars did you play on Artifact?
Skye: I used the same guitar as at the gig, my signature-model 12-fret 00 from Santa Cruz Guitar Company, which is pretty much all I play. I've got one with an Adirondack spruce top and cocobolo back and sides, and another with a European spruce top.
Goldenberg: I used a Collings 001Mh—an all-mahogany, 00-size steel string—just that and a footstool. We left our wah-wahs and all our effects racks at home [laughs].
Mark, as a guitar aficionado how did you choose which instrument to play?
Goldenberg: When we've played together over the last couple of years, I've tried a bunch of different guitars, but because of its mahogany construction, my little Collings seems to really complement the sound of Eric's guitar. It's less complex with its overtones, so it has a kind of purer, simpler—purer, simpler, just like me!—tone [laughs].
Currently I'm playing a Kenny Hill double-top classical, which has a pretty dissimilar but complementary sound to Eric's Santa Cruz. It has a lot of volume. Eric has a very manly way of playing, probably because he does 700 push-ups before a show. I need a little extra beef because I have a pretty soft touch. The Kenny Hill's been great for this, and Eric doesn't have to pull back as much when I'm taking the lead.
"We've never plugged in, except for an appearance at one NAMM show." —Mark Goldenberg

Why didn't you use the Kenny Hill on the recording?
Goldenberg: I didn't have that particular guitar at the time. I had a different Kenny Hill, with a raised fretboard that I had a little bit of an ergonomic problem with. The one I most recently got is a Performance Model, so it doesn't have the raised fretboard. It feels just right when I play it, and it's got such a beautiful tone. I play a lot of electric and [steel-string] acoustic and classical, and the transition to the Kenny Hill is very smooth. It doesn't take much to get used to its nut width and string height.
Mark, in a nutshell, how'd you arrive at the sophisticated harmonic language that's apparent on Artifact?
Goldenberg: I had great musical teachers and mentors who loved harmony and the handling—and mishandling—of notes: Ted Greene, Richard Pick, and [pianist] Abe Fraser.
Eric, what about your prodigious fingerstyle technique, which involves fingerpicks and a thumbpick—an unusual approach for jazz?
Skye: My fingerstyle technique is kind of a hodgepodge. I did study classical guitar for a few years in middle and high school, but I don't want to overstate that. I didn't get all that far. To be honest, I don't really put a lot of thought into it. I just hear stuff and try to pull it off. Actually, I've thought quite a bit more about flatpicking. I'd like to get a little right-hand routine going this year. I'm going to research it.
The album has a beautifully detailed sound. Describe how it was recorded.
Goldenberg: I have a friend, Lynne Earls, who lives close by me in Los Angeles and has a really nice studio, so she recorded the album for us. It's a very simple recording. We didn't do stereo miking and instead put a single [Neumann] U 87 on each guitar. That's not a mic people generally use for recording acoustic, but I have one and so does my friend, and it made sense to go with our matched pair. It wasn't particularly close-miked. We just sat across the room from each other and played. I don't think Lynne used any compression at all on the recording. It's pretty straight-ahead and it's a good representation of what we sound like in person, except we added, like, three or four thousand gallons of reverb.
Skye: It was very spontaneous. We played some of the tunes together for the first time when we went in to make the album. It's basically just one long take. We were in and out of the studio in about three hours.
Goldenberg: There was only one song that we recorded more than once.
Skye: There were a couple of tunes that went a little longer when we recorded them, and we edited out a chorus or two for the album. If something's done all in one take, you can't really borrow from Peter to pay Paul, you just remove a big piece of real estate.
Your roles on the record—and in concert—seem pretty fluid.
Skye: There's plenty of times on the record and live where we start off where I'm comping and Mark's playing more single-note lines or the other way around, although it's never really quite that simple. When I'm comping, I'm never just holding down the fort. I'm trying to think of chords that will make Mark zig or zag one way or the other. But more and more live, and I think a few places on the record, there's these little transcendent moments where we're both playing single notes and they become intertwined and we completely leave the comping-and-single-note paradigm behind. I really dig that. On "The Bridgetown Shuffle," there's the place where it gets into this sort of baroque thing with these open strings ringing out. When we can get to that place, there's where the beauty is. That's the shit.
Despite the minimal setup, is it difficult to get a good sound live?
Goldenberg: Not so much. We just go for it live and try to get the best acoustic sound we can without using any electronics—just mic—and have everyone listen quietly. We do a mic in front of each of us. It's so simple. We're a soundman's delight, as we like to say.
Skye: I think we're fortunate to be at the point where the people come to really listen. Last time we played Portland we didn't even use any mics—just sat next to each other and played guitar, enjoying the natural acoustics of a really nice-sounding room. We did that up in Seattle last year, too. We've never plugged in, except for an appearance at one NAMM show.
You mention people coming to really listen. What have your audiences been like?
Goldenberg:
It's interesting. I used to think that the audience for what we do is just other people who play fingerstyle guitar, but we played at a concert in Portland where it seemed like a cross-section of music lovers were in attendance—it wasn't a guitar-centered crowd, per se. I think that when we get together as a duo, we're kind of transcending the normal world of fingerstyle guitar and going into some other territory. We could be up there with two trombones and it would be the same effect. Well, hopefully it wouldn't be the same effect [
laughs
].
YouTube It
In this live July 2015 performance of "The Soft Shell" from their new duo album, Artifact, Mark Goldenberg and Eric Skye display their graceful style of musical conversation on nylon- and steel-string guitars. They constantly pass themes and melodies back and forth, with Goldenberg initially taking the lead and Skye entering with a bass note melody at the 2:00 mark, which he expands and explores until 3:30, when Goldenberg retakes the baton.