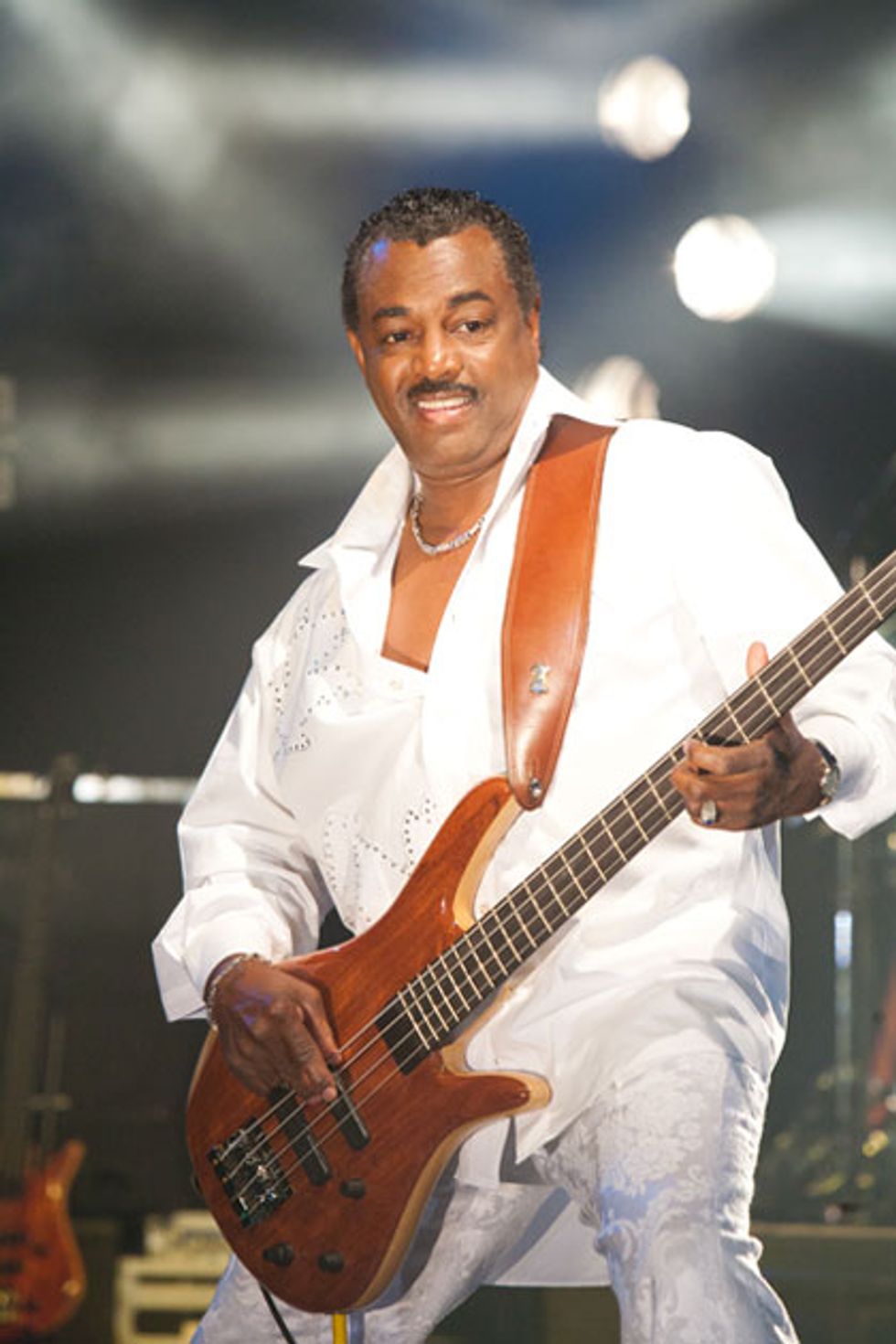 Bassist Robert "Kool" Bell's half-century as a performer and bandleader has taken him from hole-in-the-wall clubs to the top of the charts to England's Glastonbury Festival and opening for Van Halen's 2012 tour. Photo by Silvia Mautner
A lot of musicians are cool, but there's only one Kool, as in bassist Robert "Kool" Bell, who, along with his saxophone-playing brother Ronald, founded and has led the pop-funk band Kool & the Gang for close to 50 years. Thanks to a succession of propulsive dance-floor classics—"Hollywood Swinging," "Jungle Boogie," "Ladies Night," and "Celebration" are just a few—the group has sold more than 70 million albums, survived and thrived through numerous trends, collected practically every conceivable award, and put their own imprint on cinematic benchmarks like Saturday Night Fever and Pulp Fiction.
Key to the band's sound and success is Bell's punchy, no-frills, extremely hooky bass playing. Combining the harmonic contours of jazz with the smooth melodicism of '60s R&B, Bell's ability to craft lively, memorable riffs helped to bring funk from underground dance clubs to AM radio dials, put the Soul Train dancers through their paces, and influenced bassists such as Flea, Carmine Rojas, and Bernard Edwards. Since the '90s, Bell's bass lines have found second and even third lives as samples on records by artists as diverse as Will Smith, Madonna, and Public Enemy, among many others.
This past October the group added two more titles to their list of honors, as they were inducted into the New Jersey Hall of Fame and received a star on the Hollywood Walk of Fame. But there's still one award that eludes the veteran hit-makers, and Bell doesn't need much prodding to sound off about it.
"Why aren't we in the Rock and Roll Hall of Fame?" he asks emphatically. "We don't have enough hits? We haven't sold enough records? We ask ourselves about this all the time. The requirements are you have to have been together for 25 years—we've got 50 years on us! Hopefully, one year they'll get to us."
From One String to Four
Bell was born on October 8, 1950, in Youngstown, Ohio. He remembers his first attempt at making music, and what would ultimately inform his style as a bassist, involved turning old paint cans into percussion instruments. "That's what Ronald and I used to do," he says. "We'd empty paint out of the cans and turn them into bongo drums. Depending on how much paint was left in the cans, that's what created certain tones. We would sit on a hill and play our paint-can bongos—you'd hear them echoing throughout the valley below.
"I think that's why I play bass the way I do," he continues. "I always hear the drums, and I always try to work with the drummer. The drums and the bass were always together in Kool & the Gang's music. If you don't have that for a foundation, no way will the rest of the music stand on top of it."
The Bell family moved to Jersey City, New Jersey, in the early '60s, and before long Ronald took up the saxophone while Robert ditched the paint cans for an actual set of bongos. The Bell brothers got together occasionally with a trumpet-playing neighborhood friend, Robert "Spike" Mickens. "That's how I first picked up the guitar," Bell explains. "We were over at Spike's house, just messing around, and I saw that his brother had a guitar. I picked it up, and all at once I started playing 'Comin' Home Baby'—that was a big song by Herbie Mann. You could play the whole thing on the E string. I got it down pretty good."
"David Lee Roth said to Eddie and Alex Van Halen, 'I've got the perfect opening band for our tour next year—Kool & the Gang.'"

The Bell brothers and Mickens, along with Ricky Westfield on keyboards and George Brown on drums, formed the Jazz Birds in 1964 and started gigging around New York's Greenwich Village. One night, during a set at the Café Wha?, Ronald spotted a spare bass guitar sitting around and suggested that his brother give it a try. "He said, 'Why don't you pick that up and we'll play 'Comin' Home Baby'?" Bell recalls. "So I did. It had only four strings, and the strings were bigger than on a guitar, so I played it pretty well. After that, I gravitated toward the bass. My mother bought me a cheap bass from Macy's called a Zim-Gar, and off I went. I didn't have any training—I just used my ear."
Part of Bell's ear training involved listening to and studying bass greats like Ray Brown, Ron Carter, James Jamerson, and Reggie Workman. "Those guys knew how to play to the song and how to work off the drummer," he notes. "I didn't really concern myself with trying to learn fancy stuff. My main goal was to drive the groove within the music we were playing, and starting to write. So my style really developed as the band got going."
The Jazz Birds became the Jazziacs, adding saxophonist Dennis "Dee Tee" Thomas and guitarist Charles Smith to the lineup, and over the next few years, as they refined a mix of soul, jazz, and funk, they became the New Dimensions and, later, the Soul Town Revue. "We were influenced by the Motown Revue, who, of course, played all the hits of the day," Bell says. "We played the Motown stuff, too, and that's another way I developed my bass chops. The bass in those songs was so creative and melodic. You had to move on the fretboard. Great stuff to play when you're getting your act together."
Becoming "Kool"
Eventually, the band changed its name to Kool & the Flames, adopting Bell's nickname, but with a spelling twist. "'Cool' was my nickname ever since I was in Ohio," he explains. "It just sort of stayed with me. But there was another guy in Jersey City who called himself 'Cool,' so I just became Kool with a 'K.' I liked that better anyway."
The final change to what would become their famous band moniker came about after they signed on with manager Gene Redd Jr., who also worked with James Brown. Brown's backing band was known as the Famous Flames, so Bell suggested that Kool & the Flames become Kool & the Gang. "We didn't want any trouble with the 'Godfather,'" he says with a laugh. "We were young, but we weren't crazy."
By 1969, Kool & the Gang were packing clubs throughout the Tri-State Area, providing Gene Redd with enough ammo to score the group a deal with De-Lite Records. Redd pushed the band to adopt a more commercial sound on their self-titled debut album from '69, which peaked at number 43 on the Billboard R&B chart. Over the next few years, the group honed its sound on a succession of live and studio albums. Their most popular release during this period was 1971's Live at the Sex Machine, which yielded three singles: the originals "Funky Man" and "Who's Gonna Take the Weight?" along with a furious rendition of Sly & the Family Stone's "I Want to Take You Higher."
"It was a mixture of what we did in the '60s—the James Brown meets the Motown sound—mixed with the horns," says Bell. "We were really getting the instrumental thing down, and to that we added these street chants on songs like 'Funky Man.'"