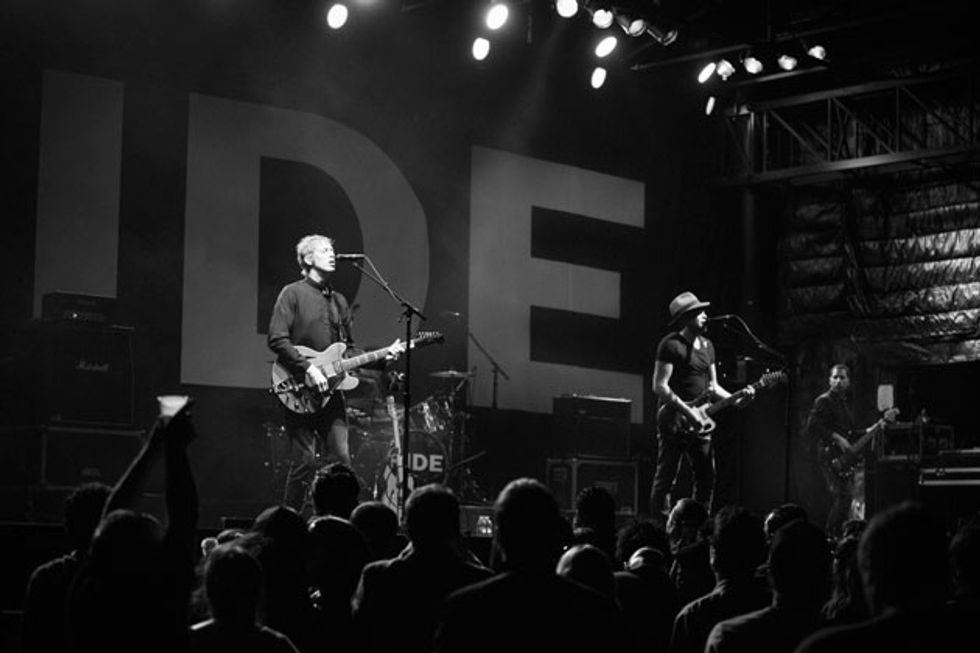 In the early days of shoegaze, Ride quickly rode the sonic tsunami of indie Brit-pop that also carried peers like My Bloody Valentine, Swervedriver, and Lush to stardom. Photo by Piper Ferguson
Are the Beatles what drew you to the 12-string?
Yes, of course. The Beatles were massive for me, but Johnny Marr played them, too. I always enjoyed Harrison's playing, and Marr was quite similar in some ways—half chords, open strings, different inversions of the same chord, lines where you're not sure if they are rhythm or lead. Sometimes they are both at once! Plus, that almost country style of picking that they both do is fantastic. That was inspirational, so that's how I learned to play. On the acoustic side, I loved Paul Simon. I worked out "Scarborough Fair" and "Anji," which were pretty hard.
That certainly explains the melodic and jangly side of Ride. Where did the noise and aggression come from?
From the bands that were forming and playing around us at the time. We were also into the Who's My Generation. I loved the Rolling Stones' Big Hits (High Tide and Green Grass), which has "19th Nervous Breakdown" on it. The bass on that track is amazing and noisy. I love that descending riff. I was drawn to those bits in songs. Also, it was the late '80s and all around us, in the air, it seemed, were bands that came a bit before us, like My Bloody Valentine, Spacemen 3, and Loop. They had a noise element that we found really cool. Sonic Youth's [1988] Daydream Nation had a huge effect on us. The first songs we had written were very English and soft, with major chords, like the Smiths or Felt. But when you listen back, you can easily tell when it was we'd heard Sonic Youth, because we immediately started to employ noise techniques. Things start getting more freeform and arty. Songs like "Nowhere" and "Seagull" came out of that. My Bloody Valentine was hugely influential on the bass sound—the overall dreaminess of the guitars, even the drums, and our overall production. We had become addicted to noise.
"I bought two Rickenbacker 12-strings—a 330 and a 360—and a Gretsch Tennessean, all in one shopping trip on Denmark Street
in London."

At that point you weren't in any danger of being signed to Postcard Records?
At our first rehearsal we did play "What Presence" by Orange Juice. [Editor's Note: Orange Juice was one of the influential '80s U.K. indie pop label's first signings.] Mark, Steve [Queralt, Ride's bass player], and me had become mates, and then we met Loz [drummer Laurence Colbert] at art school. When we rehearsed at his mum's house we didn't know each other that well, so we had to feel that out a little bit. We also played "I Wanna Be Your Dog" by the Stooges, "Blue Monday" by New Order, and "How Soon Is Now" by the Smiths.
It sounds like the DNA of the band was fully in place at the first practice.
Yeah, but to be clear, when I say "played those songs," of course, I mean "attempted to play those songs" [laughs]. Later, tunes we were trying to play became others. "How Soon Is Now" morphed into our song "Drive Blind," for example.
The Stooges seemed big in that scene. Swervedriver mentions them, too.
Swervedriver grew out of Shake Appeal [which is also the title of a Stooges song], and they were the biggest band in Oxford at that time. Everyone was scared of them. They were scary motherfuckers! Through them we learned about the Stooges and became hooked on songs like "1969," and "No Fun." We learned "I Wanna Be Your Dog" because it was the easiest.
Andy Bell's Gear
Guitars
2—1967 Gibson Trini Lopez models with Bigsby vibratos
Rickenbacker 360/12
Rickenbacker 330/12
1967 Gibson Hummingbird
1966 Fender Jazzmaster

Amps
Marshall 2061X 20-watt head
vintage Marshall 1960A slant front 4x12 cab

Effects
Boss TU-3 Tuner
Dunlop BG95 Buddy Guy Cry Baby wah
Ibanez CP9 Compressor/Limiter (always on)
Origin Effects Cali76 Compact Deluxe compressor
MXR Micro Amp (usually on)
Boss DD-3 Digital Delay
Electro-Harmonix Holy Grail Nano reverb (on "Hall" setting)
Strymon Mobius modulation pedal
Eventide TimeFactor Delay
Gollmer '60s Trem
Ibanez TS9 Tube Screamer
Fulltone Octafuzz
Eventide Space reverb

Strings and Picks
Various brands of .010 sets
Jim Dunlop .73 mm
It seems to be the "Iron Man" riff of punk rock. You've mentioned that abstract art also influenced the band. Bands like Mission of Burma and Gang of Four say the same thing. How so?
Three of us had been to North Oxfordshire Technical College and School of Art in Banbury. We were filled with ideas of seeing, perception, and deconstruction, so it wasn't a very big leap to apply those theories to music. A great thing about art school is the brilliant reading list. Ways of Seeing by John Berger and The Shock of the New by Robert Hughes represented the cutting edge of thinking by the late '80s—what art means, and what we do with it. We were all very … arty guys, but the ironic thing is the only one of us who hadn't been to art school, Steve, who worked in a record shop, was the one who had the biggest influence on our visuals. He found all of the pictures for the EPs and albums. He had all of these artsy pictures on the walls of his flat and would make our fliers with pictures of people like Nastassja Kinski and Sophia Loren on them. Art and sexy actresses were our stock-in-trade back then. We had the sleeve of Nowhere [a photo of a wave at sea] before the album was even recorded. We took that picture to the studio when we went to make it.
The Jericho Tavern seemed to be the center of the Oxford music scene. Did you play there?
Yeah, a lot of bands did their first gigs there [including Radiohead and Supergrass]. It's the upstairs of a pub. We only had four songs and we had to fill up the set with something, so we played a song called "Mind Fuck." It was really just what would become the loud part of our song "Drive Blind," only as it's own song, with a slower beat. So we did "Chelsea Girl," "Mind Fuck" for five minutes, then "I Wanna Be Your Dog," and then "Chelsea Girl" ... again [laughs]. It was great to play full volume. That in itself was inspirational. We thought, "Let's use this," and developed ideas basing a song on volume and noise, taking advantage of having a P.A.
Did you feel you had an affinity with the other bands in your scene?
We were friends with Slowdive, Lush, and Chapterhouse. I was quite good friends with Blur as well, though they weren't labeled as "shoegaze." In fact, Graham Coxon [of Blur] got me interested in Les Pauls and bending notes more, which had been difficult on 12-string. There's a lot of note bending on a Les Paul later, on [1992's] Going Blank Again, in fact. Really, all of the bands respected each other and there was a lack of macho posturing. There's very little rivalry when you're not big. You are all part of the same underground. We knew each other and became mates with some bands who got there a bit earlier, like My Bloody Valentine and Primal Scream. It felt like we were all working for the same cause.