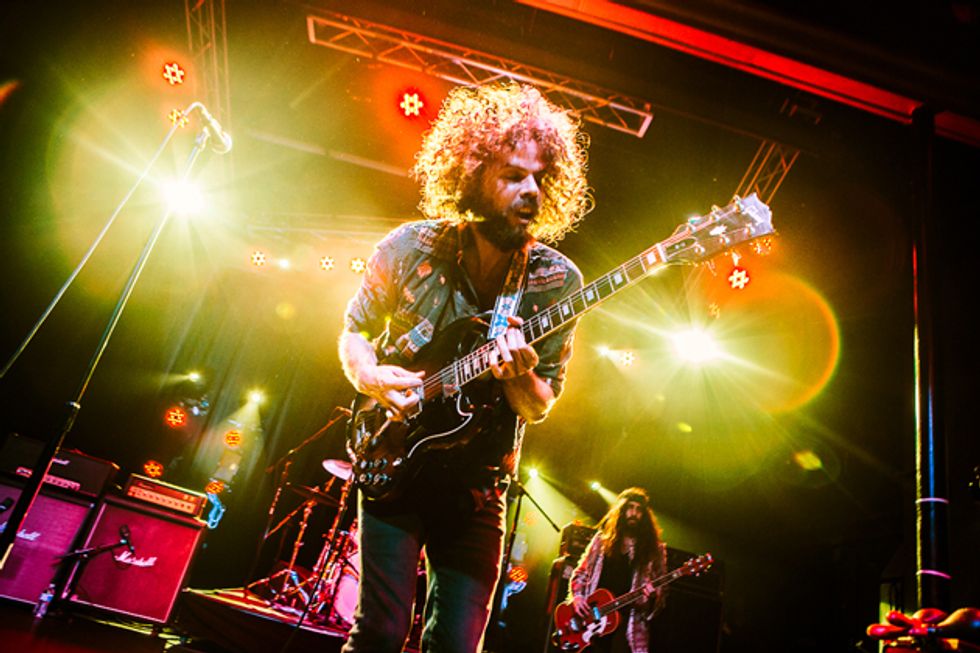 "What we need is just guitar, bass, and drums," says Andrew Stockdale. "That's when this band sounds most exciting and most dynamic. If you have too many people in the band, you can't jam." Photo by Debi Del Grande
One might need a flow chart (or perhaps an abacus) to keep score of the various incarnations of the Australian stoner-psychedelic rock band Wolfmother. In its still relatively brief existence, since forming in 2004, the group has seen only guitarist and frontman Andrew Stockdale remain a constant presence, with bassist/keyboardist Chris Ross, rhythm guitarist Aidan Nemeth, and drummers Dave Atkins, Will Rockwell-Scott, Elliott Hammond, and Hamish Rosser passing through its revolving doors.
After releasing two blistering, fuzz-riff fueled albums—2005's eponymously titled debut and 2009's Cosmic Egg—under the Wolfmother moniker, Stockdale briefly ditched the band concept altogether, issuing 2013's Keep Moving as a solo album, despite the studio contributions of current group members Ian Peres (bass, keyboards) and Vin Steele (drums).
Stockdale admits that Wolfmother might appear to be an unstable entity to those on the outside, but he insists the lineup changes aren't as dramatic or interesting as they seem. "The new lineup has been together for quite a few years," he says. "Ian's been with me six or so years. Vin has been in the band a while. Other lineups were a good amount of time. And, yeah, I did the solo album a few years ago. I wish it were an exciting story. I wish I had some juice to give you. There's really nothing to it. It's just scheduling and whatever else: geography, right time, right place, availability, or whatever."
Reclaiming the Wolfmother name, Stockdale corralled Peres and Steele back into the studio for 2014's big and bouncy New Crown. But on the band's new album, Victorious, he went the almost-one-man-band approach, performing all guitar and bass duties with Josh Freese (Devo, A Perfect Circle, Nine Inch Nails) and Joey Waronker (Beck, R.E.M., Elliott Smith) splitting drum responsibilities.
Immaculately produced by Brendan O'Brien (Pearl Jam, Soundgarden, Bruce Springsteen), the new set sounds nothing like a solo project. On the gnashing, walloping title cut or the wickedly turgid "Gypsy Caravan" or even the shiny, handclap-peppered rocker "Best of a Bad Situation," Stockdale's exuberantly thrashy, minimalist, and profoundly hooky guitar work achieves a right-in-the-pocket rhythm/lead balance. If you didn't know any better, you'd swear you were hearing two deeply intuitive axemen going at each other, giving as good as they get.
"I love playing all the Wolfmother songs without any pedals. When you do that, your playing really improves. You can rely on the pedals to the point where you get boxed in a corner."

"If I had any kind of mission statement with this album, it was simply to play everything myself," says Stockdale. "I just wanted to do it all and kind of cross it over to the Wolfmother sound. That's what's important. That's what I wanted to honor—the Wolfmother sound."
We spoke with Stockdale about his methodology for writing riffs, why he left his guitars at home and used Brendan O'Brien's axes on the new album, and how band democracy isn't all it's cracked up to be.
For most of its history, Wolfmother has been a trio, but the band was briefly a four-piece. Did you not enjoy playing with a second guitarist? Stockdale: Not really. I had another guitarist on the second record, and I don't know… I think it was kind of a pointless exercise. The bottom line is, this is a three-piece band. That's the design of the sound. Wolfmother is based around that setup. I like to hear one guitarist's style come through. That's what I've always been about.
I started off being the only guitarist, but after a while I thought I'd get someone else in, just to kind of change things a bit, mainly for a personal dynamic. I thought if we had four people it might be more fun. But then it became more of... I'm trying to think of a nice way of putting it. Put it this way: It wasn't essential.
So you tried it, and you didn't like it.
What we need is just guitar, bass, and drums. That's when this band sounds most exciting and most dynamic. If you have too many people in the band, you can't jam; everybody's in the way. If you have a three piece, however, then you can jam. When I got another guitarist in there and I'd start making up stuff on the spot, I realized that I had to stop the jam and show every other dude what I was doing. The joy of playing was kind of lost. It was more like a big, organized machine, and I had to demonstrate everything every step of the way.
It all got a bit laborious and exhausting. I'm talking about two or three years of effort, with me trying to persevere being that kind of bandleader. I didn't enjoy it. Now, I want to have a great time with the band and the music. I want to have an out-of-body experience. I want to bond, musically speaking. It's better having a threesome because I don't have to explain myself. It's much more spontaneous.
On this record you worked with drummers Josh Freese and Joey Waronker. How did that come about?
Stockdale: Well, I asked Alex Carapetis if he could do it, but he was on tour with Julian Casablancas and the Strokes. It was more based around the availability of the producer, and when we could schedule everything. See, again, this isn't really a band. Creatively speaking, I wrote everything on Cosmic Egg, the majority of the stuff on Keep Moving and New Crown. I'm the primary creative force. I'm the writer who gets everything going. I pull together whatever lineup is suitable to do a tour.
Take a bit of advice from me: It works. You want to stand in a room with a bunch of dudes and try and write together all the time? Do everything together? You can do that at the start, but it has an expiration date, I think. At some point, someone is going to step forward and really start contributing more than the rest. Then you've just got to think, "Are these people really adding to the sound?" Maybe not. Maybe they're just having a couple beers and going on tour and getting paid and seeing the world. That's fine. You don't have to sell this age-old idea of the band that does everything together and chips in and everything. They all do this, they live together…
I get it. You like calling the shots.
I'm a 39-year-old man. I have a wife and daughter. I wake up and I write a song—it takes me five hours. Maybe not even that, maybe three hours. I wrote this record in two-and-a-half weeks.
What was it about Brendan O'Brien that appealed to you?
He was recommended by management. He was working on Chris Cornell's record, and my manager was like, "You've got to meet this dude, Brendan O'Brien. He's great. He's just what you need." They wanted someone who could get their teeth into a Wolfmother record.
What did Brendan bring to the recording process, as far as your guitar playing goes?
It was all very quick, the recording process. We would go into the studio and be like, "Let's do 'Gypsy Caravan,'" and we'd just start playing it. I'd play electric, he'd play electric, and we'd just play it from start to finish. Then he might say, "How about we stretch that chorus out a bit?" I thought, "Yeah, that's a good idea." He was good at talking through arrangements very quickly as another guitarist. I respected his opinion, because he's got a track record for making good records.
Did you use any of his guitars or gear?
Only his guitars. I didn't take anything with me to make this record. This is the first time I went in and didn't take a band or guitar or anything. I emailed my demos, like, three months in advance, I went in, and, a month later or something, it was done. I played guitar and bass. Ian came in for two or three days and played keys. Joey Waronker did half the record and Josh Freese did the other half.