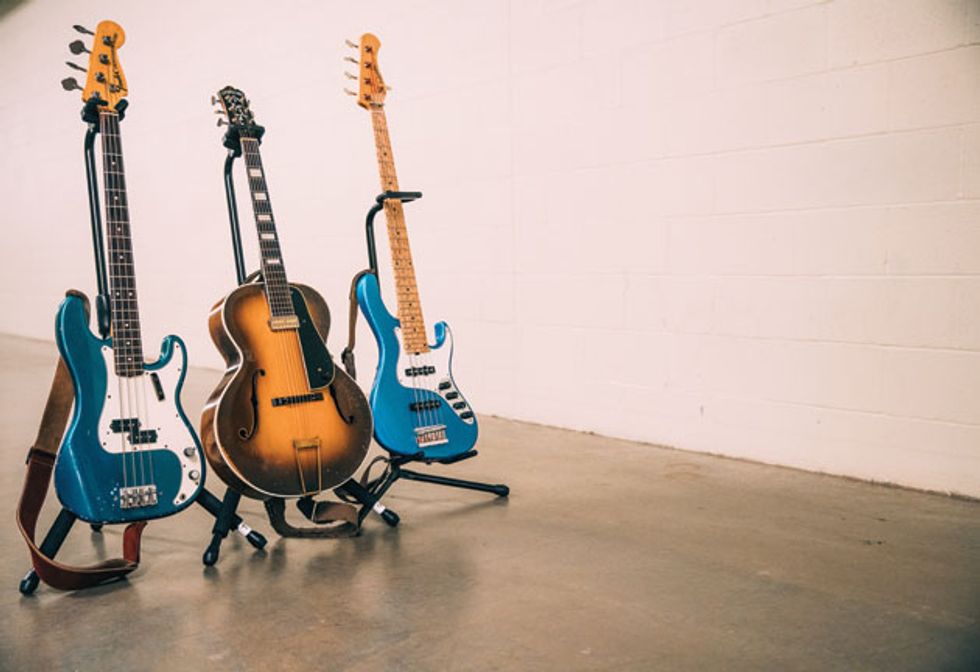 Tal Wilkenfeld's main workhorse instruments for live shows include (from left to right) a Fender P-bass, a vintage 1950s Epiphone archtop given to her by previous owner Ben Harper, and a Sadowsky NYC 5-string tuned
E–A–D–G–C (low to high). Photo by Taylor Smith
The drums can be kind of intimidating, so it's surprising that you picked it up so naturally.
I'm not intimidated…. I can't really associate music with fear because it sort of works in opposition. Music is freeing; it's a means to express your soul, so if you come at music with any type of fear, you won't be able to fully express your soul. Fear just pulls you out of being true to music, which is coming from a place of love. Love is the opposite of fear. I stay away from anything fear-related.
You said you switched to bass at 17 because you were drawn to rhythm. Do you have any favorite rhythm guitar players?
When I was really young, I was introduced to Freddie Greene's playing and I was influenced by that. I was listening to Jimi Hendrix, and when you listen to his guitar playing, it's hard to differentiate—well, I wouldn't want to differentiate between what I would consider rhythm guitar playing versus lead because he's just accompanying himself in his unique way that he does. I was influenced by that and I was influenced by guitar playing on certain artists like Earth, Wind & Fire and Tower of Power, that kind of rhythm playing. Not necessarily from a guitar player's point of view, but that groove-orientated music. That's kind of it!
Did you have a musical family?
I didn't grow up with much music around me; honestly it was quite the opposite. I didn't necessarily know where my inspiration was coming from, because I only heard a handful of artists growing up. I wasn't really exposed to much—I had to discover it for myself.
"I appreciate any accolades I'm given but that word 'genius' is a hard pill for me to swallow just because I have such high standards for myself in terms of where I see myself being creatively, or where
I want to be."

How was the tour with the Who? Did you get to have any musical conversations or jams with Pete Townshend? I'm sad it's over but it was good. I had a couple of very insightful musical conversations with Pete. He's very wise and intelligent, as one would expect. It was an honor to spend time with him and pick his brain.
Why do you think you waited so long to put an album out since Transformation? How did you know you were ready to go into the studio?
These songs are a collection of thoughts and feelings and ideas from the last five or six years that have sort of arrived between or during various gigs that I've been doing as a sideman. It hasn't come all in one short period of time.
I suppose there was not much thought behind it other than I had no intention to put something out on any specific date. I was just writing songs and collecting them and recording them when I could, between working and touring and recording with other people and whatnot.
This album isn't your debut record, but it's your vocal debut. Did you ever think of yourself as a singer?
I don't think of myself as an "anythinger." Therefore maybe I even shy away from calling myself a musician, because I'm just a human who's using music as one of the means to express myself. I don't really want to pigeonhole myself into being anything, even for the sake of the mind games that can happen internally if you start calling yourself something, you know?
Tal Wilkenfeld's Gear
Basses
Sadowsky NYC 5-string (tuned E–A–D–G–C)
Fender Precision Bass
Harmony H22 Guitars

Gibson CF-100

Yamaha baritone acoustic 27" scale

Epiphone Broadway

1950s Epiphone archtop (previously owned by Ben Harper)

Amps
EBS HD350
EBS ProLine 410 4x10 cabinets (2)
Ampeg (various models)

Effects
Boss VB-2 Vibrato
TC Electronic Flashback Delay
TC Electronic Hall of Fame Reverb
EBS OctaBass
Way Huge Pork Loin overdrive
Peterson tuner

Strings and Picks
D'Addario EJ17 Phosphor Bronze Medium (.013–.056, Gibson CF-100)
D'Addario EJ16 Phosphor Bronze strings (.016p–.070w, Yamaha baritone acoustic)
D'Addario EFT16 Flat Top Phosphor Bronze (.012¬–.053, Epiphone Broadway)

What was the inspiration behind these songs?
I've been inspired by experiences that I've had. I've been inspired by hearing of my friends' experiences and friends of friends' experiences. I've been inspired by movies and all other kinds of platforms, what's going on in the world. I couldn't really point to any particular song and say it was clearly one inspiration. It's usually a collection of things that inspires me to write.
When you're writing, do you start with lyrics or music?
I actually don't have a formula. Sometimes I wish I did, because it would make my life a lot easier. But it could start off with a lyric, it could start off with an instrument, it could start off with me just driving in the car and hearing something in my head. Poetry, words … sometimes even when I'm falling asleep something will come to me.
Were most of the songs written by you?
I co-wrote a few of the songs. Not "Corner Painter," but I wrote a few songs on the record with a friend of mine named Sonya Kitchell.
Did Jackson Browne have any influence on this album?
I used his studio to do some stuff on the album. He's definitely been a guiding force for me on the album and a great friend as well. We've done some appearances together. I did something with him and Ben Harper at one point. I've also done a gig with him where I played a few of my songs, and he played a few of his, and Blake Mills and Dawes played some songs and then we all played together. I forget what that was for. I think it was a benefit or something.
Jeff Beck called you a genius, which is a very high compliment. What does it feel like for someone at his level to say that about you?
I appreciate any accolades I'm given, but that word "genius" is a hard pill for me to swallow just because I have such high standards for myself in terms of where I see myself being creatively, or where I want to be.
Where do you want to be?
I couldn't tell you what I want my music to sound like in words; that would be kind of awkward. I'm always reaching for a new height. I'm not ever going to stay in one place. I push to evolve, so any kind of a landing word like [genius].… I don't want to feel like I've arrived at a place I need to stay at.
Do you see yourself following your own path with your band for a while or are you open to being a side player again?
I'm open to anything at all times. It's just a matter of sectioning off time to do everything. Right at this very moment I'm focusing on this album because it's yet to be released. Once it goes out to the world, there are a lot of things I want to do, including writing for film.