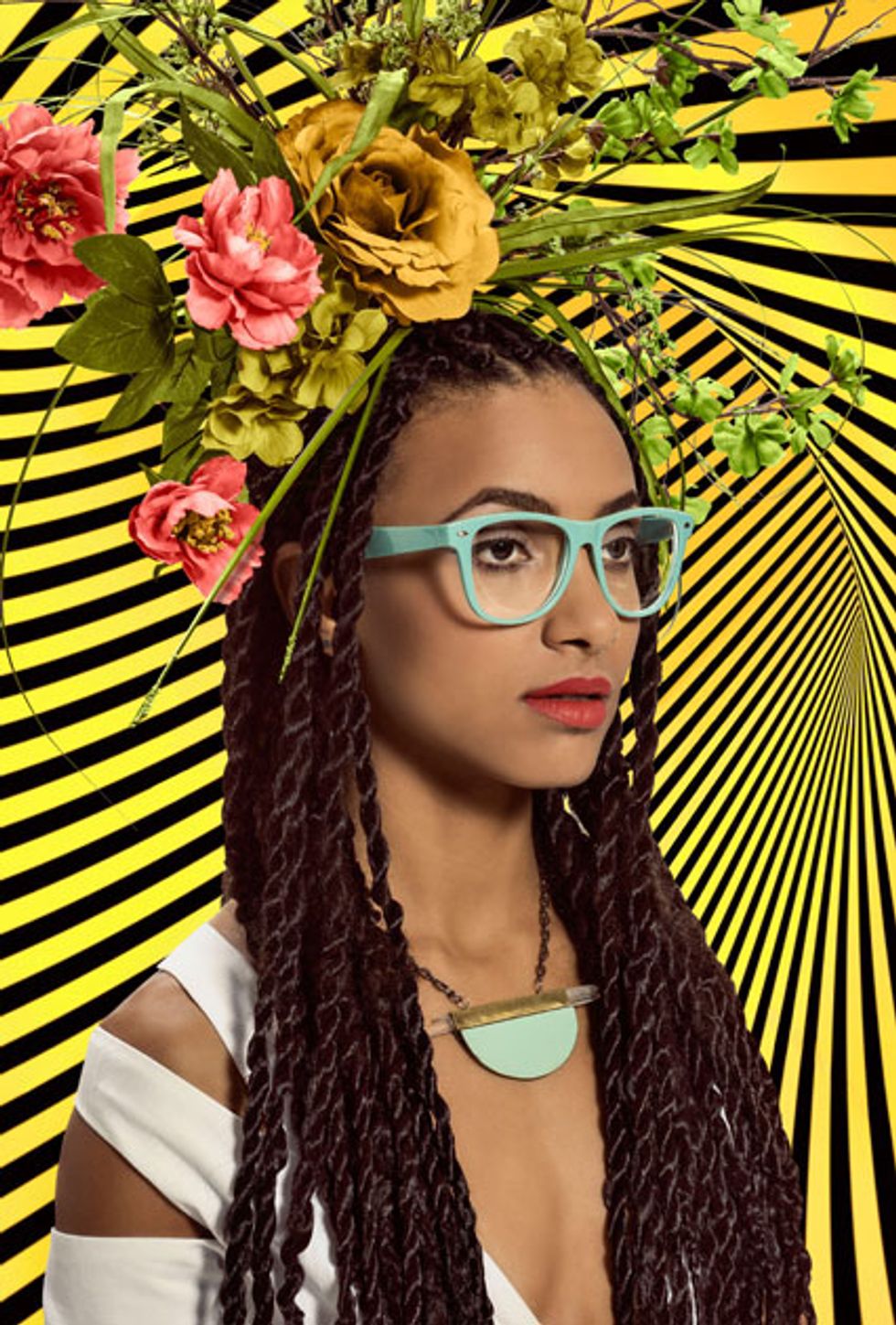 After winning an impressive five Grammys, Spalding has opted for the unusual career move of an artistic and personal makeover. Photo by Holly Andres
What did famed David Bowie producer Tony Visconti bring to the project? He came in after the material was recorded, correct?
He's a sound-craft master. He mixed and did stuff to the songs that I can't even explain to you. I didn't understand what he was doing, but he brought the sound to where it was always supposed to be.
Did you give him any direction or did you simply hand it off to him?
I told him I wanted it to feel intimate, but be in-your-face. I wanted people to really be able to hear what we were playing—to hear the interplay between us, because so much of what makes the music special is the interplay between the drummer, the guitar player, and me. I felt he highlighted that interplay and made it feel like a whole. And he believed in it. At that point I needed a champion. I needed somebody to believe in this project with me and he did.
"I wanted a 'tacky' sound. I wanted it to be real buoyant and have a thickness, but I also wanted to have the clarity. I call that 'tackiness,' like caramel stuck on your shoe.

Did you have the musicians in mind when you started this project?
I reached out to specific people who I thought would be right for it, and that was Karriem [Riggins, on drums] and Matt [Stevens, on guitar]. They were into it. I thought that was all we needed. I thought that would give it the sound I was looking for.
Esperanza Spalding's Gear

Basses
• Simon Propert South Paw 5-string fretless (with a Bartolini 5-string Music Man Stingray pickup)
• Fender Jaco Pastorius Jazz Bass (fretless 4-string)
Amps
• Ampeg SVT-4PRO
• Ampeg PN-410HLF cab
Strings and Picks
• Fender 9050M Stainless Steel Flatwound Long Scale (.055-.105)
Matthew Stevens' Gear

Guitars
• Harrison GB
• Moollon T Classic
• 1959 Fender Telecaster
• 1959 Fender Stratocaster
• 1968 Gibson Les Paul goldtop with P-90s
• 1960 Gibson Les Paul Junior
Amps
• 1964 Vox AC30 (2)
Effects
• Boss TU-2 Chromatic Tuner
• Binson Echorec
• Fulltone Tape Echo
• EarthQuaker Disaster Transport Jr.
• Strymon Deco Tape Saturation & Doubletracker
• Boss DD-7 Digital Delay
• Strymon BlueSky Reverberator
• Tech 21 Boost RVB

Strings and Picks
• D'Addario Nickel Wound (.011–.050 sets with a .012 replacing the .011)
• Dunlop Gator 2.0 mm

Did you know when you were first writing these songs that a three-piece was the right configuration?
At the beginning of a project, you don't know what the fuck you're doing—at least in my case [laughs]. I don't think you can plan ahead too much. You have to trust your instincts and then you can plan your brains out. But in the mode of initial inspiration I tend to operate out of an intuitive sense with regard to people and things. I get in touch with what I want to do with the project first, then think about who could partner in that. And both guys immediately came to mind because of experiences I've had playing with them. I knew about the breadth of their musicianship.
I often feel that at some point in the creative process the music takes on a life of its own and it becomes an artist's job to be a good steward, rather than imposing his or her will on it. Is that true for you?
Another way of saying that is you have to be honest about what's working. Often I find that's the impetus for change. I'll be like, "God, this isn't working. Why?" Then you try something different and you stumble upon something that works or, inversely, you might be in the early development stage and you stumble upon a piece that you hadn't expected to be a part of it and you realize, "Oh man, that's really working and it's supporting this whole project as it grows in a way that will make it more compelling, inviting, stronger, or unified." There's no absolute. I think we all get a sense of what's working and what's not. I feel like it's really important to be unattached to everything as you're going along because the project is teaching you. Be in touch with what's working and what's not and let that be the guide. It can help you ask better questions.
You started out on violin and you also play piano. Does knowing other instruments give you an edge as a bassist?
If you really learn any instrument thoroughly, you're going to gain access to an understanding of music. Particularly if you're beyond the student level and you're out playing with other people professionally. You get drawn in a million different directions on your instrument, and it's wonderful—whatever instrument it is. If you have the time or the talent to cultivate a second instrument, that's great, but I don't think it's necessary. The fact that I started on violin just happened to be my direction. That was the first way I got involved in learning about and playing music. I played for 10 years and then I switched to the bass, but it could've been anything, really.
Playing the violin for so long must've helped you transition to bass though, no?
When I picked up the bass I could figure out how to get to the notes I wanted to hear because I was familiar with a non-fretted, stringed instrument. I understood the spatial things, depressing the strings and creating the tone. But I was also immediately introduced to the idea of improv. I was able to engage in improvising right away, at that shitty little, very beginner, level, but it allowed me to get a taste for it. And once I had a taste for improvising, that drew me out into the rest of my life. Improvised music was the key for me.
What about the piano?
Having access to the piano is important, because of how you can see harmony on it. It's such a wonderful tool. But then again, you'll think about harmony differently if you don't play piano. It's important to take the time to really wrap your brain and body and instrument around harmonic concepts. Every way is valid.
You started college at Portland State, then transferred to Berklee. Why?
I was very happy at Portland, but I got a full scholarship to go to this music school in Boston I'd heard so much about. I was excited about getting out of Portland and trying something new. It wasn't that I was dissatisfied with Portland State. It was amazing. I had an incredible time there. I just didn't have a full scholarship and I did at Berklee.
Were you a good student?
I wasn't a good student my whole life. I'm not proud of that fact, but it's the reality of how my brain was operating and where my priorities were. I loved reading and learning about things and doing homework, but I'd always get shitty grades. It was so disheartening, because the affirmation I was getting from my school environment didn't reflect how I felt about learning. It was hard. I think I carried some of that when I moved on to college.
You ended up teaching at Berklee. What did you teach? And were you better at teaching than being a student?
I taught a couple of ensembles. I had a lot of private bass students. I really love teaching. I got to teach at the Banff Centre a couple years ago and I loved every second of it. I think I'm good at it. I decided to quit because I was starting to tour as a bandleader and I couldn't give Berklee or the students the focus that they deserved.
Who were some of your early influences?
All my bass teachers from Portland: Dave Captein, [the late] Ken Baldwin, Andre St. James, and Dan Schulte. One of them turned me on to Leroy Vinnegar, who was a Portland resident for a while. I checked him out a lot. Obviously Paul Chambers, because [Miles Davis' 1959 classic] Kind of Blue was the first record I really got into once I was invited into the world of improv. And then I got into Slam Stewart, because it was the first time I heard that kind of linear, melodic playing on the bass. Not that Paul Chambers didn't do that, but with the arco sound and Stewart's voice, I was really hearing the singing quality of the lines and it became a goal of mine to play a melody like that. [Editor's note: Stewart's trademark was his ability to bow the bass and simultaneously hum or sing an octave higher.]
You won a Grammy for Best New Artist in 2011. Did you experience any pressure from that afterwards?
No. It has a limited effect. It helped bring in a more diverse crowd to the venues we were playing. I got more promo out of it. I get that caption now, in association with my name. I didn't feel any pressure. I thought it was weird. I quickly realized that just because it happened doesn't mean my craft is received in the commercial playing field. It hasn't been so far, and the Grammy didn't change that.
I do, however, recognize what it represents in terms of how many people chose to tick my name off on a ballot. And that was intentional, on all of those people's parts, and I really appreciate that. It was a big affirmation for me to keep going.
What have you learned from playing with guys like Wayne Shorter and Herbie Hancock?
I admire them so deeply. Their music is so profound, magical, brilliant, intelligent, and soulful. And that's how they are as people. So maybe the takeaway is that you have to act like and be like you want your music to be. Being a little satellite in their orbit was a great lesson in how to live one's life. It's one of the greatest blessings in my life.
YouTube It
The official video for "Good Lava," the first single from Esperanza Spalding's new album, Emily's D+Evolution, is a psychedelic summation of its uninhibited strengths. Musically intense, poetic, packed with movement, and visually explosive, it's also a showcase for her new 5-string South Paw bass.