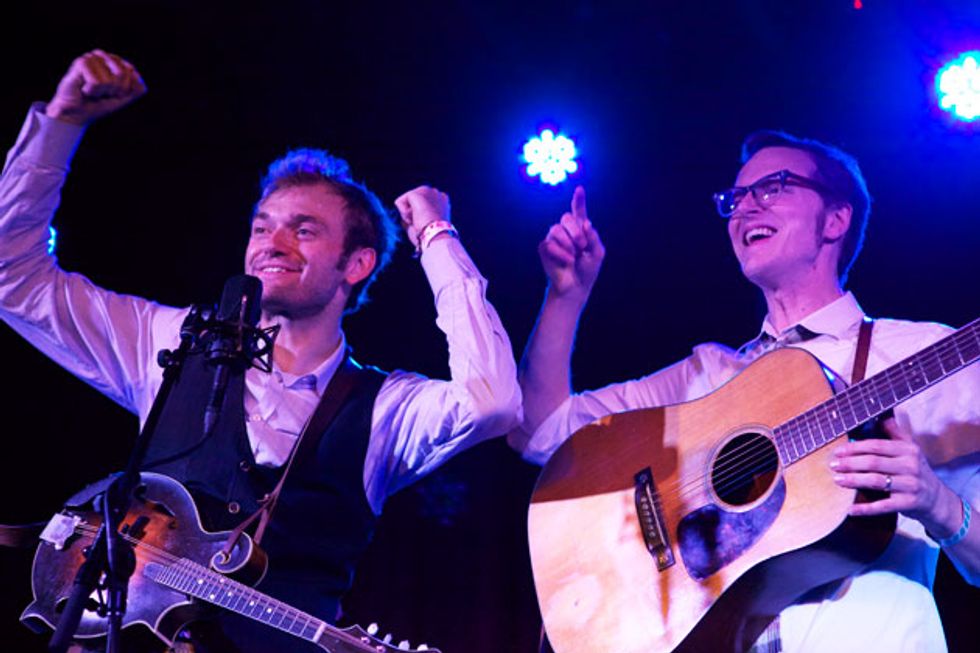 Michael Daves, performing here with fellow bluegrass youngblood Chris Thile, depends on a trusty 1960 Martin D-18 that has been his musical companion for about a decade. Photo by Bobby Neel Adams
Not long ago, Brooklyn-based guitarist and singer Michael Daves found himself wrestling with a musical conundrum: how to integrate his love of traditional bluegrass with his penchant for more left-of-center fare, without cheapening either style.
It occurred to Daves that his twin interests could, in fact, exist alongside each other agreeably, so he made a two-album set, Orchids and Violence—the follow-up to 2011's Grammy-nominated Sleep with One Eye Open. Each disc of his new, third album has the same traditional tunes, in the same order, but with very different interpretations. The albums can be enjoyed individually or taken together as a study in contrast.
Daves, who is 37, is a prominent player on the New York bluegrass scene that includes virtuosos like the mandolinists Chris Thile and Sarah Jarosz and the banjoist Noam Pikelny—all with whom he's collaborated with extensively. Speaking to his enviable command of the guitar, Daves has also worked with Steve Martin, Tony Trischka, and Rosanne Cash.
On his tradition-approved D-18, Daves picks hot lines with stylistic rectitude, but he's known to swap out the Martin for a plywood Truetone, for a subtly grittier approach to the idiom. Daves' odd choice of the Truetone in a bluegrass situation hints at his unconventional way with the electric guitar. On a single-pickup Teisco, he calls forth a wide range of gestures and timbres—at the same time working a kick drum and hi-hat—and he does sound rootsy and experimental at the same time.
Speaking from his home studio in Brooklyn, Daves told us about the evolution that led to Orchids and Violence, as well as the musical strategies behind the project. He detailed the peculiarities of his D-18, what it was like to record with some of today's hottest bluegrass musicians in a Brooklyn church, and how it felt to bond with a $2,000 overdrive pedal.
Orchids and Violence showcasestwo sides of your musical personality. Which came first for you—bluegrass or rock?
Bluegrass is something I grew up with in Atlanta. My parents played fiddle and banjo and I couldn't help but absorb it. Up the street from my house there was a weekly bluegrass jam session where touring groups would often come through, and I eventually joined the jam sessions whenever I could. I got to meet musicians like Norman Blake and David Grier, and bluegrass musicians also came to parties at my parents' house. Of course, I had a lot of other interests as well: rock, like you mentioned, and eventually jazz and experimental music.
When and how did those other interests take hold?
My interest in jazz really started in high school, and I got into it in a chronological manner. I started off with Americana, bluegrass, ragtime, and fingerstyle, and then became aware of early jazz musicians like Louis Armstrong. From there, I went to Western swing artists like Bob Wills, and then on to Charlie Christian and a lot of jazz of the '20s, '30s, and '40s. Learning how to play standards, my interest in jazz progressed to bebop and then to soul jazz and beyond.
I conceive of the Kay as part of the drum kit, because there's this kick and hi-hat, with the strumming of the guitar filling in the eighth-note pulse.

When I went to Hampshire College in Amherst, Massachusetts, one of the professors was Yusef Lateef, a legendary multi-instrumentalist and composer. I got to study with him for four years. He had started out as a jazz musician, but got very into contemporary and experimental music and abandoned the label jazz. He called his work "Auto Physio-Psychic Music."
I picked up an appetite for new music and sounds from Lateef. But he was very concerned that students find their own voices, and that helped me embrace my musical upbringing. He actually encouraged me to write a bluegrass concerto, but I still haven't gotten around to it. [Laughs.] So something that I continually work through as a musician is reconciling my upbringing in traditional music with my interest in exploring new sounds.
Playing both traditional music and new sounds must require a good assortment of gear. What instruments are you playing on the traditional side?
I'm playing my Martin D-18, a 1960. Sometimes when I play bluegrass with musicians like Chris Thile I also use a Truetone, which is a plywood guitar from the Kay factory from the late '50s. I keep that one tuned down a step. For this recording, which is more or less straight bluegrass, I just stuck with the D-18. It's a nice ensemble instrument and a particularly good example.
What makes it particularly good?
This one has an especially strong midrange that really tends to punch through the mix. It doesn't have as much low-end warmth as a D-28 or even a prewar D-18. But I find that, in practice, the low-end strings end up washed out on a recording and it's the midrange that really helps a solo punch through. It fits better in the mix, and it mikes really well. You mike a boomy guitar, and it gets even more boomy. My D-18 has great clarity, but it's also a little bit gritty. I sing really loudly, and it's a really wild, sort of nasally guitar, so it kind of matches my voice. [Laughs.]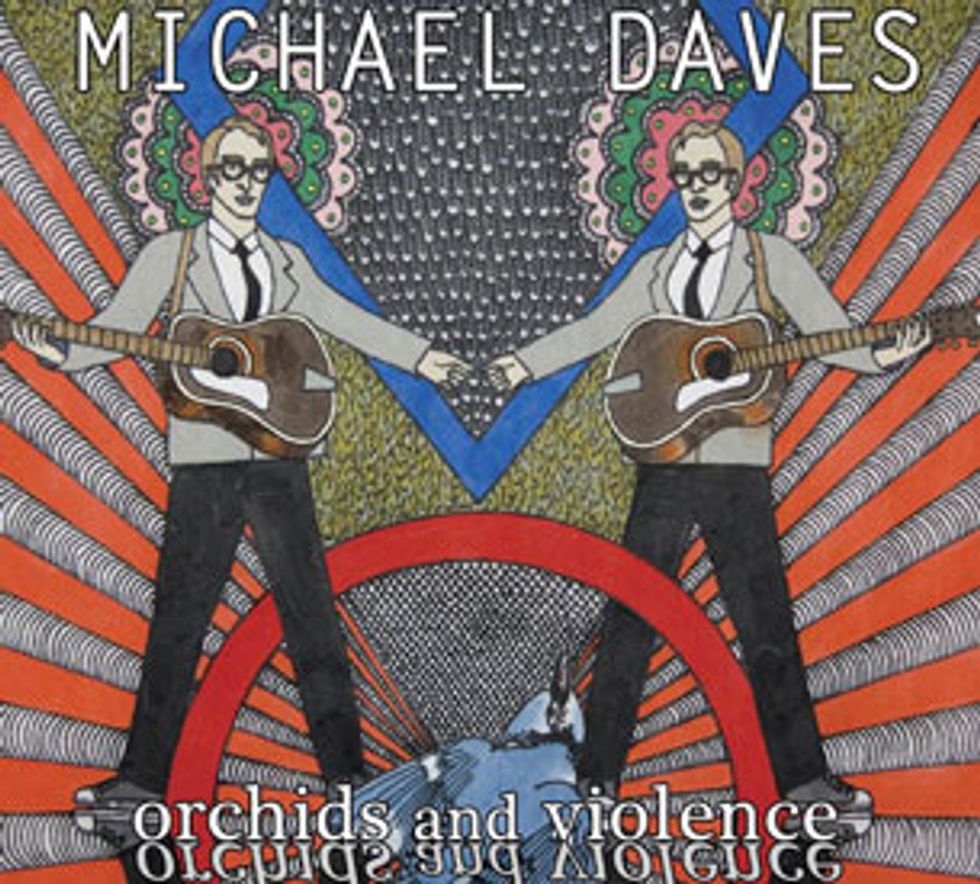 "I wanted to put some pressure on the musicians to get it right live and not go back and fix things," Daves says about his acoustic recordings. "When you have musicians of this caliber, that usually pushes them to livelier performances."
Is there a special story behind the guitar?
It was, in fact, a special find. I got it from the former guitar player of Helmet, Chris Traynor, who currently plays with Bush and Gavin Rossdale. He's really into vintage instruments, and he found this guitar and sold it to me. Early in its life it was kind of fancified by John Lundberg, who was one of the first luthiers on the West Coast to get into restoring the old D-45s and whatnot. So it's got the torch inlay on the headstock as well as fingerboard and bridge inlays similar to the ones on a D-45. It has gold tuning machines, too. It's got the original neck, but the headstock veneer has been changed to accommodate the torch. It really doesn't look like a D-18.
I'm a big fan of Martins from the early '60s. Whenever anyone asks me to recommend a reasonably priced vintage guitar I usually say to look there, as '50s Martins start getting more pricey and later '60s examples tend not to be as compelling. They started making changes: going to a different glue, changing the bracing, and all that. Anyhow, this guitar has been a really good match for me. I've had it for nine or 10 years now.
What about on the electric side?
A 1960s Kay—another plywood beauty—which I have an old DeArmond soundhole pickup on. On the record, you're also getting a little bit of the acoustic sound of that instrument through the drum mic. I play drums and guitar at the same time, and I conceive of the Kay as part of the drum kit, because there's this kick and hi-hat, with the strumming of the guitar filling in the eighth-note pulse.
And then to play over the drum-guitar parts, I overdubbed using my favorite electric guitar that I've been playing for years, a single-pickup Teisco—one of the ones with the striped aluminum pickguard. That guitar is all kind of broken and barely functional, but it has a great vibe and I just love the sound of the pickup. I play the Teisco through various effects—a Shoe Gazer fuzz pedal, and I borrowed a Klon Centaur from a friend. I'm not buying one of those! [Laughs.]
That pedal's, like, two grand, right?
Yeah. It's spectacular, and I'm just glad that there was one available to borrow.
Do you play any other electrics on the album?
I also play a kind of no-name Japanese electric, probably from the same factory as the Kay. It's a short-scale guitar, and I keep it tuned down a minor third, sometimes dropping the sixth string to B. Then there's quite a bit of electric mandolin on the record—a Kay mandolin from the '60s. As it happens, most of my instruments were made between '65 and '67, and so are my wife's. She plays bass on the record and has three. In any case, for the electric mandolin, I took off half the strings and stuck a McIntyre pickup in it, tuned it down a little, and ran it through the fuzz pedals and whatnot.